John Morrison — Milltown revisited
Friday, 22 June 2007
Getting my regular fix of Hebden Bridge gossip from the HebWeb, I noticed that Robbie Coltrane had won second prize at the Mytholmroyd Dock Pudding Competition. Wow! For a few seconds I thought that the super-sized 'Cracker' actor was a secret devotee of weed-based cookery, and had turned up, unannounced, to put his new-found skills to the test… in the hope of winning the one prize that had so far eluded him during a glittering career.
Then, with a sinking heart, I realised that he had been accompanied by a film crew (maybe the one Bernard Ingham uses, since they already know their way around narrow, twisty, South Pennine lanes) and it was just a stunt. The event, once edited, would no doubt occupy five undemanding minutes of Mr Coltrane's forthcoming TV series, provisionally entitled 'Aren't Northerners Funny?'
Yes, it was too good to be true. My dreams were dashed. Pete Postlethwaite wasn't going to audition for a role in the Pace Egg Play. Madonna wouldn't be turning up in a big black limo to adopt Pete Lazonby. The town's reputation for New Age irrationality wouldn't be enough, after all, to persuade Tom Cruise to come house-hunting.
I've read, too, about greedy, profit-driven developers, who want to fill every vacant lot in town with upmarket apartments. What a cheek these people have! It's time we returned to the Good Old Days, when avuncular men in brown overalls built sturdy homes from millstone grit and altruism. They gave the houses to those who had most need of them: widows, war heroes and young couples hoping to start a family. When they were offered money, the builders refused it. It's very different today, of course, more's the pity.
The other contentious issue seems to be car-parking. As altruistic as those builders were, they didn't anticipate the level of car-ownership at the start of the 21st century. When Hebden Bridge was built, most people were happy if they owned a pair of clogs… and a smart pair for Sundays. A car with five gears, sat-nav and a sun-roof was still a long way off.
I addressed the car-parking issue in Milltown: an Unreliable History (still a few copies left, or check out the charity shops)…
Visitors wonder if it's OK to park their cars in Conciliation Street "just for a few minutes". We look doubtful, preferring to leave them in a state of mild paranoia about the possibility of getting a parking ticket. In truth, though, it's about as likely as buying a winning scratchcard. Once in a while a traffic warden is dispatched to Milltown for half a day. But with Milltown being such an informal kind of place, a man dressed in the sort of uniform popularised by Idi Amin's henchmen tends to stand out in a crowd.
Against the inconsiderate motorists of Milltown, the traffic warden's main weapon is surprise: a weapon that locals attempt to disarm with speed and timing. We know he's going to show up some time; we just don't know when. So we have developed a well-choreographed routine, which goes something like this… Norman, our local handyman, gets a brief and breathless phone-call from the first person to spot the traffic warden (Norman carries an extra mobile — always switched on — for this purpose alone). As soon as he hears the coded warning ("The gerbil has landed") Norman springs into action. He reckons this is the right moment to check that the flood-warning siren is in good working order.
The race is on. The warden begins to patrol the streets — peaked cap at a jaunty angle, gold epaulets glistening in the sun and the heels of his jackboots clicking together in an impressive show of misplaced authority. Norman, meanwhile, is legging it to the basement of the council offices as fast as he can run. The traffic warden smiles, licks his pencil and prepares to write the first ticket of his visit. For a man on the lowest rung of the law-inforcement ladder, this is what the job's all about: a minor act of petty officialdom that acts like a shot of testosterone. Norman clatters down the stairs, taking two at a time, and makes a grab for the lever. It's a close-run thing.
The banshee howl of the flood siren galvanises everyone in town into action. People race out of houses and shops — wearing carpet slippers, mouth full of toast, face covered in shaving foam; it doesn't matter, but speed does — climb into their cars, and move them a hundred yards across town. For half an hour the centre of Milltown is grid-locked with grim-faced motorists, but it's worth the hassle to avoid getting a ticket, and to see the incredulous look on that weasel of a traffic warden's face.
If you think car-parking is a problem in Hebden Bridge, you should try living in the Lake District. It costs more to leave your car in one place than it does to run it. Take Hawkshead, a huge car-park with a small village attached. Visitors arrive, take one look at the parking charges and shriek "How much?!?" To make enraged visitors think twice, before ramming the ticket machines with the bull-bars on their 4x4 off-road monstrosities, the council have put up notices showing what the extortionate parking fees will pay for. That's ospreys, rare butterflies and fluffy red squirrels (not the foreign grey squirrels; we don't like them. Send them back to where they came from…) rather than junkets for our local councillors. At least we don't have jack-booted car-clampers, hiding in wait for unwary motorists.
In our local Booths supermarket there's a new range of frozen foods. The packaging proclaims that these 'Pub Specials' come 'from the Fox & Goose', and not, as might be expected, from an industrial estate on the outskirts of Middlesborough. I imagine the Fox & Goose in question is Hebden Bridge's own gastro-pub, where the choice of pork scratchings (with bristles or without…) make the place a mecca for Calder Valley foodies.
Summer is a great time of the year to be living in an uninsulated shack on the shores of Lake Windermere. In fact, it's really the only time of year to be doing it. I'm busy with books: mostly photographic, plus a humorous book – working title, Buoys & Gulls – about some of the more ludicrous aspects of life in the Lake District. Instead of just upsetting people in a small South Pennine milltown, I can look forward to being tied to a rock with chains and being dropped into the lake. There's a lot of moneyed folk up here, and I'm not sure they'll appreciate being mocked…
A manly hug — or peck on both cheeks — to chums in Milltown…
Friday, 22 June 2007
VIEW FROM THE BRIDGE
John Morrison's long-running, weekly, on-line column (98 episodes!), about life in a small South Pennine milltown not unlike Hebden Bridge, has now spawned three books. View From the Bridge and Back to the Bridge were published in 1998 and A Bridge Too Far in 1999. All three books are available from good bookshops, or online from Pennine Pens: the perfect present for uncherished relatives.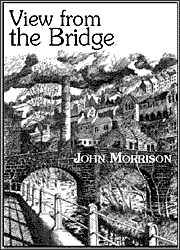 There's Willow Woman: inhabiting a world that shares a common border with Fantasia and Never-Never Land. Wounded Man: not gay, exactly, but happy to pitch in if they were ever short-handed. Town Drunk: intoxicated stalwart of the Grievous Bodily Arms, the naffest pub this side of the Crab Nebula. Dope Dealer: attempting to go upmarket by styling himself as a Substance Abuse Negotiator. Arthur and Martha Fustian: they look like everybody's grandparents and, given the relaxed sexual attitudes that prevailed during the 1970s, who's to say they aren't? Yes, love may indeed make the world go round… but it's lust that lubricates the moving parts.
Writer John Morrison has enraged locals in his home town of Hebden Bridge by penning… a tale of its 'alternative culture'.
(Manchester Evening News)
The local weekly and evening newspapers have banned any reference to the book, after the weekly paper was ridiculed with headlines BUS ROUTE STAYS THE SAME and MILLTOWN MAN CREOSOTES SHED.
(Yorkshire Evening Post)
Read View from the Bridge online