May 13, 2008
Weird or what?
Five Festival treats guaranteed to
raise an eyebrow and a smile
It's got music, it's got theatre…and it's also got a string quartet that likes to chat, poetry evening tickets that come with free chips and a Doctor Who fan with a disdain for Hollyoaks.
Carefully hidden amongst the top comedians and international musicians, the Hebden Bridge Arts Festival programme has squeezed in some very strange surprises.
First up is Luke Wright – Poet & Man. Britain's brightest, sharpest, best-dressed and most punchably handsome comic performance poet brings his latest show to Hebden Bridge. A rip-roaring raconteur and a hugely engaging performer, Wright's show fuses Larkinesque commuter belt ennui with a quick-fire wit.
A 2007 4Talent Award winner, Luke is the host of Glastonbury's Leftfield stage and has two five-star solo Edinburgh shows under his belt.
After his show, Luke will compere the Chips and Quips Poetry Slam - £4 a ticket, including chips! For those who think they can cut the mustard (not to mention the ketchup, the tartare sauce, the salt and the vinegar) in the live poetry world, this is an evening for jostling and jousting (in a totally safe, verbal way) with fellow poets in the charming surroundings of Yorkshire's funkiest chippy.
Chipless, but charming, Ian Marchant is a writer, performer and self-confessed pub quiz addict. His books include an investigation into the British love affair with railways, and an account of a journey between pubs on the Scilly Isles and The Shetlands.
Part memoir, part irreverent lecture tour, Ian's books and performances are genre-busting excursions off the beaten track, and his work has been described as "drunkenly funny, obsessively factual, soberingly poignant". Ian will follow his performance by hosting a special quiz in which teams can pit their wits against the finest brains in the Calder Valley.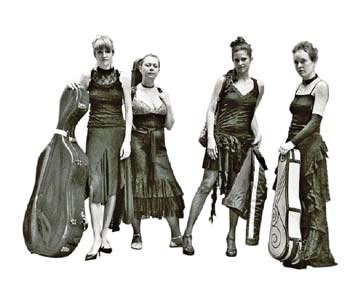 The V.O. Quartet is by no means your ordinary string quartet. Although classically trained, these four breathtakingly talented women draw on a wide range of musical flavours to create their unique and bewitching brew. Their influences include folk music from Ireland, Great Britain and South America; Klezmer and Gypsy music; contemporary pop and jazz.
But perhaps what sets them apart is their fearlessness in engaging with their audience. V.O Quartet shows are intimate and chatty affairs.
Conceptual artist and internationally renowned one-man subversive think-tank Richard Dedomenici launches his specially commissioned Hebden Bridge Arts Festival Treasure Hunt with a presentation at the Artsmill. Is it live art? Is it a stroll around the environs of Hebden Bridge in the pursuit of small but significant pieces of loot? Special secret Festival Treasure Hunt clues will be available at Richard's performance and from at the Box Office later this summer.
Finally, Moths Ate My Doctor Who Scarf – a chance to get out from behind the sofa and get aboard award-winning comedian Toby Hadoke's Tardis on a trip through time, charting the rise, fall and subsequent rise of a television legend. A swift, personal, satirical and razor-sharp comic odyssey from child to man, through obsession, joy and disappointment.
It's a must-see show for anyone who's ever had a passion for anything. Intimate knowledge of Doctor Who not required, though a disdain for The Daily Mail, George Galloway, the BNP, football hooligans and Hollyoaks would be useful.
Postal booking for the 40-plus performances and workshops is now open. The box office on Albert Street opens on June 14.
The 2008 Festival runs from Friday, June 27 to Sunday, July 13.
If you'd like to be kept in touch with what's planned, e-mail hbfestival@gmail.com or visit www.hebdenbridge.co.uk/festival.