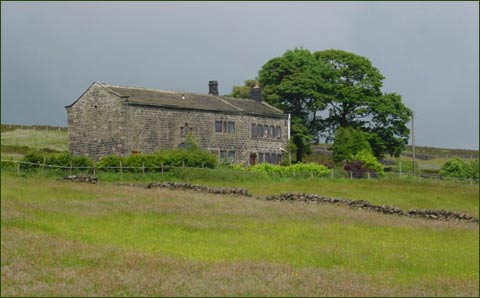 Latham Farm is a listed building situated on the edge of moorland at 1100 feet, commanding panoramic views of the surrounding countryside. The traditional barn has been converted for bunkhouse accommodation on the Calderdale Way - a popular walking route. It is available for individuals or small groups.

Breakfast and evening Meals

Packed Lunches and Afternoon Teas made to order.
Daywalkers welcome
'Green' conference, workshop or social function facilities available - with catering if required.
Also open for Visitors and Refreshments Sundays 11am~6pm
NB Predominately walking access


See our map
Train: regular train service from Manchester or Leeds to Hebden Bridge
Bus: regular bus service from Hebden Bridge Library to Old Town terminus. (For more information phone Metroline 0113 245 7676)
Contact: Jenny Slaughter 01422 843800
Email: jenny_slaughter_2000@yahoo.com

Grid Ref: 006287 on South Pennines Outdoor Leisure Map 21

The venue with a difference
For dinner dates and parties!




Toilet and shower facilities are located in a beautiful circular building constructed from straw bales. This is a demonstration of a low-impact method of building which will conserve heat in winter.

See us building it
See it finished


An environmentally sustainable system, the products of which are composted for the garden, the guiding principle being the use of waste for resources, not waste of resources.



Reedbed Filtration System


'Grey' water from kitchen and showers passes through a reedbed filtration system for purification, thus preventing pollution of land and water supplies.


Latham Bunkhouse has a commitment to high quality food, whether simple scones or adventurous buffets. All food is homemade, local and organic if possible.