Wednesday, May 18, 2005
Two town centres, three churches, two community centres, one big picture house, one little theatre, two schools, two pubs, twenty-five gardens and over twenty other assorted halls, studios, workshops and private houses join forces next month to play host to the 2005 Hebden Bridge Arts Festival.
And the variety of venue is matched if not exceeded by the variety of experience on offer, as the Festival spreads its wings a little to include activities in Todmorden as well as the growing involvement of Mytholmroyd in the annual event. As ever the handy pocket-sized brochure which is the Arts Festival Programme contains full details of everything that is going on, as well as a booking form, and its catchy golden form is now ever present on counters and stands in shops, libraries and tourist attractions throughout the area.
If you have not yet picked up your programme, here is a glimpse ofthe variety on offer at some of those venues during the Festival, which runs from 25th June to 10th July.
The Hebden Picture House plays host to music, comedy and film, beginning on the opening night with the ever popular Doris concert, which this year again for safety reasons is divided between balcony and stalls tickets, with "those upstairs" having to stay in their seats and unfortunately not able to join the bopping downstairs. Always a sell out, so if you are one of those who says, "I always want to go to the Doris concert but never manage to get a ticket .. " don't leave it too late this time! Stand up comedy follows the next evening in the form of the cut-throat wit and razor-sharp tongue of Jo Caulfield, star of many radio shows and writer on tv's Bafta winning So Graham Norton.

And comedy ends the Festival at the Picture House with radio and television broadcaster Mark Steel, of "Mark Steel Lectures" acclaim.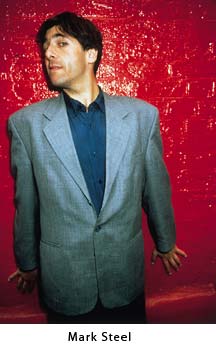 In between times "Kerouac's Dream - A Life on the Road" is an evening with Allan Taylor, who, inspired by Jack Kerouac's novel "On the Road" set out from Brighton in the "60s with just a guitar, and fifteen albums later turns up in Hebden Bridge to introduce a film about his hero and to recount his experiences in words and song.
Big name playwrights loom large at the Little Theatre, with Arnold Wesker talking about, and reading from, some of his many plays which range from "Chicken Soup with Barley" "Roots" and "Chips with Everything" in the '60s to his current works "Groupie" and "Longitude". The legendary Samuel Beckett has now gone to the big stage in the sky, but his long-time friend and publisher John Calder brings back to life for an evening one of the giants of 20th century literature. The venue also hosts events ranging from tales of ghosts to gardeners' question time.
Music and churches have always had a close relationship, and this continues as Calder Valley Voices perform at Hebden Bridge Methodist Church and a brass quartet can be heard at St Michael's Mytholmroyd, whist Heptonstall Parish Church is home to choral, cello, woodwind and string concerts.
As I said, this is just a glimpse of what's to be found in the two-week Festival, and to find out more pick up a programme, contact the Festival box office on 842684, or watch this space during the coming weeks, as we highlight more of the music, drama, poetry, exhibitions and a whole lot more on offer for your pleasure and delight in June and July as your very own Arts Festival comes to town !
We try to make sure that the Hebden Bridge Web news is correct, but if you are aware of any errors or omissions, please email us
More news from the Hebden Bridge Web
If you have any comments on this, please use our discussion forum .