Friday, September 23, 2005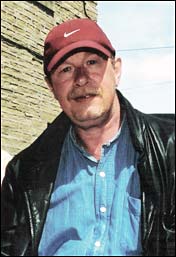 The Calder Valley has lost one of its most colourful characters with the death of Vince Robson, former sound engineer at the Trades Club at Hebden Bridge.
Vince, who was a reggae and African music aficionado, died on 13 September of a heart attack at the age of 52.
Vince had been one of Hebden Bridge's major characters since his arrival in 1990. He came from his home town of Billingham in the North East to visit friends and fell in love with the area. Being the no-nonsense type he was, Vince simply moved in. Living initially in Pecket Well, then Hebden Bridge and latterly Lydgate, Vince became a significant part of the local scene. His love of music brought him to the Trades Club where he was sound engineer, DJ, charity event organiser and odd job man on and off for many years. He would always follow up his passions with his time and energy.
Under his DJ name Jah Vince he provided top quality nights at the club, supporting many visiting bands and raising money for a host of worthy causes, but most notably for Africa. Musicians from all over the world came to know Vince and would often take him on tour as their sound engineer. The legendary Lion of Zimbabwe, Thomas Mapfumo, would always ask for Vince or news of Vince as soon as he arrived at the Trades Club. When the Wailers stayed in Hebden Bridge in 1999 for a few days Vince looked after them, showed them around the town and, naturally, persuaded them to make an impromptu visit to the Trades Club. The rumour mill did its work and the club was packed to the rafters. Members of the band jammed with local musicians and, once again, Vince had been instrumental in a moment that remains an iconic part of Hebden Bridge history.
Vince had as comprehensive a collection of African music – much of it recorded at the club – as you are likely to find anywhere. He saw the links between Africa and Caribbean dub and reggae and was always keen to pass on his knowledge and passion for the music, and there are many people in the area with tapes he'd compiled for them. And it was this passion which was his trademark, his passion for music, for the club, for friends and for football.
Indeed football was another of his loves. In his youth he signed for Sunderland FC, a brave move for a lad from the Newcastle United-mad Billingham. In fact a piece of graffiti reading 'Vince is a Mackem' – a major insult as far at Geordies go - appeared at a local railway station and has been there so long its fame has passed into legend, even being spotted and built into his routine by comedian Billy Connolly. Unfortunately, Vince had to retire from professional football at 25 due to early signs of arthritis. He went on to manage Tow Law Town among others and scared the pants off the then newly formed Hebden Bridge Aliens when they asked for advice and got a very intensive training session from Vince. Never one to be half hearted Vince took the Aliens through his plans for getting them fit and the very thought of his physical regime nearly made some of them collapse there and then.
His early life had its sadness, losing both his parents at an early age, Vince took responsibility for his two younger sisters, Shirley and Lynn, showing that same degree of passion for supporting them that was to be part of what Vince was. That passion was never greater than for his daughter Hayley, the real love of his life.
Many things were said at Vince's funeral. Perhaps he was summed up by two of them: Vince was not a religious man, but he was spiritual and this showed in his love of reggae and African music, much of which is spiritual music. It was also said that everyone had good stories of adventures with Vince – not all of them wholesome by any means. If everyone started to tell their stories it could have been the longest funeral on record.
Vince had a sense of mischief and humour. He was a lone passenger on a bus from Hebden Bridge to Todmorden, so took an opportunity to smoke a little hash on his way home. Having been alerted by the bus driver the police got on the bus and confiscated his stash. He complained that he had just paid £10 for it and couldn't afford any more to which the policeman apparently replied "there's only about a fiver's worth here, mate, you've been robbed". He was both incensed and amused by the policeman's response and, being a music man at heart, mixed a track to tell the tale – the resultant Babylon Bus was played at his wake.
Vince had declarted his intention to write a book about his time at the Trades recording events and personalities he had been involved with, such as the time African musician Ali Farka Toure "whisked" the walls of the Trades with a fly whisk to rid it of any evil spirits and ensure a successful concert. Sadly it will not be completed.
When John Peel died last year, Vince organised a memorial night and played many tracks first heard on the John Peel show. He had hoped to repeat it this year. However, instead, the Trades Club will be holding a Goodbye Vince night in December at which friends will be playing the music he loved. If anyone wants to play at this contact Dave Boardman at the club. Money raised will benefit Vince's beloved daughter Hayley.
Everyone who knew Vince has great memories, the valley is a poorer place without him.
Dave Boardman, friend
We try to make sure that the Hebden Bridge Web news is correct, but if you are aware of any errors or omissions, please email us
If you have any comments on this, please use our discussion forum .