Tuesday, October 4, 2005
Hundreds called in at the Calderdale Council drop-in centre which was organised in Lees Yard today. Revised parking proposals for Keighley Road were on show and provoked some heated debate.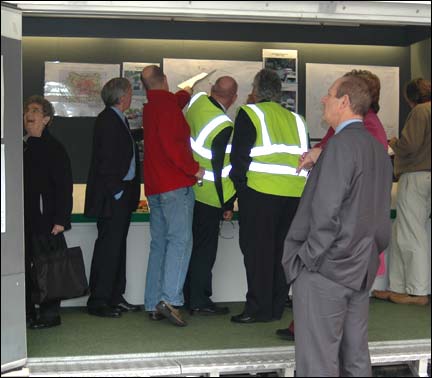 With the increase in both the Hebden Bridge population and car ownership, congestion on the Keighley Road has become a very serious problem. On the one hand, the cars parked in the road slow traffic down (and residents need to park somewhere). On the other hand, cards parked in the road make two way traffic very difficult if not outright dangerous.
If parking were banned, the speed of traffic - already too fast according to many Keighley Road residents - would seriously increase. And residents would have to park in nearby roads, themselves already often full of parked cars.
Two representatives from Calderdale Council would not entertain any talk of traffic calming measures and pointed to the 'officer comments' that "traffic calming is only introduced . . . where there is a recurrence of speed related pedestrian casualties and in particular child pedestrian casualties." Residents were told quite firmly that there is no possibility of a 20 mph limit or traffic calming measures.
Two bus drivers pointed out that they have to drive on the wrong side of the road along much of Keighley Road. If something came at speed in the opposite direction around any of the bends, there would be no avoiding an accident.
Officers also claimed that rerouting HGV vehicles by way of Halifax or Burnley would have detrimental impact on the local and national economy. Traffic signals to make single lane traffic was also ruled out.
All day long cars have to drive on the wrong side
of the road as they approach blind bends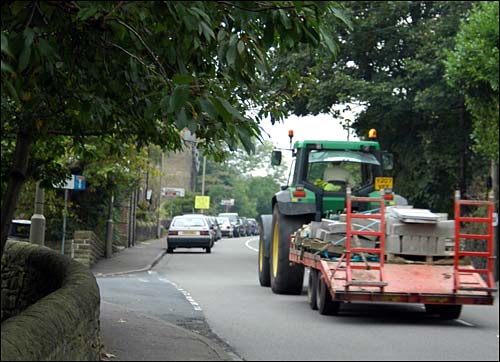 See also
Hebweb Forum - Oct 2005
Hebweb Forum - Nov 2004
Hebweb Forum - Feb 2001
Hebweb Forum - May 2000
---
We try to make sure that the Hebden Bridge Web news is correct, but if you are aware of any errors or omissions, please email us
If you have any comments on this, please use our discussion forum .