Wednesday, April 5, 2006: update
Hebden Bridge improvement work to start after Easter
The next phase of the improvement works planned for Hebden Bridge town centre will commence on Wednesday April 19 when contractors Tarmac Limited move into the town.
Once completed St George's Square will be fully pedestrianised and Bridge Gate will provide access for buses and limited loading only. Work will start at the car park entrance of Bridge Gate and gradually move towards St George's Square.
The development will make use of natural stone materials to give a high quality finish, sympathetic to the historic setting of Hebden Bridge. The work is expected to take approximately 6 months and during this period publicity boards, which will be updated as work progresses, will be on display at strategic locations throughout the town.
Access for pedestrians will be maintained at all times and traffic will be diverted along Albert Street. All businesses will be trading as normal and all car parks will be available.
---
Wednesday, December 21, 2005
THE TRANSFORMATION OF HEBDEN BRIDGE town centre will begin in Spring next year when contractors for Calderdale Council, Amey Highways, move in to start work.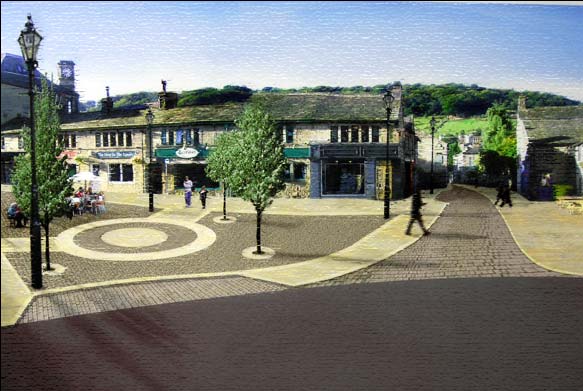 Following an extensive public consultation, St George's Square and Bridgegate will be repaved to create high quality, pedestrian priority areas in the heart of the town.
The scheme will be of a high quality, using natural stone materials to blend in with the conservation area and complement the setting of many of the historic buildings.
To allow the work to progress it will be necessary for traffic control in the town to be changed. All general traffic will be excluded from St George's Square and Bridgegate and diverted via Albert Street. Some work has already taken place at Albert Street to facilitate the installation of new traffic signals in the New Year.
On the 9 January, work will begin to upgrade the traffic signals at the junction of Bridgegate and the A646. This is a difficult location and temporary traffic control will be needed for up to eight weeks to undertake the work safely. There will be some disruption associated with this work and the Council ask that the travelling public allow a little more time for their journeys than normal.
To reduce disruption for through traffic the junction with Bridgegate will be closed, sending traffic via alternative routes into the centre of town. Temporary traffic signals will be used and these will be manually adjusted throughout the day by staff dedicated to ensuring that delays are kept to a minimum. In addition, we will have a 'pedestrian marshal' on site to help pedestrians negotiate the junction when the existing pedestrian crossings are not in use.
On completion, the signals will incorporate improved pedestrian crossing facilities and widened footways. Pedestrian access to Bridgegate will be maintained at all times.
Detailed design work is still ongoing however the above image shows what St George's Square might look like.
---
We try to make sure that the Hebden Bridge Web news is correct, but if you are aware of any errors or omissions, please email us
More news from the Hebden Bridge Web
If you have any comments on this, please use our discussion forum.