Sunday, July 2, 2006, 9pm One of the most violent storms Hebden Bridge has seen in many years has left Market Street flooded, the road to Todmorden blocked, power cuts, loss of TV reception and debris scattered throughout the area. Below are some pictures taken this Sunday evening after the storm.
Monday 8am According to Radio Leeds a landslide at Walsden blocked the rail line from Hebden Bridge to Manchester: a bus service to Littleborough was provided for rail travellers.
Wednesday, July 5, 2006: Rochdale Canal temporarily closed between locks 11 and 12. British Waterways report that "Earth, boulders and cobbles were washed down the hillside, blocking a short section of canal between locks 11 and 12."
At the height of the storm, the River Calder rose more than five feet in just 20 minutes. It took engineers until around 5.30 this morning to reconnect the electricity supply to large areas around Hebden Bridge and Todmorden.
See below pictures for discussion thread, links to other reports and photos of previous floods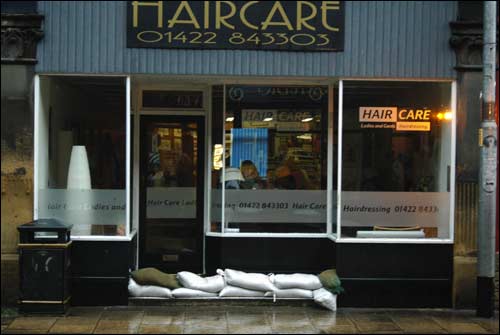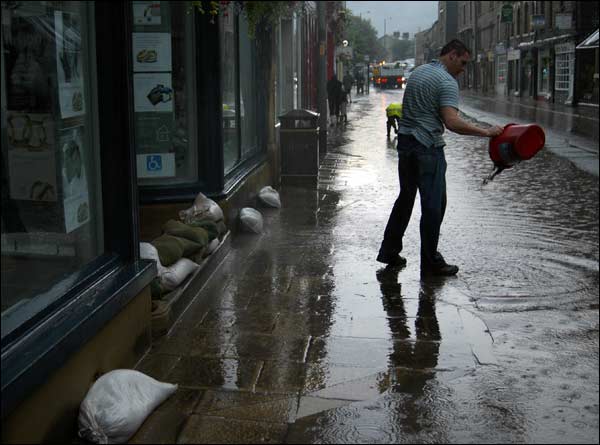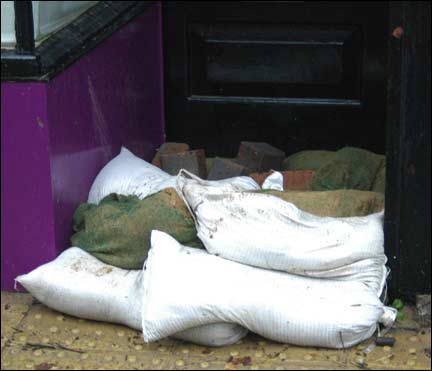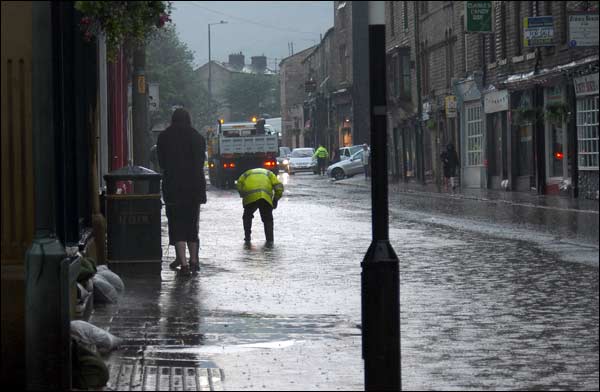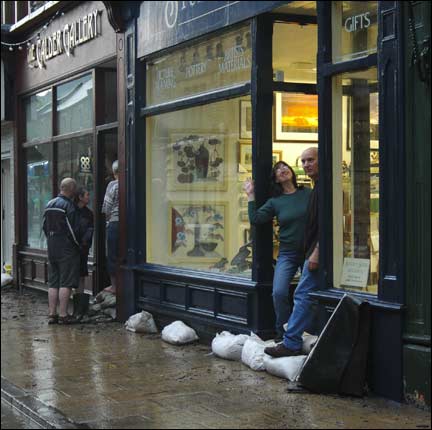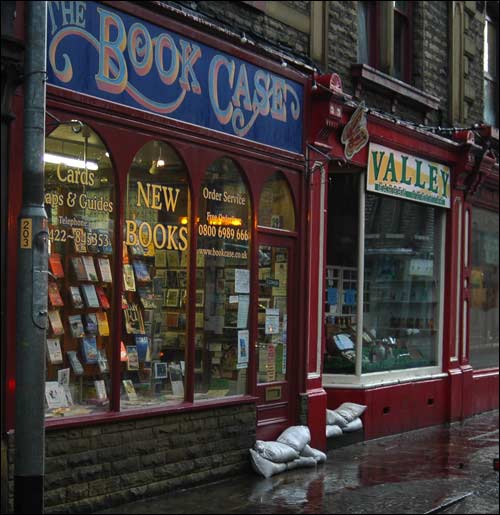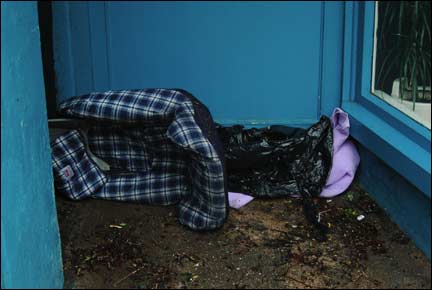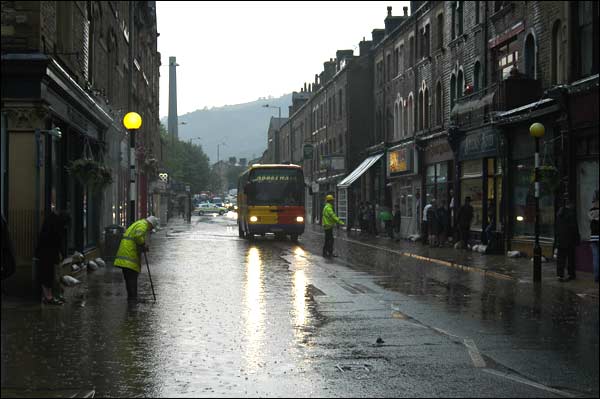 Update: Monday, July 3, 2006
Thanks to A Broadbent for sending us the following 2 photos: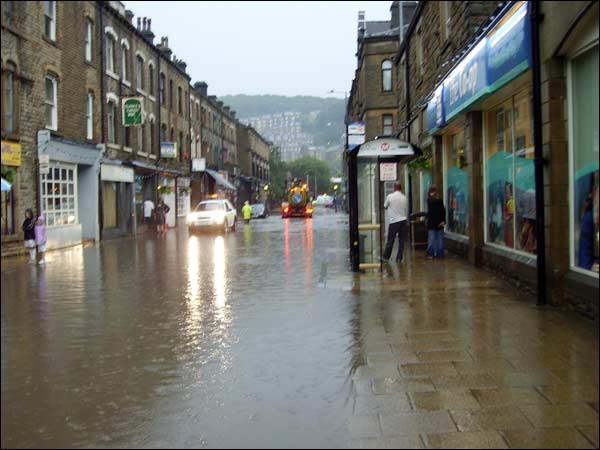 Thanks to Steve Farrell for the following shot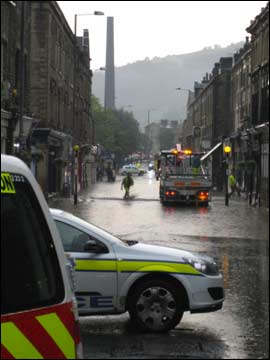 Thanks to Phil Champion for the following photos
- some rights reserved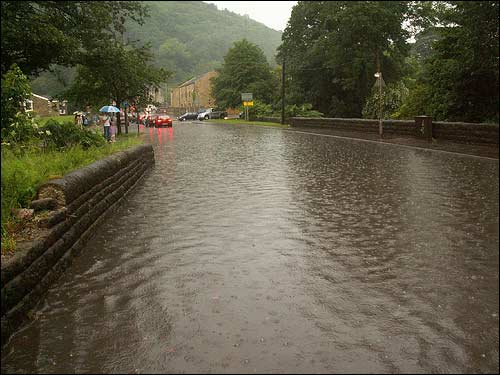 Above and below: Main road at Mytholm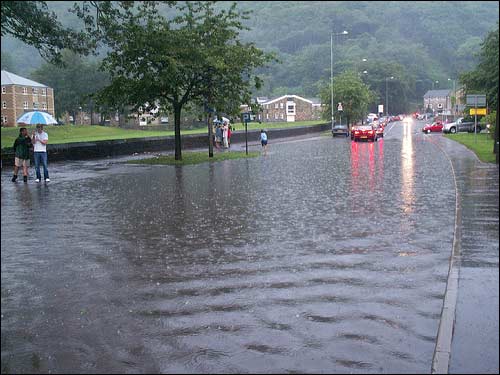 Thanks to James Sutcliffe for the following 4 photos
Callis Mill area, Charlestown, Hebden Bridge
The canal breaking through the wall at the end
of Thistle Buildings, Charlestown. Hebden bridge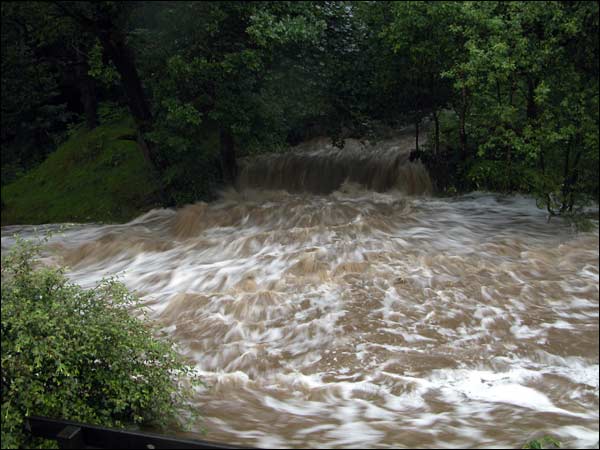 The overflow pouring in to the canal at the rear
of Thistle Buildings, Charlestown, Hebden Bridge,
covering the towpath in the process
Canal and towpath
---
See thread in our Discussion Forum
If you have pictures or stories to add please let us know
---
It's happened before!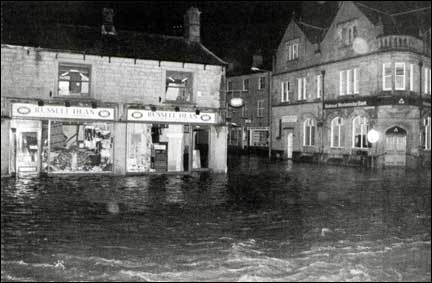 Early Sunday morning, 4th June 2000
Photo: Ruth Brown
Hebden Bridge 1946
from Milltown Memories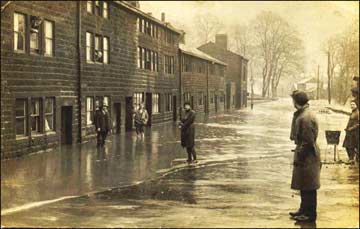 King Street flood in 1912
(Click photo to enlarge and for credits)
---
Hundreds of homes hit by storms - BBC News
FREAK storms brought flooding chaos across Calderdale last night - Courier
"In Yorkshire and Humberside, there was more than 1·2in of rain in an hour in some places on Sunday night. Up to eight feet of water poured into houses in Todmorden, west Yorks.Drivers had to be rescued from floating cars between Hebden Bridge and Todmorden."
Daily Telegraph, 4 July 2006
"In West Yorkshire firefighters received almost 300 calls in three hours from people affected by lightning strikes and flash floods. Todmorden and Hebden Bridge were worst hit."
Daily Mirror, 4 July 2006
"Simon Manfield, 46, who works at the Bookcase store in Hebden Bridge, said: "There was about an inch of water, we got off lightly because no stock was damaged." - see full article from Yorkshire Post
British Waterways close section of canal
---
© Hebden Bridge Web
We try to make sure that the Hebden Bridge Web news is correct, but if you are aware of any errors or omissions, please email us
If you have comments on Hebweb news please make a contribution to our discussion forum
More news from the Hebden Bridge Web
---