More photos from the 2006 festival. Email us if
you have some photos that we could consider for this section.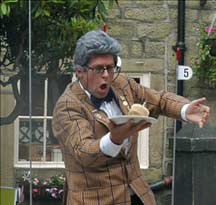 2006 FESTIVAL
KICKS OFF

WITH STREET ACTIVITIES AND A DORIS SELLOUT AT THE PICTURE HOUSE
Sell-outs and
Programme changes

Latest news: (26 June) - read 14 news items which give greater depth and background to many festival events.
Works by local artists have been bought by a national charity after they were 'discovered' by the organisation's northern chairman during the Hebden Bridge Arts Festival. - More info - 15 Oct 2006