2008 ON THE HEBWEB - Highlights
Below is a sample of the hundreds of news items which have appeared on the Hebden Bridge Web over the past 12 months. Town controversy centred on the Garden Street Development, Calderdale's attempts to close down Kerbside and the Fustian Knife sculpture in the square. Hebden Bridge's cultural life was greatly enriched by another successful Arts Festival, the Hebden Bridge Handmade Parade and the World on your Doorstep Festival
JANUARY
Floods - above, lorry in the river following serious flooding thoughout the town on Monday, 21st January. More
The Garden Street Development dominated much of 2008 and started off in January with a packed pubic meeting at the Town Hall called by the Civic Trust. More
FEBRUARY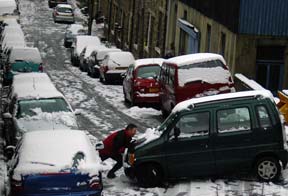 At last, some snow! The first proper snow for some time. All around Hebden Bridge, children, some who had hardly ever seen the white stuff before, were out in sledges or throwing snowballs.
Fair Wages For A Fair Trade Town: Campaigners in Hebden Bridge have launched a 'Fair Wage' campaign to try to increase the wages of workers under twenty-two in the town. More
MARCH
Air Quality in Hebden Bridge. A public meeting to discuss the quality of air in Hebden Bridge took place. The meeting was addressed by Dave Proctor and Peter Broadbent from Calderdale Council. More
APRIL

All woman contest for one of Hebden Bridge's 3 seats
on Calderdale Council Read more
Hebden Royd Co-op Members' Group held a meeting with area manager Eddie Barnes and we were promised an extensive refit within two months, a vast expansion in the product range and the door to Market Street to be re-opened. More info
MAY
Hebden Bridge in Europe
- successful weekend with twin town visitors

Around forty or more visitors from our twin towns, St. Pol and Warstein were hosted by Hebden Bridge families. With the glorious May sunshine, they have been able to appreciate our area at its very best. Stones were unveiled to name St Pol Square in Bridge Gate and Warstein Square at the Marina. More
JUNE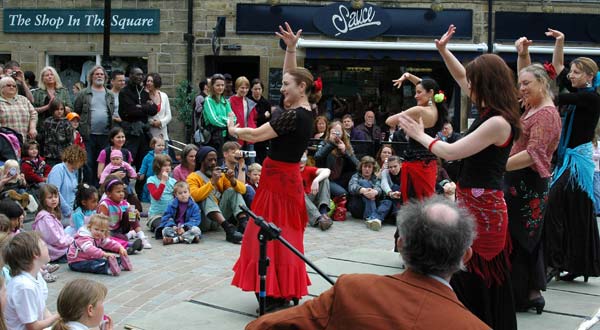 The Hebden Bridge Arts Festival kicks off
with a weekend of street events.
Controversial Square Sculpture - Fustian Knife installation
The knife sculpture has been the source of intense controversy on the Hebweb Forum - "When it comes down to it, a knife is a knife, and its message is - a knife. It is symbolic of cutting, stabbing - not at all of, say, unity, which was at the heart of the co-operative movement in the town." (John Billingsley) Read news item
JULY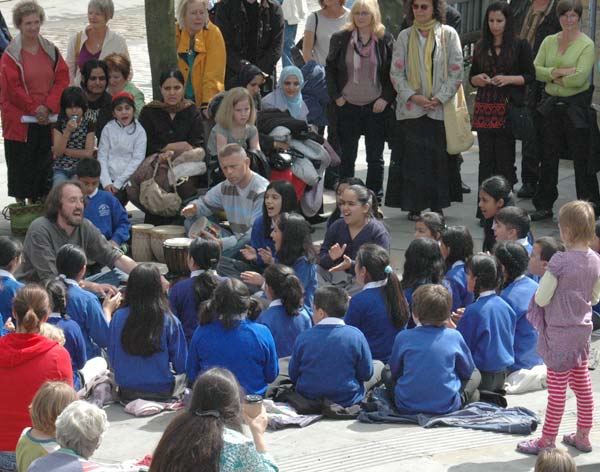 The Hebden Bridge Arts Festival continues
with Singing in the Streets
See also Festival's fabulous fortnight
The fantastic Hebden Bridge Handmade Parade
See photo gallery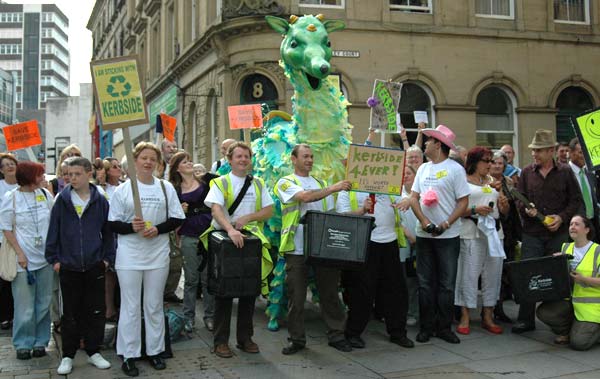 Supporters of Kerbside demonstrate outside Halifax Town Hall
AUGUST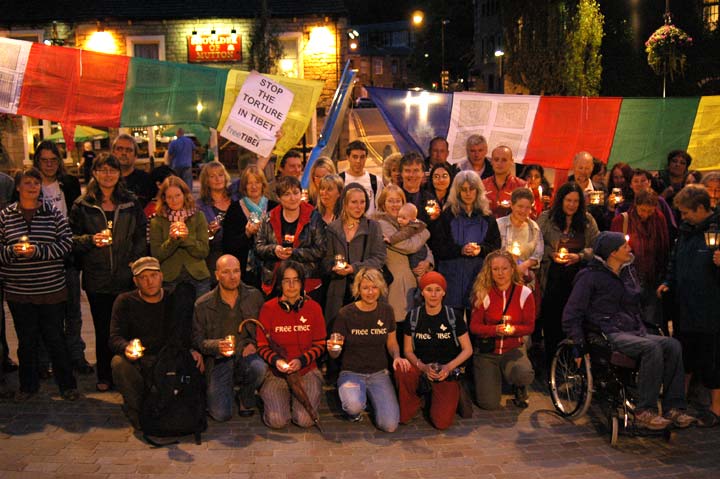 As the Olympics was about to start, Hebden Bridge joined
worldwide protests in support of Tibet - more
SEPTEMBER
Garden Street: development plans thrown out!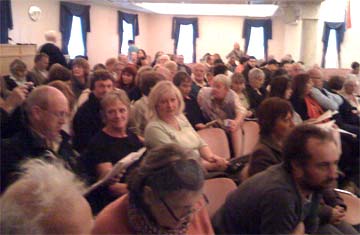 Over 300 people travelled to the King's Centre in Halifax on a rainy Monday evening and listened for 3 hours while the Garden Street development was debated. The Planning Committee threw out the plans by a vote of five to two.
OCTOBER
Hebden Bridge Partnership's celebration of community and activist groups. More
NOVEMBER
Kerbside: the gloves are off - over two hundred people packed into the Good Shepherd Church in Mytholmroyd for a public meeting to discuss the future of Kerbside, our community recycling service - read more
Swimming pool money: where is it? Trustee Dorothy Sutcliffe was to report to the Hebden Royd Town Council meeting of 19th November but couldn't make the meeting - see forum thread
DECEMBER
Trades Club performers - Christmas hits. Hebden Bridge has its own Christmas single recorded by the Nashville based singer songwriter Tia McGraff. 'Christmas in Hebden Bridge' was written during Tia's visit to the town three months ago when she played a sell-out gig at the Trades Club. More
Garden Street - David Fletcher appeals. Read background information
Christmas Eve carols in the square
We try to make sure that the Hebden Bridge Web news is correct, but if you are aware of any errors or omissions, please
If you have comments on Hebweb news please make a contribution to our
© Hebden Bridge Web