Battle for a tough Climate Change Bill – now engaged
From Anthony Rae of Calderdale Friends of the Earth
This isn't a 'battle' to get the Bill - the world's first legal framework requiring the Government to reduce our climate change emissions every year; proposed first of all by Friends of the Earth – through Parliament; we know that is going to happen because the legislation has all-party support. Rather it is to get a Bill that is sufficiently strong, with all loopholes closed off, and therefore effective rather than a weak one; and that's a vital difference.

So, as my previous article explained, FOE is pressing for three key demands, that need to be included in the Bill to make it tough enough; and now the moment of truth has arrived. Having passed for the House of Lords, Bill started its effective passage through the House of Commons on 9th June; you can read all the parliamentary debates here, and the latest version of the Bill itself here.

How do you get a tough bill? FOE has a team of parliamentary campaigners, led by Martyn Williams, who have been constantly lobbying MPs, as just the tip of a relentless campaign by FOE local groups across the country, joined by many other campaigning organisations and individuals.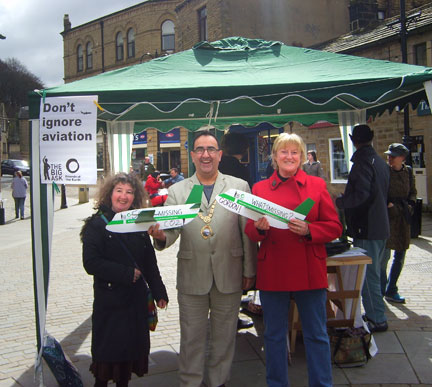 Chris McCafferty MP joins FOE on
5th April Day of Action in HB
This week the amendments relating to the two key outstanding demands – an 80% reduction target by 2050; and the inclusion of international aviation and shipping emissions – were tabled, and the great news is that Chris McCafferty MP has already put her name to both of these. Thanks very much, Chris! We haven't heard yet from Linda Riordan MP for Halifax, but there can be no doubt that she will be taking the same line.

Chris also tells us that she has added her name to a letter to Gordon Brown in support of another amendment already accepted by the government in House of Lords to make it mandatory for large companies to report on their carbon emissions.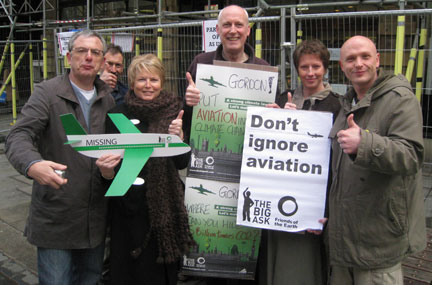 Linda Riordan MP joins FOE on
5th April Day of Action in Halifax
What happens now? The committee of MPs that looks at and votes on the detail of the Bill is about to be appointed; it will probably start its work next Thursday (19th June), for a period of about two weeks. Then there will be the final 'Report' Stage and 3rd Reading of the Bill around 7th or 14th July; followed by maybe another week to deal with any outstanding differences between the Lords and the Commons; which could still mean that the Bill becomes law before the summer recess, avoiding a 4 month delay.

If necessary – and if the Government will not concede on the two demands; and they show absolutely no sign of doing so in relation to aviation emissions; as I saw at a meeting in York recently with the Secretary of State for the Environment Hilary Benn – then MPs will be asked to vote for these 2 amendments and against the government. We'll keep you posted, and give you the opportunity to join in the final lobby.

And a special thank you to both MPs, representatives of both the Labour and Liberal Democrat parties, the Mayor of Hebden Royd, and members of the public who joined us in both Hebden Bridge and Halifax in our 'Day of Action' on aviation on 5th April.
We try to make sure that the Hebden Bridge Web news is correct, but if you are aware of any errors or omissions, please
If you have comments on Hebweb news please make a contribution to our
© Hebden Bridge Web