Demonstration supporting Kerbside
Thursday, 31 July 2008
Just before yesterday's full Calderdale Council meeting, there was a large and colourful demonstration by supporters of Kerbside outside Halifax Town Hall - including "Veronica" (the tall green one)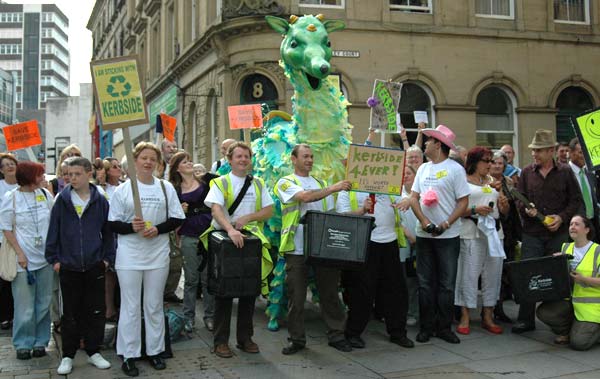 Kerbside have been recycling in Calderdale for 10 years - 4 years longer than Calderdale Council!
Paul Branigan of Kerbside spoke about the people that Kerbside help, people who don't have all the advantages that many of us do. "It's about time we got what we deservered, to serve the people, people who don't want a corporate coming in and taking the cash."
Hebden Royd Town Council was praised for their long term "massive support" of Kerbside.
Prospective Labour candidate Cllr Janet Oosthuysen told the demonstrators. "I think it's so important that we support community organisations like Kerbside". She called upon the Council to hear what the demonstrators were saying and change their decision.
There was considerable criticism of Cllr Reason, the Conservative councillor responsible for waste management and disability. He was supposed to be visiting Kerbside a week ago and didn't turn up. He has never visited Kerbside.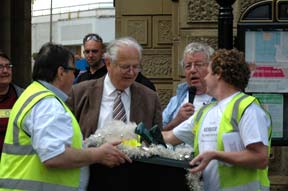 Cllr Peter Coles agreed to take in the pettition and letters of support to the council meeting and said that he hoped that the petition and demonstration were successful in persuading the council that Kerbside should continue doing the excellent work it has done over 10 years.
Craig Whittaker, prospective Conservative candidate for Calder Valley also gave his support to the demonstration. This means that members of all three parties had supported Kerbside.
The Rev Tony Buglass told the demonstrators "What's happening is wrong. It is screwing up a community, it is hurting people, it is throwing people into the dustbin, without the chance of recycling. That goes against my boss's teaching."
Above: 9-10 minutes of video footages of the demo
and some of the speeches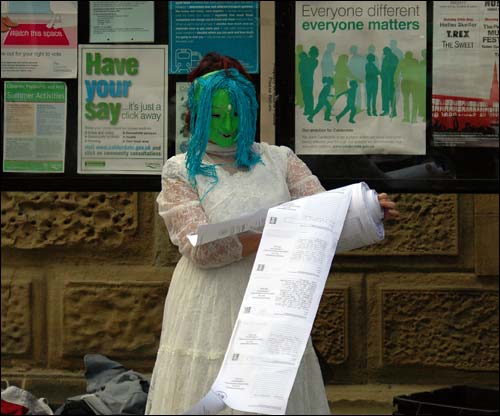 The petition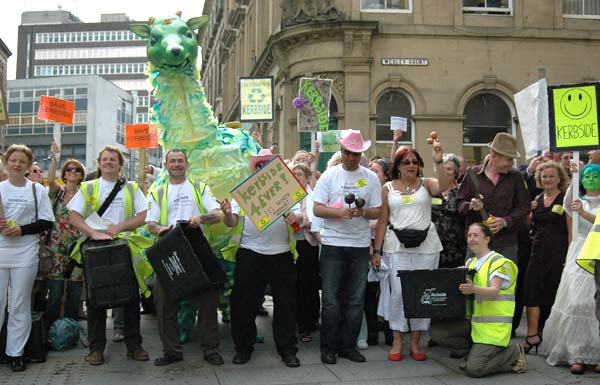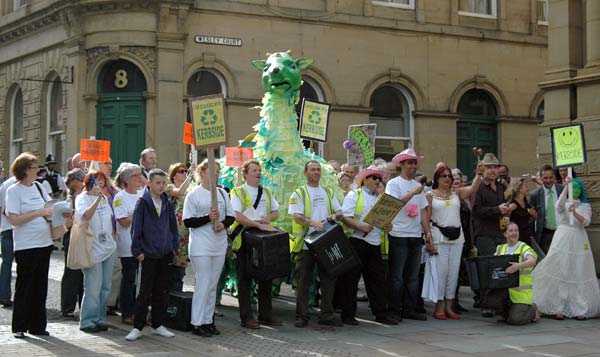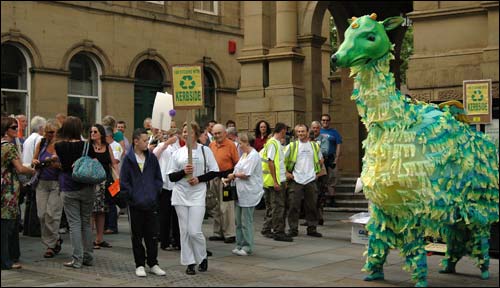 ---
See also
Hebweb Discussion thread
Kerbside website
The Case for Kerbside by Jason Elliot
Mytholmroyd Net coverage of Kerbside.
We try to make sure that the Hebden Bridge Web news is correct,
but if you are aware of any errors or omissions, please
If you have comments on Hebweb news please make
a contribution to our
© Hebden Bridge Web