All set for Hebden Bridge's first walking weekend
Update: Tuesday, 1 September 2009
Final arrangements are being put in place for Hebden Bridge's ambitious "Walkers are Welcome Weekend", to take place on September 12th and 13th.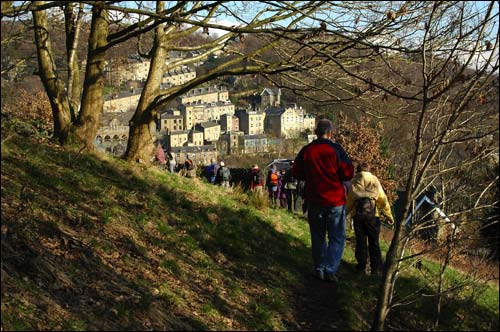 Hebden Bridge Walkers' Day 2007
A total of no less than thirty guided and led walks will be on offer during the two days, ranging from short strolls in and around the town to all-day hikes in the surrounding hills and moors. Those interested in archaeology and history will be able to visit Bronze Age settlements and the site of a mediaeval deer park, there will be riverside walks and woodland walks for families, and special walks will offer an insight into the heritage of what was once the cradle of the industrial revolution.
Gwen Goddard of Hebden Bridge Walkers' Action, the organising group, says: "We believe we have something for everyone during these two days. As well as history-themed walks and those to special view points, we have pre-breakfast walks organised, a night-time walk on Saturday night when head-torches will be necessary, and even walks for people learning French and Spanish, where you'll be able to practise your language skills as you walk."
Hebden Bridge was the first town in Britain to acquire 'Walkers are Welcome' status in an innovative community-led accreditation scheme which has now spread to thirty other towns and villages nationwide. The weekend is part of an ongoing campaign to demonstrate the town's walking potential, for both visitors and local residents alike. "Many of our great little independent shops are also supporting the Walkers are Welcome initiative, and will be doing their best to make the weekend a good one for all," Gwen Goddard told the Hebden Bridge Web.
Northern Rail is also supporting the weekend, and both the 08.51 from Leeds and the 09.00 from Manchester on Saturday September 12th will be branded as walkers' specials trains, a reminder of the specials which once ran regularly to take ramblers to the countryside. Participants on both trains coming to Hebden Bridge for the event will be met at Hebden Bridge station.
As well as the thirty walks, well-known outdoor journalist John Manning will be giving an illustrated lecture on Saturday early evening on his experiences dodging the grizzlies while walking the Pacific Crest Trail, one of America's most famous long distance trails. Outdoor campaigner Kate Ashbrook, patron of the Walkers are Welcome movement, is another speaker, and Saturday night will conclude with a special pub quiz, where all the questions will have something to do with walking.
Almost all the events are free of charge, and the organisers say that there is no pre-booking requirement – just turn up in good time on the day. The full programme is available on www.hbwalkersaction.org.uk or at local tourist information centres.
---
Walkers are Welcome Weekend in Hebden Bridge with choice of 30 walks
Wednesday, 5 August 2009
Hebden Bridge, the town which pioneered the Walkers are Welcome concept in the UK, is holding its first-ever Walkers are Welcome Weekend festival later this year. Crammed into the two day event, to be held on 12th and 13th September, will be a programme of thirty walks, designed to suit all tastes.
The walks range from tough yomps over moorland access land to family strolls along the beautiful Rochdale Canal. There are themed walks to take in the local history of the former mill town, one of the places where the industrial revolution first got under way, town trails to appreciate the architecture and local eccentricities of Hebden Bridge, an archaeological walk to iron age sites, and much more. Pre-breakfast walks are also scheduled, as well as a late night walk starting at 11 pm where head torches will be necessary. Another unusual feature of the weekend will be walks on which you will be invited to practise your French and Spanish conversational skills.
"Hebden Bridge offers wonderful walking opportunities, and our weekend festival is designed to make the most of them!" says Gwen Goddard of Hebden Bridge Walkers Action, the group organising the event. "Our beautiful Pennine landscapes are waiting to be explored and the town itself offers a great range of independent shops and high quality eating and drinking places. Hebden Bridge also has excellent public transport links."
Hebden Bridge was, in 2007, the first place in Britain to become a Walkers are Welcome town, establishing a new community-led accreditation scheme which has now spread to almost thirty other towns across the country. Hebden Bridge was also recently voted the town with the least-cloned High Street in Britain by the New Economics Foundation, and the vast majority of the shops in the two are independently owned and run.
As well as the thirty walks, the Walkers are Welcome Weekend includes an illustrated lecture on walking the Pacific Trail from well-known outdoor writer John Manning, a walking-themed pub quiz and a talk by Kate Ashbrook, patron of the national Walkers are Welcome Network and a stalwart campaigner for walkers' rights.
More details of the weekend and accommodation in the town are available on the website www.hbwalkersaction.org.uk/news.html and from the Hebden Bridge Tourist Information office, telephone 01422 843831.
---
See also
Hebweb News: Walkers are Welcome Weekend (Feb 2009)
We try to make sure that the Hebden Bridge Web news is correct,
but if you are aware of any errors or omissions, please
If you have comments on Hebweb news please make
a contribution to our