The Other Side of Hebden Bridge
Thursday, 15 October 2009
Shed Your Tears and Walk Away
This new film about our town is showing at the National Film Theatre next week as part of the London Film Festival - a caption reads: Fear and loathing in Hebden Bridge...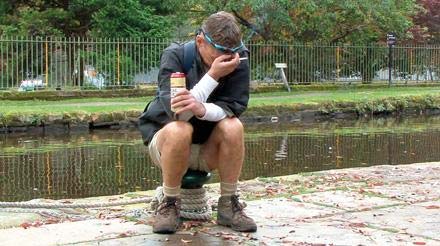 "This valley is paradise for some people
but purgatory for others"
The blurb for the film describes Hebden Bridge as having a reputation as being something of a bohemian idyll, a thriving tourist destination and a haven for an artistic community, for creative industries and for independent retailers.
But there is another side, as many of those who live here know too well. Filmmaker Jez Lewis grew up here, and started to question this image of the place, particularly as he was returning frequently to attend funerals after leaving over 20 years ago.
Jez describes his love-hate relationship with Hebden Bridge, his beautiful little home town which is also a "madhouse fuelled by drink and drugs".
A number of people he grew up with have developed drink and drug problems, while others have committed suicide, so he started out to make a film asking why people of his generation are killing themselves.
"Why are my childhood friends killings themselves?"
He reconnects with an old friend, Cass, who is suffering from hepatitis and liver cirrhosis, and has been given two years to live if he doesn't stop drinking. Yet Cass is to be found most days supping cans of extra-strong lager in the park, surrounded by characters doing the same. Spending time with Cass, his friends and their families, Lewis finds them smart, articulate, funny and occasionally heroic, despite their often desperate circumstances. The blurb for the film ends with "Shot through with compassion, Shed Your Tears and Walk Away is bold, deeply personal documentary filmmaking, providing an insight into the lives of lost souls that is both sympathetic and urgent."
---
See also
HebWeb Discussion Forum thread
Listen now to Jez Lewis being interviewed at the beginning of this Guardian Film podcast. (5 Nov)
Independent on Sunday: Why has Hebden Bridge become suicide central? (1 Nov)
---
From Time Out
Hebden Bridge tourist board have their work cut out
The most intense screening I attended was Jez Lewis's 'Shed Your Tears and Walk Away'. Following Lewis's return to his home town of Hebden Bridge to find out why so many of his childhood friends have either committed suicide or are lost to drugs and drink, this harrowing and achingly honest film had already screened at the London Film Festival. But the Sheffield premiere was given a sombre charge because one of the on-screen contributors to Lewis's film had last week died of an overdose. Attended by residents of this picturesque Yorkshire town, the post-film Q&A was a difficult and heated affair, with a handful objecting to Lewis's portrayal of Hebden Bridge while others, still raw from a funeral of yet another friend, defended it. Feeling a little like an eavesdropper on a family argument, I nonetheless found the film a powerful and heartfelt work.
See also: Time Out review and discussion
We try to make sure that the Hebden Bridge Web news is correct, but if you are aware of any errors or omissions, please
If you have comments on Hebweb news please make a contribution to our