NEWS REVIEW OF THE YEAR: 2009
As the Hebden Bridge Web prepares to start its 15th year, we highlight some of the main issues and events of 2009 as they have affected Hebden Bridge and reported on the Hebden Bridge Web.
TWO POPULAR CALDER TEACHERS SACKED: Leonora Rustamova ("Miss Rusty") and Steve Cann, two very popular Calder High School teachers who were well known throughout the area for their excellent teaching skills were suspended and then sacked. A long campaign by parents and students, including walkouts at the school, a public meeting and extensive media coverage failed to persuade the Head and Governors of Calder High. Read the background to the story and then see Miss Rusty tells her story for the first time
SHED YOUR TEARS AND WALK AWAY
Filmmaker Jez Lewis, who grew up in Hebden Bridge, has made a powerful film which reveals another side of our town. "This valley is paradise for some people but purgatory for others". The blurb for the film describes Hebden Bridge as having a reputation as being something of a bohemian idyll, a thriving tourist destination and a haven for an artistic community, for creative industries and for independent retailers. But there is another side, as many of those who live here know too well. Jez Lewis started to question this image of the place, particularly as he was returning frequently to attend funerals after leaving over 20 years ago. See Hebweb News, and extensive forum discussion
ARTS FESTIVAL - another successful Arts Festival featuring dozens of performers Hebden Bridge residents might never otherwise get to see including Simon Armitage, Northern Jazz Orchestra, Tanglefoot, Shappi Khorsandi, Barb Jungr and much, much more. When poet Ruth Padel pulled out, festival organisers were left with a significant hole in their programme. At very short notice, they had the good fortune to find that the new Poet Laureate Carol Ann Duffy was available would be happy to come to Hebden Bridge. See Festival website for full details and news about the 2009 and previous festivals, and watch out for news about the 2010 Festival.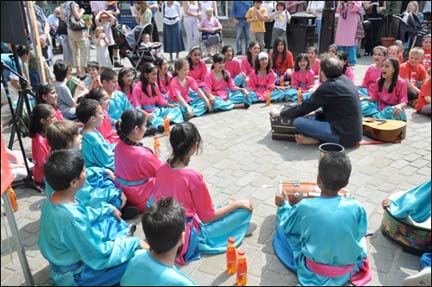 LABOUR CANDIDATE SELECTION FIASCO: In January, popular Hebden Royd councillor Janet Oosthuysen was de-selected as the local Labour candidate by Labour's National Executive. In April, following an evening where Labour selected Steph Booth, the Daily Mail reported: "Cherie Blair's stepmother at centre of 'vote rigging' row as she clears first hurdle to become an MP". The article pointed out that "On the night of the count, Mrs Booth secured 22 votes, while rival Susan Press won 35. However, when postal votes were added, Mrs Booth won by 95 to 52." Susan Press, also a Hebden Royd councillor, is a former mayor of Hebden Royd. Recently, there was more bad publicity for Mrs Booth when the local press reported county court judgements against her in favour of a local builder, wanting payment.
BIG GREEN WEEKEND - This year's Big Green Weekend swung into action with Calderdale MP Chris McCafferty officially opening proceedings on 23rd May. It surpassed the superb BGW of 2008 and included a Big Green Market in the Bridge Gate car park, a Big Green Weekend Debate, Make your own Organic Facemasks, Heat Pumps Workshop, Solar Water Heating Workshop, the Big Green Fashion Show, a showing of the Age of Stupid at the Picture House and much more. See more photos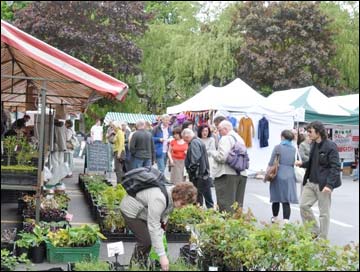 ACRE MILL RISK: Plans were submitted by Lyn Gledhill (agents, Moreton-Deakin Associates) to build on land which was part of the old Cape Asbestos factory, Acre Mill, in Old Town. The land contains asbestos waste and is at the top of a hill and near a water course. Asbestos dust would be disturbed and could risk causing cancers for decades to come. If the disturbed soil is allowed to dry out, that is when it could become very dangerous. Read our report of the public meeting at the White Lion, and see links giving the background to this story, See also: Hebweb feature on Acre Mill
GUERILLA GARDENING - the old fire station was squatted and turned into a stunning garden by the Hebden Bridge Transition Town group - part of the Big Green Weekend
GAZA: There were regular protests in Hebden Bridge against the Israeli bombing of Gaza which lasted much of late December and January.
Hebden Bridge people give regular support to Palestinian villages - Money raised has gone to organisations such as Medical Aid for Palestinians. But some has been given to the people of two West Bank villages.
HANDMADE PARADE
The Hebden Bridge Handmade Parade is a community-generated parade led by local artists which celebrates the creativity, variety and the uniqueness of Hebden Bridge, West Yorkshire and its surrounding areas.
KERBSIDE: In September, Calderdale was censored by a Price Waterhouse report into Council handling of contracts and dealings with SITA. Calderdale Council's Chief Executive, Owen Williams, admitted that "The report highlights a number of unacceptable issues". Kerbside retains wide public support and Paul Brannigan continues its fight for survival. See coverage of Kerbside on the Hebden Bridge Web.
ROUND THE WORLD ON A HONDA

Ian Coates was well known to people in Hebden Bridge for many years as the mechanic at his garage near Whitelea Arches. He has been travelling around the world for the past few years, and he or the people he meets keeps the Hebden Bridge Web informed. From Mississippi in January, Ian has this year travelled through Denver, Colorado, Alberta, Alaska and the Canadian Rockies. This Hebweb feature led to coverage in June on radio and TV.
GARDEN STREET: In January, a document leaked to the Hebden Bridge Web showed information previously not available to the public, including the facts that the Council would have sold Garden Street to David Fletcher for £1, they hoped subsequently to receive up to £400,000 from the development project, and much more. We were able to report on 28th May that this proposed, unpopular, very large development at Garden Street was finally thrown out for good by the Planning Inspectorate. See the HebWeb feature for the full background.
TOWN HALL FOR THE COMMUNITY
In January, a new charity was set up to bring new life to the landmark Town Hall building. From April, the Hebweb made available an eleven minute film, produced by Nick Wilding, which tells the story of how The Town Hall Project is trying to ensure a long-term sustainable future for our fine Town Hall building, by arranging for it to be transferred into community management. Finally, in December, after a landmark decision by Calderdale Council's Cabinet, the building is to be transferred to the community-run charitable trust.
CENTRAL STREET
There has been pressure on Calderdale Council for 25 years to sort out Central Street, in Hebden Bridge. The cobbled road is privately owned and legally the responsibility of neighbouring shops and businesses. See The Central Street Saga from February and Central Street breakthrough from June.
CENTRAL LIBRARY AND ARCHIVE
Central Library and Calderdale Archives were moved to the new purpose built location at Northgate House in 1983. They are well placed in the centre of Halifax. So when plans were mooted to move them, there was a powerful campaign launched to stop this happening. Many people from Hebden Bridge use Central Library and the archives so the Hebweb covered and supported the campaign. In October, we were pleased to report that Calderdale Councillors agreed to keep Halifax Central Library and Archives where they are following a meeting of full Council. This news report includes coverage of the campaign from March to October.
LANTERN PARADE which led to the Switch on of the Christmas Lights in the square. - See news item and video clips and a gallery of 15 large photos
See our Hebweb news section for a comprehensive coverage of 2009 and previous years.
We try to make sure that the Hebden Bridge Web news is correct,
but if you are aware of any errors or omissions, please
If you have comments on Hebweb news please
make a contribution to our