Alarm grows over plans which may disturb Acre Mill's deadly asbestos
Update: 2nd April - plans rejected
---
Wednesday, 4 March 2009
A planning application has been submitted for a modest three bedroomed 'eco' home in Old Town, Hebden Bridge. Built into the hillside on an old car park, a grass roof, ground source heating, cycle store and sustainable vegetable patch is envisaged.
At first glance the application may look uncontroversial. However, a newly formed group, Legacy of Acre Mill Group, fears that there appears to be some glaring omissions.
The proposal site is within a few metres of land where the infamous Acre Mill once stood. On the picture below, the brown area closest to the mill roughly represents the area of the proposed house and garage.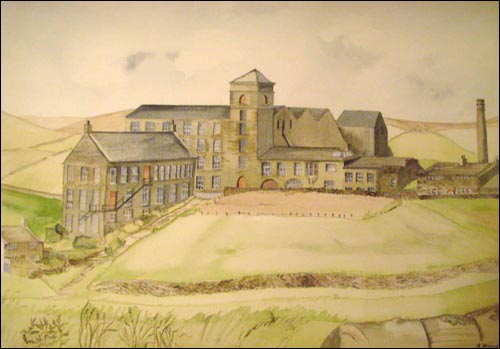 An old painting of Acre Mill by Mrs B Wood
Acre Mill was once home to Cape Asbestos and to one of Britain's biggest industrial disease disasters. It is estimated that over 700 people have died from asbestos disease as a result of occupational and environmental exposure to Acre Mill. Production of deadly asbestos has created a sad legacy that still lives, and brings death, to local people today. (See Hebweb feature on Acre Mill)
Production at Cape Asbestos began in 1939 and ended in 1970. It was widely known to be a dusty factory. Exposure to asbestos takes its toll over time - usually 20-50 years after first inhaling the deadly fibres.
Cape Asbestos left another legacy - dumped production waste. Back in the 1950s and 60s there were few controls. Cape disposed of its waste in several known places. Calderdale council and residents have already paid a heavy price for Cape's dumping in both remediation costs and deaths.
All this explains why there is growing controversy over a modest planning application for an 'eco' home. There is no mention of contamination problems in the contamination report submitted. The documents on the Calderdale Planning Department's website appear very matter-of-fact.
Yet some, mostly older, local residents are very concerned. They say they remember Cape Asbestos dumping waste on the site many years ago. Photographs and other documents appear to support this claim. The level of the land, just a few metres opposite Acre Mill, had been raised by the late 1960s – at the time of asbestos production and before Acre Mill was demolished.
It is not clear whether this raised land and car park hide a dump used by Cape asbestos. The planning application makes no mention of this.
Further inspection of the "contamination report" reveals nothing. It is a "desk survey" and was actually commissioned for converting the old nearby Cape canteen into 6 dwellings. There has been no actual air or ground testing before this planning application was submitted.
Although long gone, Cape's Acre Mill site is known to many worldwide. It featured on several television documentaries and newspaper investigations. The concern of local residents has been drawn to the attention of several campaigners and academics. One such person is Jason Addy, a doctoral researcher of occupational and environmental disease at the Manchester Metropolitan University School of Law. Contact has been made with Calderdale Planning Department and submissions and reports are urgently being drafted.
Mr Addy has vowed to make documents available to the public as quickly as possible. A network of scientists, occupational hygienists, industrial historians and other experts in asbestos health and safety are giving their time freely to object to the planning application and ensure the site is made permanently safe.
"It is important that all the facts are made available about this site and that concerns are raised responsibly" Mr Addy, an academic barrister whose research involves asbestos and contaminated land, told the Hebden Bridge Web.
"If this site contains dumped asbestos then mechanically disturbing it could have very serious consequences. There is a forseeable potential to release significant amounts of asbestos fibre from the soil to the air and watercourses. Red lights should be flashing at Calderdale Council".
Time is running short. Apparently, correspondence to the Planning Department must be in by this Friday 5th March. Comments on the application can be made from our Planning Watch section but we will add the relevant links beelow.

Representations can be made via email at town.planning@calderdale.gov.uk
The planning officer is Lauren Brindle Quote application number: 08/02071
For more information contact: Legacy of Acre Mill Group
---
See also
Documents connected with the application
Comment on the application
Expiry Date for representations: 5th March 2009
Hebweb Feature on Acre Mill
We try to make sure that the Hebden Bridge Web news is correct,
but if you are aware of any errors or omissions, please
If you have comments on Hebweb news please make
a contribution to our
© Hebden Bridge Web