Stop press: Hebden Bridge Arts Festival regretfully announces that Mark Steel, due to appear at the Picture House this Wednesday July 1 has had to cancel his performance. Rebecca Yorke, co-ordinator of the Festival said: " We are very disappointed as we know our audience will be. But Off the Kerb Productions, the country's leading entertainment agency who represent Mark, has worked round the clock for us since then to secure an alternative act and we're pleased to announce that Australian comedy star and Perrier award nominee Adam Hills will be interrupting his current tour to come to Hebden Bridge on Wednesday and preview his new Edinburgh show, Inflatable."
Refunds will of course be offered but we hope that our ticket holders won't ditch the babysitter and will instead choose to enjoy a night of great comedy. We know that our audience will have questions but respectfully ask that they are patient and give us time to contact them individually. Our box office is run by volunteers and has just one phone line, so we are drafting in a special team to work from their homes to ensure that we can resolve this situation as efficiently and smoothly as possible.
---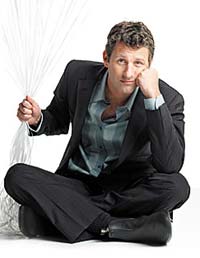 ADAM HILLS
Hebden Bridge Picture House
8.00pm to 10.30pm
£12
Adam Hills (born July 10, 1970) is a Perrier and Gold Logie-nominated Australian comedian and television presenter.[3] He has appeared on Australian and British television and is best known for his role hosting the Australian ABC music trivia show Spicks and Specks.
He began performing as a stand-up comedian in 1989 at the age of 19, and since 1997 has produced ten solo shows which have toured internationally. He has performed at the Edinburgh Festival Fringe, the Melbourne International Comedy Festival and the Montreal Just For Laughs festival, earning three consecutive Perrier Award nominations for his Edinburgh shows in 2001, 2002 and 2003.
In 2002, he scored a minor hit with his single Working Class Anthem, in which he sang the lyrics of the Australian National Anthem to the tune of Working Class Man, a famous song by iconic Australian rocker Jimmy Barnes.

The Re-Entrants
The Hole in t'Wall,
Hangingroyd Lane,
Hebden Bridge
9.30pm to 11.00pm
£6
Nothing is out of bounds for this duo, whether it be Bowie or Britney, Motorhead or Madonna. The Re- Entrants somehow manage to get in all the hooks, riffs, solos and vocal harmonies without any backing tracks or fancy tricks - nothing but two voices and two ukuleles. Their abilities on the instrument belie its cute appearance and music hall associations, and whilst the audience may laugh at two large men with such tiny instruments singing a Britney Spears song, the laughter soon turns into applause and heads shaken in disbelief! Extraordinary and unique!
'...possibly the greatest covers act ever'
'Great fun!!! I didn't know you could get that much music from four little strings'