Music at Walshaw
Walshaw Lodge,
Hardcastle Crags
11.00am; concert starts at 11.30am (to 1.30pm)
£15
Coffee and Danish pastries served during the interval
Other information as Saturday July 11.

Enkelit
Wainsgate Chapel,
Old Town, Hebden Bridge
3.00pm to 5.00pm
£8 (£6) £2 under 17s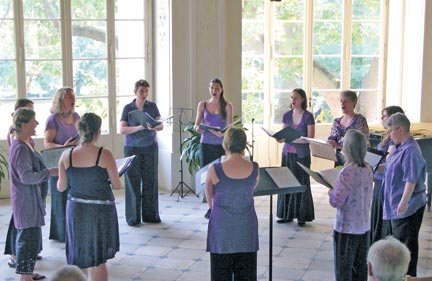 Directed by Richard Pomfret, Enkelit is a small, uppervoice choir formed in 2003 primarily to sing the beautiful a-cappella music of Finland which is strongly influenced by its folk tradition. The group take its name from the choral piece which inspired its creation: Enkelit (Finnish for 'Angels') by Tellu Turkka. The repertoire is very contemporary, mostly written in the last twenty years, thus reflecting the renaissance of Finnish choral music. The choir also includes pieces from Bulgaria, Estonia, Iceland, Russia and the Czech Republic in its repertoire.
NB: there is no parking at the Chapel: please park in Old Town Mill Lane, walk or catch the bus. See www.wainsgate.co.uk for map.
'Exceptional, extraordinary, exciting and utterly different from any other choir I've ever heard' (Audience member, The Fielden Centre, Todmorden 2008)

Ian Marchant ñ Performance and Quiz
Sponsored by Moyles
Moyles,
New Road,
Hebden Bridge
8.00pm
£5 includes quiz entry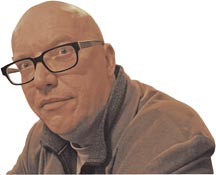 Writer, performer and self-confessed pub quiz addict Ian Marchant is the author of Parallel Lines, an investigation into the British love affair with railways, and The Longest Crawl, an account of a pub crawl between the Scilly Isles and The Shetlands that takes in many essential and intoxicating stops in between. Part memoir, part irreverent lecture tour, Ian's books and performances are genre-busting excursions off the beaten track. Ian will follow his performance by hosting a quiz, which will feature a special HBAF 09 round. Come and test your knowledge over a pint or two of Festival Ale!
'Drunkenly funny, obsessively factual, soberingly poignant.' (Simon Armitage on The Longest Crawl)

Nathan Riki Thomson
Under Ubiís Tree
Trades Club,
Holme Street,
Hebden Bridge
9.00pm to 11.00pm
£9 (£7)
Double bass player and multi-instrumentalist Nathan Riki Thomson defies categorisation, and goes beyond established musical genres by infusing contemporary influences with traditional styles from around the world. Nathan will be playing material from his debut album Under Ubi's Tree which explores a musical landscape rich in colour and atmosphere and reflects the sounds and traditions absorbed during his world travels. For this performance he leads an international line up of talented multi-instrumentalists including Brazilian percussionist and berimbau player Adriano Adewale; British/South African Jan Hendrickse on ney and traditional wind instruments, and UK artist Simon Allen on hammer dulcimer, waterphone and percussion. Expect an evening of World Jazz that will surprise and inspire in equal measure.