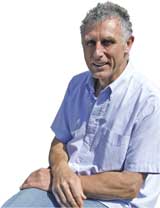 Writing Workshops
With David Armstrong
Hebden Bridge Library,
Cheetham Street, Hebden Bridge
10am to 1pm
2pm to 5pm
£8: limited places – please book early to avoid disappointment
Writing's a miserable business, and don't let anyone tell you any different. Unfortunately, it's also a pretty deep-seated need in those who are afflicted.
David's book How Not to Write a Novel advises would-be writers not even to begin, but if, like him, you can't help yourself, come along to the sessions and see if there's any help available….
During the sessions David will read from his novels, answer your questions and get you to do some writing!
This event is supported by Calderdale Libraries and Museum Services

Lunchtime Recital: Piano Duet
David Nelson and Roger Scaife
Heptonstall Church
1pm to 2pm
£6 (£4) £1 under 17s
Delightful and Delectable Duets from Down the Danube…
Diabelli: Sonata in D
Sari: 9 Miniatures
Silvestri: Romanian Folk Dances from Transylvania
Ligeti: 3 Lakodani Dances
Brahms: Hungarian Dances 1-10
R Strauss: An Der Schonen Blauen Donau
David and Roger have worked together for nearly 20 years and have performed at the Arts Festival on numerous occasions. This time they have chosen a fascinating and livelyprogramme featuring music from Germany, Austria, Hungary, the Czech Republic and Romania - virtually the entire length of the river Danube!

The Three Musketeers
Written and performed by Alys Torrance & Judith Faultless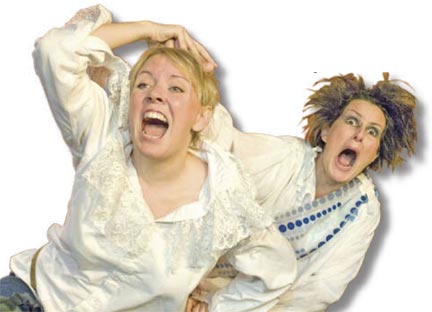 Little Theatre,
Holme Street, Hebden Bridge
2.00pm to 3.00pm 5.00pm to 6.00pm
£8 (£6)
Dumas' beloved story is shoe-horned into an hour of absurd physical comedy and ridiculous plot twists, as Edinburgh Fringe favourites Faultless and Torrance attempt to save King and country with the assistance of poorly attached facial hair.
All the duels, intrigue and adventure you could wish for will be presented live before your very eyes in glorious technicolour. New meaning is given to 'One for All, and years and' All For One' as the two actors play everybody in the King's court.
Faultless and Torrance have re-invented the classic tale for the stage and themselves, featuring not just the three musketeers but D'Artagnan, the villainess Milady de Winter and the dastardly Cardinal Richelieu. The indomitable pair make an epic bid for legendary status as they deliver the musketeers' tale in a fast-paced escapade of high drama and action.
Suitable for swashbucklers aged 8+
'Extremely funny… you wouldn't want to miss this show.' (One4Review ****)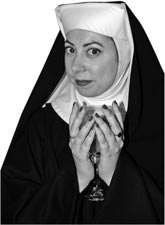 Triona Adams - Nun the Wiser
Trades Club,
Holme Street, Hebden Bridge
9.00pm to 10.00pm
£8 (£6)
Downing her last dirty martini of 1999 and calling out "Ciao" to her Soho theatrical agency, Triona Adams celebrated 2000 by joining an enclosed Benedictine convent where she intended to spend the rest of her life.
One year later and she was back; wiser and slimmer but with really bad hair.
Now Triona invites you to pull up a pew and hear her confess what really goes on under the habit … . Triona Adams was a leading West End theatrical agent and lectures in Theatre History. Author of 'The Lemon Squeezer', for BBC R4, and writer/performer of Bar Nun, at London's Canal Café, her Facebook religious status reads "Failed Nun."
This is another Edinburgh preview, so book early to avoid damnation!