Lunchtime concert:
Peadar Long and Dave Nelson
Heptonstall Church
1.00pm to 2.00pm
£6 (£4) £1 for under 17s
Peadar Long: saxophones, clarinets, flutes, whistles
Dave Nelson: piano, keyboards, percussion
The founder members and principal composers of global-jazz ensemble Tongue & Groove come together for this thrilling and delightful concert. Their extraordinary and unforgettable performances are characterised by the intensity and spontaneity of the music and by the instinctive rapport between these two outstanding musicians. Much of the music is brand new, including Dave's recent Through The Changes suite, but the duo will also be performing great new versions of some of their best loved tunes.
'I can't really describe it – totally unique. One minute the music is fiery, raucous even; the next it's achingly beautiful.' (Audience member, Square Chapel Centre for the Arts, Halifax)

Lunchtime concert:
Richard DeDomenici Plagiarismo!
AJ's Fish & Chip Restaurant,
Hebden Bridge
8.00pm to 9.30pm
£6 includes chips!
In this Edinburgh preview, DeDomenici untangles the seeming paradox of intellectual copyright theft in this entertaining lecture about the problem of copying ideas in the creative industries. Case studies include recent run-ins with News International and the BBC.
Learn more at www.plagiarismo.com
Richard DeDomenici describes himself as a Gadfly, a Trimtab, and a Quipnunc:
Gadfly
Person who upsets the status quo by posing upsetting or novel questions, or attempts to stimulate innovation by proving an irritant.

Trimtab
System specifically designed and placed in the environment at such a time, in such a place, where its effects would be maximised, thereby effecting the most advantageous change with the least resources, time and energy. Bringing about the most change with minimum effort. Doing more with less.

Quipnunc
Person who responds to current events, especially tragic ones, with quickly devised, sometimes callous jokes.
'DeDomenici is an excellent example of the best live art has to offer' (Herald, 2008)

TG Collective
Trades Club,
Holme Street,
Hebden Bridge
9.00pm to 11.00pm
£10 (£8)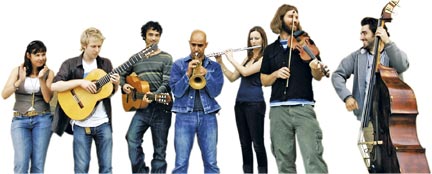 Jamie Fekete: acoustic guitar
Sam Slater: acoustic guitar
Percy Pursglove: double bass, cajon and trumpet
Holly Jones: flute
Louis Robinson: violin
TGC also feature eminent flamenco dancer and choreographer Ana Garcia.
The TG Collective was born in September 2006, bringing together a spirited brew of young, Birmingham-based musicians.
Moving through flamenco, jazz, gypsy, hotclub and contemporary classical influences and with new arrangements of works by luminaries such as Paco de Lucia, Django Reinhardt and Horace Silver, the Collective also perform self-penned compositions and arrangements, and music by longstanding TG Guru Bryan Lester. After performances in Cannes and Barcelona, the band's 2008 UK tour included London's South Bank, Belfast's Oren House Festival and sell-out performances in Birmingham and at the Cheltenham Jazz Festival.
'Stylish, very stylish' (The Times);
'As refreshing as it is infectious' (Jazzwise)