A visual treat . . .

TAKE a fresh look at recyling, evolution and 20th century blonde icons through the eyes of artists exhibiting in this year's Hebden Bridge Arts Festival.
The Festival Shop in Albert Street is hosting an exhibition by artist Fred Langford Edwards until July 12. In 2007 he was awarded a grant by the Wellcome Trust to research and promote the contributions of Alfred Russel Wallace to the debates on natural selection and evolution more popularly associated with Charles Darwin. The exhibition explores the life, ideas and collections of Wallace and the physical hardships he endured during his travels around the globe. On July 12 at 4pm, in the closing event of the exhibition, Edwards will talk about the exhibition and the inspiration behind it.
Other exhibitions include 'The Big Gay Jump a Day Project', a whimsical photographic diary, at the Bear Cafe, Todmorden, from June 26 to July 12; 'The Art of Respect', an exhibition of work by local artists and students based on issues surrounding domestic violence at bar@place, Crown Street, Hebden Bridge, from June 27 to July 12; and 'Blondes', featuring Cathy Shaw's oil paintings of well-known blonde icons from Princess Diana to Bette Davis, Maggie Thatcher to Divine, at the Hole in t'Wall, Hebden Bridge, from June 27 to July 12.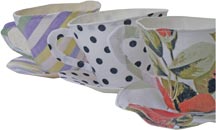 'Re-new', at the Heart Gallery, Hebden Bridge, from June 17 to 19 will feature designer-inspired pieces made from recycled materials and the colourful landscapes, figurative and floral paintings of artist Julia Ogden will be on view at 54a Market Street during the weekends of the Festival. Prints by Brazilian artist Ana Maria Pacheco, a Hayward touring exhibition, will be at the Artsmill, Hebden Bridge, from July 4.
The Festival runs from
Friday June 26 to Sunday July 12.
Look over the Festival website or phone 01422 842684 for more information.