Small Ads
£10 for 4 weeks | £25 for 3 months | ADD YOUR AD | Add photo option
2013 ads
MAN WITH A VAN: moving house, removing clutter, ebay deliveries & collections etc. £4 mile (driving) or £10 hour (loading). Tel: 07979 465 536. Reliable, good quality service. (14 May)
2 STOREY UNIT TO LET: Attractive self-contained unit to let on 2 floors (first floor - 960 sq ft including separate small office and toilet) (ground floor - 480 sq ft) with planning permission for retail outlet in historic mill in the centre of Hebden Bridge. Enquiries by email or phone 07976 827447. (13 May)
ANGEL EGG DONOR NEEDED: Egg donor needed under 35 years of age in the Leeds area. I'm 26 and my ovaries failed when I was 16. Without an egg donor I will never be able to carry a child. Please contact by email if you're able to help us. xxx (10 May)
DOMESTIC HELP AVAILABLE: Mature lady available for general cleaning duties, ironing, shopping (own car) cooking (very good cook!) light gardening. Very hard working, reliable, trustworthy, can provide excellent references. £10 per hour min 2 hours Tel 07960 460870 (9 May)
ROOM TO LET IN BOOTH: now taken (8 May)
PART-TIME DEVELOPMENT MANAGER: Alongside major repair and refurbishment of its chapel buildings in the centre of Hebden Bridge, Hope Baptist Church is seeking a Business Development Manager to explore how this unique space can be used in imaginative ways to promote and support spiritual and mental well-being. For a full job description and more information about Hope Baptist Church, visit our website or call Gerard Liston on 07973 837 342 (7 May)

FOREST BANK THERAPIES: Treat yourself and up to 2 friends to a special holistic night in. Candles, Essential Oils, Relaxing Music. Total Chill Out. Choose from Reflexology, Hopi Candle, Indian Head Massage, Reiki, Aromatherapy. Fantastic price of £60. 07792 940598 (4 May)
JAMES'S SUMMER GARDENING: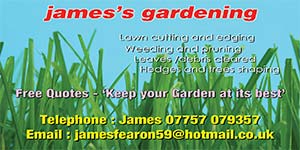 Summer garden tidy-ups, weeding,lawns-cut, tree prunning, hedges trimmed, wall repairs, all debris cleared and removed. Jetwash facility - paths, walls, entrances cleaned fresh for the summer. Free quotes telephone James 07757 079357 or email. (1 May)
THERAPY ROOM AVAILABLE TO HIRE: A spacious and comfortable therapy room in central Hebden Bridge is available to rent for two days a week at a reasonable rate. Please email (30 April)
3/4 CELLO FOR SALE: suitable for a beginner. comes with bow and case. Good condition with a new bridge; some wear and tear. £175. Tel: 07792 064451 (29 April)
A.S.H PLUMBING AND HEATING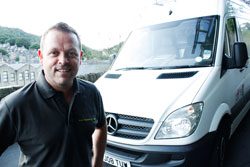 Looking for a local heating engineer or solid fuel installer? A.S.H plumbing & Heating can meet all of your heating requirements, installations, repairs and servicing with free no obligation quotations. We are Gas safe and Hetas registered. For a full list of our services and contact information go to our website. 07917 407007 (25 April)
GARDENING FOR YOU
- SMALL JOBS WELCOME!
Experienced local gardener / Spring Cleaner available Tuesday afternoons, Wed & Thursdays around Hebden Bridge. £10 an hour. Please visit my website for more info, call Ralph Nimmann 01422 292051 or 07909 488272 or email. (23 April)
ROOM OR NEW HOUSESHARE: 33 y/o guy looking for room in queer-friendly houseshare or for potential housemate(s) to start a new houseshare, ideally with outdoor space/ garden/ land. Contact by email (22 April)
WORKSHOP SPACE TO LET: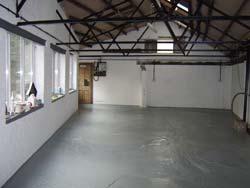 800 sq. ft. unit Mytholmroyd. Concrete floor, roller-shutter door, road-side position with lots of natural light. £300 pcm. Enquiries welcome: 07768 171899 (20 April)
2 BED FLAT TO RENT: Beautiful, unfurnished flat in converted chapel. Close to town centre with fantastic views.2 beds and 2 bathrooms. Sorry no pets. Rent £650.00 pcm. Call Charlotte on 07826 225080 (16 April)
2 BED HOUSE FOR RENT: Broughton Street. In good tidy condition with some nice features. Basement kitchen, living room, 1st floor bedroom and WC, 2nd floor attic bedroom and bathroom. Available 8th May 2013. £475 PCM. Call/ text 07791 601763. (15 April)
APPLE MAC REQUIRED: We need a spare mac for the office. Used is fine. Has anyone upgraded recently and has their old one for sale - laptop or desktop. Please email Catherine or call 07717 473616. (12 April)
ONE BEDROOM HOUSE FOR SALE: south facing with views across the valley. New kitchen, new bathroom, double glazed and gch. boiler fitted one year ago. Open fire, small outhouse. £110,00 ono. contact tel. 07930 884050 or email. (11 April)
TO LET: HOUSE IN SOWERBY BRIDGE: Unfurnished terrace in Sowerby Bridge. Yard at front. Central Heating. Double glazing. Cellar. Large bathroom and bedroom. Attic divided into two rooms. Rent £425pcm + bond + refs. Pedro 07577 250333 (10 April)
VOLUNTEERS NEEDED MiniMoos and TinkyTonks is looking for creative and enthusiastic individuals to help create from scratch a playgroup at Old Town Community Center. Could you help in developing a structured, stimulating and loving environment? Email us (8 April)
COUPLE RELOCATING TO HEBDEN BRIDGE AREA. My husband and I plus our beautiful and incredibly well-behaved small puppy (he's 2!) are relocating back to the Hebden area from Morocco around 15th April. We are looking for either a small property to rent or a house share, preferably close to Hebden centre, or access to the tow-path. Please email or tel +21 26761 60778 (4 April)
SPRING IS NEARLY UPON US - TIME TO SPRUCE UP YOUR HOME AND GARDEN
But if you lead a busy life due to work and family, you may not have time. That's where I can help. DIY tasks undertaken, garden tidying, painting and decorating - good rates and references available. I also create shabby chic furniture, and can create pieces to order, to brighten up your interior - perfect if you are selling your house and need the rooms dressing. Call Jon on 07756 339836. Website (2 April)
HEBDEN BRIDGE ROOM WITH OWN BATHROOM TO LET: Temporary let, large living room with all facilities plus bathroom on own floor. £350 pcm all inclusive in quiet non-smoking house. Ten minutes walk from centre. Suitable for mature professional person. Mike 844336/07740 151153 (1 April)
BEAUTIFUL SUNNY 3 BED HOUSE TO RENT: Unbelievable result Hebweb, so many enquiries in response to this advert on your site and now have lovely new tenants. What a success - Thank you Hebweb.
FOR SALE: DUTCH BARGE WITH RESIDENTIAL MOORING: Steel Replica Dutch Barge built by Maurice Hirst in 2005 with mooring at Hebden Bridge. If you would like to live aboard a spacious, luxurious boat and be part of a wonderful community then look no further! She's 47ft long and 12ft wide and really beautiful throughout... Apollo Duck under barges.co.uk for more info and photos. Phone me on 07866 656779 only if seriously interested! Jane (24 March)
WANTED HOLIDAY LET: Wanted Holiday Let in Hebden Bridge area or 4 mile radius from dates April 12th to May 5th. Two beds and prefferrably with a garden but not essential. Please call Tracy 0752 149 1457 (22 March)
WANTED: COMPUTER TECHNICIAN now found
3-BEDROOM HOUSE TO LET
Now let
WANTED: 1 BED PROPERTY. Hi, I am looking for a flat or house to rent long term in Hebden Bridge. Must be ok with housing benefit. Can pay deposit and rent in advance. Able to move in any time. Please email. (15 March)
RENT A DESK: Fed up with working alone? Join our small, friendly, diverse business community in an historic mill in the centre of Hebden Bridge. £20 a week, includes large desk, personal storage, wifi, heating and lighting. Low cost printing, photocopying facilities and personal telephone line as extras. Also available, own office, workshop or showroom. Tel: David 01422 846934 or email: (14 March)
ART COURSES AND WORKSHOPS
Art Courses and Workshops at the Back Door, Northlight Art Studios. A full range of regular weekly classes and Saturday day workshops. Art for the Terrified, Beginners courses, Drawing, Ceramics, Textiles, Life Drawing, Bookbinding, Printmaking all taught by expert artists in a relaxed atmosphere. Get Creative at the Back Door! Visit website for full programme or email or tel 01422 843519 (12 March)
WANTED: 2-3 BEDROOM SUNNY HOUSE/ COTTAGE to rent in Hebden Bridge or surrounding area for my 9 year old son and myself. Professional single mother, able to provide excellent references from employer, and previous tenants. Long term only. Please telephone 07401 593 049. Many thanks. (10 March)
DOG FRIENDLY ACCOMMODATION SOUGHT! We are a reliable, couple with a young daughter and two (well behaved!) dogs, seeking 1 or 2 bed accommodation in the Hebden Bridge, Todmorden or Mythomroyd area. Would be able to pay deposit/rent in advance. References provided. If you think you may be able to help us please email. (8 March)
JAMES'S GARDENING: Jetwash the winter moss and grime away - paths, walls, entrances cleaned up as new. Spring garden tidy-ups, weeding, prunning, hedges cut,debris cleared and removed. Free quotes telephone James 07757 079357 or email. (6 March)
QUALITY ITEMS PURCHASED: medals, badges, watches, pens, advertising items, militaria, postcards, old toys, transportation items, curios & collectables, plus any interesting artefacts, ring Gary for a polite friendly service on 01706 819789. 07788172241 or email (5 March)
WANTED: 1-BEDROOM FLAT FOR RALPH & VITALIJA:
Thanks. We found a sunny flat to rent in Hebden Bridge! Updates & details - 07909 488272 - or email
ALLOTMENT FOR RENT now taken
CENTRAL TWO BED PERIOD COTTAGE TO LET: Now rented (25 Feb)
Some successful ads
HOUSE TO LET: Unfurnished 3 bed cottage. Attractive location by canal between Hebden and Todmorden with parking. (Posted 12 Dec). Email received 2 days later by HebWeb: "I have had a great response to this advert with good quality responses and several after viewing wanting to rent. Sadly we have had to disappoint all but one of them. Could you take down the advertisement/add this note, so that others are not disappointed. Through friends we thought we would get an ok response, but it was epic."
TO LET: 2 BED HOUSE, TODMORDEN: we've successfully rented our house. Thanks for an excellent service- I'll heartily recommend Hebweb, as our house was previously listed through an estate agent who didn't manage to get us a tenant in 3 months- through Hebweb we had 4 prospective tenants within a week.
TO RENT: "small ad success. I've found tenants now, so could you please mark the property as taken?"
ATTRACTIVE ONE BED COTTAGE IN SUNNY AND FRIENDLY PART OF TODMORDEN: "Your web site has done a great job and we've had a good number of enquiries in just a few days and we have now found a new lodger."
CAR FOR SALE: CITROEN C3 - now sold
FOR SALE: R REG FORD FIESTA: now sold
PEUGEOT 106 - FOR REPAIR: now sold
FITNESS STUDIO - sold
JOB VACANCY - I have filled the position and would appreciate you updating this for me, many thanks, had lots of good applicants
MUSICAL INSTRUMENTS - Fylde Orsino handmade English acoustic guitar. "I'm delighted to say it has sold!"
LOVELY 3 BED HOUSE WITH YARD IN CENTRE OF HEBDEN Please could you remove our advert? We let our house in a day! Thank you so much for your help. (16 June)
2 BEDROOMED HOUSE TO LET With your assistance, I have let the property, so I would be grateful if you could remove the advert. (9 days)
NEW JOB IN HEBDEN BRIDGE - we have now employed someone. Please could you remove ad.
3 BED HOUSE TO LET IN NUTCLOUGH
"House is now let - big thanks to Heb Web"
WANTED: 1/2 BED HOUSE TO LET IN HEPTONSTALL AREA - Now taken (19 July)
2 BEDROOM STONE COTTAGE TO RENT Please could you remove the property from your listings as we have now rented it out. Thank you for your help. (15 June)
FAB FURNISHED HOUSE AVAILABLE FOR RENT The house is now rented out
HOUSE WANTED FOR LONG TERM LET -Please remove our ad as we have now found a property
many thanks - (online at 25 April, removed 28th)
SMALL HOUSE WANTED FOR RENT IN HEBDEN - I just wanted to let you know that through my small ad on your site I found my ideal new home, meeting all my requirements. Thank you very much for such a great resource.
2/3 BEDROOM FAMILY HOUSE TO RENT - Thanks to HebWeb our lovely house has now found a lovely tenant and we would appreciate it if you could take down our ad.
OFFERED: 2 BEDROOMED HOUSE FOR RENT
You have done a terrific job in finding tenants for the place! I would be grateful if you would now remove the advert as it is occupied. Once again. Well done!
3 BEDROOM COTTAGE FOR RENT
Please can you take the ad off..... i rented the property within the first week of the ad.... and am still inundated with enquries!
HILLSIDE CONVERTED BARN
Please remove the ad for hillside converted barn - I found tenants within two days of posting - thanks. (3 Nov)
2 BED HOUSE TO LET
We have signed up tenants today. Please remove the advert
SUNNY SPACIOUS ROOM
NOW TAKEN
Thanks for the ad Hebweb - it was very sucessfull
OFFICE SPACE AVAILABLE
Now let
SUNNY 2-BED HOUSE IN CENTRAL HEBDEN BRIDGE
Dear HebWeb - thanks v much for an excellent small ads service. I have been inundated with prospective tenants for my house and have now chosen two really nice women. Please take my ad off your site now. Thanks.
HOUSE SHARE WANTED
I've now found a housemate to rent a place with
1 BEDROOM LUXURY FLAT FOR RENT
Now rented out
3 BED HOUSE FOR RENT HEBDEN BRIDGE
We have found a tenant. We have had more than 30 replies! Thank you very much
HOUSE TO RENT
I found someone really quickly. Could you possibly take this ad off now as I keep getting enquiries?

CLEANER/IRONER WANTED
"I had a good response and the position is now filled."
See our Where to Stay section for more bed and breakfast
2 BED HOUSE TO RENT - now taken
Cambridge St. I've had an overwhelming response and the property is now let.
"I placed a small ad on your site . . . it has been very sucessful. Thank you for a great service."

2013 ads
2 BED COTTAGE FOR RENT: Above Mytholmroyd. Unfurnished currently undergoing refurbishment available beginning of June. Fully fitted dining kitchen, living room with multi-fuel stove, 2 double bedrooms, landing/ study area, bathroon. Oil CH, double glazing. Parking, garden, stunning views across the valley, 10 min walk to station. No Pets /Smokers. Bond & refs. £625pcm. Contact 07752 090646. (14 May)
ROOM TO RENT: Have one room to rent for £75 per week, 2 min walk from centre of Hebden, decent size with own Bathroom on same floor. Wifi and all Bills included. Looking for mature professional . Please text James on 07724 281250. (12 May)
TRANQUIL LOG CABIN ARTISTS' STUDIO /YOGA SPACE /OFFICE to let in tranquil location 10 mins walk from Hebden Bridge Co-Op supermarket. Suitable as artists' studio, yoga /meditation space or office. The size is 4mx3m plus outside balcony. Shared bathroom in main house. Only £250 pcm including electricity & internet. (10 May)
HOUSE TO LET TODMORDEN: 2 Bed through terrace house in central Todmorden. Central Heating, Gas Fire, newly decorated. £385 pcm plus bond. DSS and pets considered. Contact 07776 278811 (9 May)
CARE AND COMPANY FOR ELDERLY COUPLE: Do you have time to help charming elderly couple who are looking for cheerful daily help with cooking, transport and convivial conversation? Could be a live in position with own room for right person - possible retired nurse? Harvelin Park area - Todmorden. Good rates of pay and flexible hours. Please email with contact details. (9 May)
CASH REWARD! LOST PURSE. I visited Hebden on the weekend of the 6th May. I lost my purse late on Saturday night (4th) around the Stubbing Wharf. It's black with gold metal detail. There was nothing in it of any value to anybody else apart from me! Please email (7 May)
HOUSE MOVE FORCES SALE OF BEAUTIFUL FURNITURE! Wonderful pieces of furniture, far too good for eBay/Gumtree! Large 4 seater Habitat sofa bed with matching chair - £300. Chappell upright piano - £200. Art deco 'walnut' ladies vintage wardrobe - £100. Art deco gentleman's solid wood wardrobe - £100. 8x6 garden shed, never used - £200. Please contact me if you would like to have a look - I'm based in Heptonstall. (7 May)
GERMAN TUTOR WANTED: Can you make learning German fun for my children (6 & 9)? Please phone 07856124366 or email. (6 May)
ROOM IN SHARED HOUSE PLEASE: I am starting a new job in Rochdale Council and would like to live in Hebden Bridge. I'd like to hear from you if you have a suitable room. I'm coming to the area over the bank holiday weekend 5 - 6 May. Please text 07766 722 966 or email (4 May)
ROOM TO LET IN OLD TOWN: Share with mum, 9yr old son and dog. Suit dog-loving creative over 30ish with car. Cheap rent £250/month inc bills and wifi in return for some dog walking. Please locate Old Town before ringing 07932 630576 (1 May)
2 BED HOUSE TO LET: The property has been let - could you please remove the ad as I'm still being innundated with calls.
FOR SALE ASTRA CLUB '52' REGISTRATION: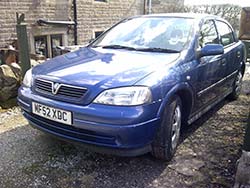 MOT mid November, Tax to end Aug. 3-new tyres, exhaust last 6 months. 98,640 miles. Full service history, one owner last 7rs. Quiet engine. £600 ono. Tel 07817 900689. (29 April)
WANTED: HOUSE OR FLAT TO RENT IN HEBDEN BRIDGE Morning all, I'm a professional female looking for a place to rent in Hebden. It must have allocated parking and be within walking distance of the station. Furnished (or part furnished) and not too much of an uphill slog to get home would be a bonus. I can move quickly and can provide references and required deposits. Email me if you have a property that could be a good fit. Thanks!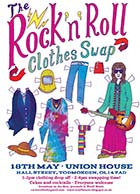 ROCK N ROLL CLOTHES SWAP IN TOD! 18th May at Union House, Hall St, Todmorden, OL14 7AD. Come along with your unwanted (but good quality!) clothes between 1 - 2pm. Then between 2 - 4pm it's swapping time. Cakes and cocktails for sale too! Cost: donations on the door, all proceeds to a non-profit music festival called 'Woolf Music'. All welcome! (25 April)
PECKET WELL, BEAUTIFUL, CHARACTER 2 BED COTTAGE TO LET 2 Bedrooms (each with shower) unfurnished cottage, GCH, to let in Pecket Well. Stunning views. £550 pcm bond and references. No smokers or pets. Contact Colin 07917 170888 or 01422 881810 (24 April)
ERIBA PAN 1992 CARAVAN FOR SALE
Lovely retro 2 birth caravan for sale. In very good condition. 3 way fridge, end kitchen with sink, 2 burner hob, 12v lighting, 240v sockets with hook up. £3250. Please call Catherine on 07776 156021. (23 April)
HOUSE KEEPING SERVICES REQUIRED: House keeping / cleaning / laundry / meet and greet services required for Holiday let in the center of Hebden Bridge. Must be available on email and mobile phone. Would suit person in Hangingroyd lane area. Contact by email (22 April)
PROFESSIONAL HOUSESHARE £350 pcm. The house has been totally refurbished to a high standard. High-spec. Large. Fully Furnished. Double Bedrooms. All Bills Included. Open Plan Kitchen, Garden. Parking. 5 Min Train Station. Contact Sam on 07955 075831 (22 April)
ATTIC ROOM to let. Females only. Beautiful location, 1 mile Hebden Bridge. Share kitchen, bathroom, garden and conservatory. £325 pm incl. wifi. Call 0788 927 9454 or email. (20 April)
SPANISH LESSONS - NATIVE SPEAKER: Offering 1:1, children, GCSE/A level support. New group lessons for beginners and for lower intermediate starting w/c 29th April. NEW Saturdays Spanish lessons for children from 4th May. If interested, contact Maria 07886298849 or email. (18 April)
2 BED HOUSE TO LET IN HEBDEN BRIDGE Characterful, recently modernised terrace to let in central Hebden Bridge as of 6th May. 2 double bedrooms, bathroom with bath & shower. On street parking. £500pcm, Bond £500. Credit checks/ refs required. Small dogs negotiable. Phone 07824 474773. (15 April)
ROOM TO RENT IN SHARED HOUSE: Small room in shared house, 5 minutes from centre of Hebden, lovely quiet road, nice views. Rent £260 per month includes bills, with £260 bond. Call 01422 842 398 0r 07864 007179. (12 April)
3 BEDROOM HOUSE IN HEBDEN BRIDGE AVAILABLE TO RENT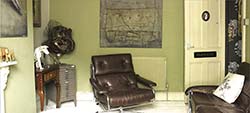 Beautiful 3 bedroom stone built terraced house. briefly comprises of sitting room, kitchen, 3 bedrooms and bathroom. Small garden area. Unfurnished. £600 pcm. For more information or to have a look around please Call Gavin on 07713 097403 or Olivia on 07846 315628 (11 April)
CALDER WINDOW CLEANERS AND POWER WASHING SERVICES: We provide window cleaning and power washing services in the Hebden Bridge area, using an environmentally friendly Pure Water Fed Pole system for window cleaning, giving smear free windows. Need your patios, driveway, paths and walls cleaning then we can blast that dirt away. Professional, reliable and customer focused. Call David today for your free quote on: 07757 060167 (8 April)
LANDSCAPE GARDENING SERVICES - Jacobs Gardens Landscaping Services. Turfing, fencing, flagging, all maintenance work. Mini digger excavation. Covering all Yorkshire. Gold winner, Harrogate show. Free quotes. Est Hebden Bridge 1997. 07970 214441 or 01422 648921 (3 April)
3 BED HOUSE FOR SALE in Charlestown Hebden Bridge. Convenient location. Large sunny rooms, beautiful river, canal and woodland views. Large kitchen and lounge downstairs then 3 good size bedrooms and bathroom upstairs. Large storage cellar. gas central heating. A lovely family home. Please contact via email. (1 April)
HOUSE-SWAP NEW YORK/ HEBDEN BRIDGE Seeking a HB house-swap with spacious studio apartment in New York (Queens; 15 mins from Grand Central by subway). Sleeps 4 (double bed; sofa bed), all mod cons. Contact via email. (1 April)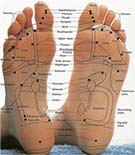 FOREST BANK THERAPIES: 'Drop in Fridays' 10am til 1pm every week. Below beauty by Grace, Albert Street, Hebden Bridge. Available for advice, treatments and Holistic gifts. Bowen Technique, muscular skeletal remedial, Reflexology, Aromatherapy. Email or tel 07792 940598 (27 March)
WANTED: 1 OR 2 BEDROOM HOUSE/FLAT: We are a teacher and journalist couple looking for a sunny house to rent from April onwards. Ideally seeking three month initial rental. Email us. (24 March)
WANTED: SAUSAGE DOG FRIENDLY HOUSE WITH GARDEN/OUTSIDE SPACE FOR JOURNALIST. Needed: home for professional journalist with a good income and two sausage dogs. The dogs jumped into my luggage from the mean streets of Thailand when I was working there. They stay with me all the time, and are low key at home. I'm looking for somewhere central, light and spacious with outside space. Email or phone 07582 017275 (23 March)
DRAMA CLASSES FOR CHILDREN: Easter Drama classes 9am-3pm. Heptonstall Bowling Club. Qualified and experienced drama teacher. Emphasis on fun not fame. 3rd April ages 9/10/11. 4th April age 12/13. Email Mel or tel 07554 368232 (20 March)
WANTED: 1 BEDROOM HOUSE OR ROOM TO RENT - I'm a part-time lecturer/ PhD student looking for a quiet, sunny room or 1-bed house or flat to rent from July 1st. Happy to provide references, deposit and rent in advance. Please email. (16 March)
SPANISH SPEAKER WANTED my 14 year old had his first Spanish lesson with his new tutor last night, courtesy of Hebweb
HOUSE FOR RENT: Lovely 1 bedroom under-dwelling in quiet, traffic-free lane with hill-side view. Central heating, double glazing, washing machine and small, sunny garden at the front. Easy 7 min walk into central Hebden Bridge. Available from mid April 2013. 6 month contract, initially. Pets welcome. No smokers. £400 per calendar month. Contact: Tam 07769 954808 (13 March)
LOVELY EN SUITE DOUBLE ROOM AVAILABLE IN FAMILY HOUSE with friendly, easy-going man, and 16 and 14 year old part-time! Very quiet, friendly road, fabulous views, semi-detached, large garden. near river and woods. No smoking. Excellent location 10 minutes walk from town, 15 from station. £320 pcm incl bills and broadband. Available mid-April. Call David 07958 042476 or email (12 March)
ALLOTMENT SHARE OFFERED - FREE! Want to borrow our allotment (central Hebden) for 2-3 full-growing years? No charge, but elbow grease and commitment required. Previous experience helpful. Call 07980 280153 (9 March)
HOUSE WANTED FOR RENT - HEPTONSTALL area for young family. Two/ three beds, unfurnished. Reliable and trustworthy tenants with own home being rented out to allow move to the area. Must not mind one cat. Contact Mel or Joe on 07971 074199 or 07771 747420 (6 March)
CLIENTS WANTED! MASSAGE: £15 2nd Treatment (1 hour) with Emma or Zero Balancing with Michelle. Come and experience the gorgeous Juju Lounge and get pampered. 2nd treatment must be taken by end April. Emma 07905 205728 Michelle 07815 897985 (5 March)
3 BED HEBDEN HOUSE FOR RENT: Central Hebden location. Terrace house, in good tidy condition with some nice features. Kitchen/ living room, bathroom, 1st floor bedroom and 2 attic bedrooms all of good size. Available immediately. £500 PCM. Call/ text 07791 601763. (5 March)
HOUSE NEEDED TO RENT: Looking for a min 3 bed house in central Hebden for rent commencing 1st July. Thanks! Contact Nicola on 07727 155827 or email. (5 March)
ROOM TO RENT IN CENTRAL HEBDEN BRIDGE: The room is now let
LOVELY TWO BED COTTAGE TO LET IN CENTRAL POSITION now rented (2 March)
LODGER WANTED: Bright sunny room in cosy mid terrace house. 5 mins. walk from town centre. Share with friendly, easy going woman and 1 cat. Veggies preferred. £350 per month including bills and wifi. Please phone or text: 07714 706250 (1 March)
Some successful ads
CHILDCARE NEEDED: now found
HOUSE/DOG SITTER WANTED: We have now found someone.(
3-BED SEMI-DETACHED HOUSE FOR RENT: My ad has yielded a tenant within 12 hours of being posted so will you please put a message next to it or remove it.
TO LET: Can you please remove the ad. We have found a tenant. Hebweb did the trick again!
LOVELY 3 BED HOUSE TO RENT IN NUTCLOUGH: We have found tenants now – thanks again for Heb Web help!!
3 BEDROOM HOUSE FOR RENT IN HEBDEN BRIDGE: Now rented
2 BEDROOM HOUSE TO LET IN HEBDEN - now taken
2 BED TERRACE (HEBDEN BRIDGE) TO LET: please remove my ad for 2 bed terrace on Foster Lane . . . it's now let. Thanks very much again.
2-3 BEDROOM HOUSE FOR RENT - The house is now re-let. So let me add to others' my congratulations on a useful as well as interesting website (28 Oct)
DOUBLE ROOM TO RENT IN TODMORDEN
- Now let
TO RENT, LATE SEPTEMBER - I've been overwhelmed with good prospective tenants and the house is now let to a lovely couple. What a good resource Hebweb is! Please can you mark the house as let/take down the ad? (29 July)
COTTAGE TO LET FROM AUGUST - Just to let you know that my `Cosy Cottage(6 July) is now let. I`ve had Lots of interest and now got someone who I hope will be really good. Thanks for all your help.
PART-TIME ADMIN VACANCY - We placed a job ad on the Hebweb recently, intending to keep it there for 2 weeks, but we had to take it down after 3 days due to the huge response generated
HOUSE TO RENT - please remove my ad; it went the same day almost straightaway, having been previously in Courier and HB Times with no joy (5 April)
1 BED FLAT IN TODMORDEN WITH PARKING AND GARDEN - Please could you take my ad off - I found my tenant within the 1st day. What a great advertisment platform, would definitely use again
3 BED HOUSE TO LET: BIRCHCLIFFE AREA
Now taken. Thanks again Hebweb.
ROOMS TO LET
Please can you remove the rooms to let in Hebweb dated 2nd of November, I had a great response and the room was let in a few days.
3 BEDROOM HOUSE TO LET
IN HEBDEN BRIDGE
Just to let you know that the "
, characterful newly redecorated 3 bedroom house to let in Hebden Bridge" has now been let. Many thanks!
2 BED HOUSE TO LET, HEBDEN BRIDGE
(26 July) - Now gone
SPACIOUS ROOM TO RENT IN HEBDEN
Thank you HebWeb I had a great response to my ad and now have a lodger
2 BED TERRACE (HEBDEN BRIDGE) TO LET
The house is now let
DOUBLE ROOM IN HEBDEN BRIDGE
I placed an advert looking for a lodger in the small ads (double room in Edwardian house) - been inundated and the room is gone, would you be able to take the advert off the web. Many thanks.
LOOKING FOR LOVELY 2 BED HOME TO RENT
Thank you so much for the properties we were offered and we've now found a gorgeous new home to move into! Happy Springtime xxx
WEAVER'S COTTAGE TO LET
The house is now let - please could remove the ad as I'm getting loads of calls and e-mails
HOUSE TO LET, CENTRAL HEBDEN BRIDGE
Very successful, and we received loads of calls
ONE BED HOUSE FOR RENT
Part furnished, one bedroom, house in popular Birchcliffe area. Close to centre of HB - now taken
TODMORDEN: SPACIOUS BEDROOM TO RENT
Taken
FOR RENT - Now taken.
Steven Farrell: "Hebweb comes up trumps again. Within a week of advertising my house I've had over four enquiries, found two sets (couples) of suitable tenants and arranged for the new tenants to move in October."
2 BED HOUSE TO RENT - SHORT TERM
Lovely 2 bed underdwelling with small garden are to rent. All white goods included. Taken
HOUSE TO RENT - now taken
Small 3 bedroom house available mid August 2009. South-facing with views and some outside space. 10 mins walk to Hebden Bridge centre, close to Hardcastle Crags.

"You can take down the ad for a personal assistant. We had many expressions of interest from this."
"Please can you take down the advert listed on HebWeb – house now rented and I keep getting calls."
"Desk and chair - SOLD. Worth every penny of the £10"