WHERE TO STAY in Hebden Bridge. See the extensive HebWeb listings of accommodation, self catering and bed and breakfast options for when you visit our wonderful area.
Tourist Information
Tourism Guide
This year - in addition to the usual sections about places to go, things to see, eating, drinking, shopping independently, and getting and staying here - the Hebden Bridge guide takes a step forward into the digital age with the pdf version of the paper leaflet now featuring 'live' links to so much more online information about things to see and do in Hebden. So now it's 'download and click through'. Go to this page to download the leafletand find more links related to the topics covered in the leaflet. 
The old Packhorse Bridge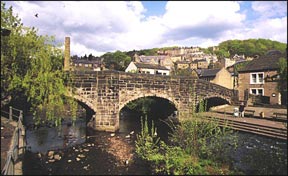 Known as the Pennine Centre, Hebden Bridge takes its name from the packhorse bridge over Hebden Water. The town developed in late medieval times as a river-crossing and meeting point of packhorse routes from Halifax to Heptonstall, Burnley and Rochdale. Textiles have been important in the Upper Calder Valley for centuries, but it was not until mechanisation and steam power were introduced from the late 18th century that Hebden Bridge began to grow significantly.
Double-decker housing
The arrival of the canal and railway attracted industry to the valley bottoms, but with limited flat land and a growing army of textile workers, dwellings were ingeniously built on the valley sides, giving the town its characteristic double-decker housing.
Hebden Bridge has seen great change in recent years. Traditional industries are no longer a major force, but buildings have been stone-cleaned and revitalised, the Rochdale Canal has been restored, and the locality has become a desirable place to live and visit. And a centre for creativity
Disability Access
Accessible Venues guide - a brief guide to which venues for hire, might be suitable for community groups, classes, meetings, events or activities, to be accessible to disabled people. From the Disability Access Forum
Step Free Access Map for wheelchair users to Shops, Cafes and Pubs of Hebden Bridge
Links