WHAT'S ON: LOCAL EVENTS
in Hebden Bridge and the surrounding area
7 July - 20 August 2022
Slow the Flow Roadshow 
Together we can slow the flow is a climate action roadshow taking place across Calderdale from 7 July to 20 August to raise awareness about climate change and encourage people living and working in the area to take action to prevent major flooding events. 

The roadshow – the first across the borough – comprises of a travelling exhibition and varied events programme taking place in towns and high flood risk areas urging everyone from school children to businesses to help slow the flow of water and adapt to climate change. 

All events are free to attend. Events taking place at Hebden Bridge are: 

17 July and 7 August 10am-3pm Hardcastle Crags Information stall, family activities and NFM walk 

14 August 2-3.30pm Hebden Bridge town centre 
Organised Flood Walk with Andrew Entwhistle chief flood warden, followed by a drink at local pub 

20 August 10am - 3pm Calder Homes Park
Information stall, interactive exhibition and activities 
More info on this HebWeb news page
Saturday 13 August 2022
Benefit following Burlees House Fire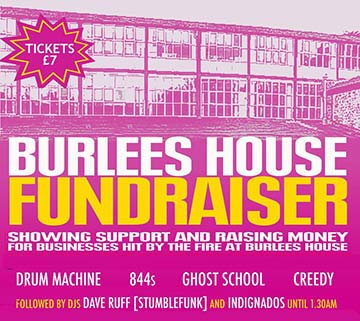 Councillors Josh Fenton Glyn and Sarah Courtney rapidly organised a response to the awful Burlees House fire.
With the help of Mal Campbell, the Trades Club and Dave Boardman there will be a gig at the Trades Club on Saturday 13 August, a Fundraiser for the small businesses affected by the Burlees House fire:
live psychedelic acoustic, folk and blues following by eclectic beats from DJs Dave Stumblefunk and Indignados - expects rare grooves, jazz, soul, reggae, afrobeat and more.
Doors 7pm
Sunday 14 August 2022
The Lost Chord Ensemble
7 pm to 9:30 pm, in the Little Theatre bar, Holme Street, Hebden Bridge HX7 8EE
The Lost Chord Ensemble meets about once a month. Musicians (with their music stand) are invited to come and play some light music selections.
If you are coming for the first time, please contact chris.browne@tiscali.co.uk with details of your instrument so that a pad of music can be made available.
Monday 15 August 2022
Calder Food Support
Hot food at the Good Shephard in Mytholmroyd between 5 and 7 next Monday and every Monday. This just about sharing food and having a chat or playing a game. Children very welcome with an adult. Donations welcome but not needed. Please ring for more details 07741 457658. My name is Bernice.
Sunday 21 August 2022
Cake and Pottery Sale
11.30-4.00 pm. Behind Town Hall, Hebden Bridge
A Fundraising event for: Survivors of Torture Activity Fund (STAF)
Please come along
If you can make a cake for us to sell at the event please contact John on 07789 264770
Sunday 28 August 2022
Arvon Live Writing Day at Hebden Bridge Town Hall
Arvon's Lumb Bank is running a Live Writing Day with Will Self and Amy Liptrot at Hebden Town Hall on Sunday 28th August.

Is your writing – whether fiction or nonfiction – about places? Are you interested in how to use a certain location in your work? Do you want to push boundaries, both literary and geographical?

Over the course of two Masterclasses delivered live and in-person, Will Self and Amy Liptrot will share some of their own methods of exploring an area – on foot, in words – and give you a chance to try them out. Do places have their own voices? Do they carry memories? How can we as writers tune into and translate them? You will consider what makes successful place writing as well as what makes you an individual.

There will be opportunities to be inspired by the landscape of Hebden Bridge and the Calder Valley as well as places from your own experience and imagination: town or city, island or forest, kitchen or carpark, map or cloud.

More details and to book 
Sunday 28 August 2022
Wuthering Heights
Hebden Bridge Town Hall - 6.30pm-8.30pm
A vibrant new adaptation of Emily Brontë's elemental masterpiece.

Upon the brooding heath, unbound by the judgement of society, a wild and intoxicating obsession torments the moor. Be witness to a passion that goes beyond the grave.

SISATA engages with the nature of love, drawing out all its guises. In the toil for happiness, the lines between tenderness and mania, care and cruelty are woven in the mist.

Accompanied by beautifully haunting original live music and uplifting songs to support this whirlwind of a story, this tempest of the heart.
27 August - 3 September 2022
Camera Club Annual Exhibition
This year's Hebden Bridge Camera Club exhibition will be taking place at the Town Hall, Hebden Bridge from 27 August. As usual, visitors will have an opportunity to vote for their favourite images. Above: last year's winner - Barbara Lansdell's 'Wren'.
More info on this HebWeb news page
Friday 9 September 2022
Dark Matter Promotions presents
Japanese Television + The Hazy Janes
Japanese Television surf on a swirling wave of reverb-drenched organ, garage-fuzz guitar, hypno-motorik bass and pounding, voodoo drums. With Halifax dynamic blues-rock duo The Hazy Janes in support.

Golden Lion, Todmorden
Doors 8pm
Advance tickets via Skiddle
Saturday, 10 September 2022
Luddenden Fete & Mayor Making
1pm 'till late!
Games, Tombola, Duck Races, Auction, BBQ food, Live Music and lots of fun.
Find us at St Mary's Church and the Lord Nelson Inn in the centre of the village.
All welcome - raising money for the new Mayor's chosen charity MIND.

Saturday 17 September 2022
Dark Matter Promotions presents...
Large Plants and Jesus Knieval
Large Plants is the post-apocalyptic downer-fuzz-rock side project of Jack Sharp, former singer guitarist from psych-folk luminaries Wolf People. With support from Jesus Knieval - psychedelic alt rock band.

Golden Lion, Todmorden
Doors 8pm
Advance tickets via Skiddle
Sunday 18 September 2022
Provisional date for the 2022 Handmade Parade
Watch this space
29 September 2022
Screening of Alice - A fight for life
The Picture House, Hebden Bridge
On 29 September 2022, RWK Goodman are hosting a charity screening of Alice - A Fight for Life at The Picture House, Hebden Bridge. The documentary is being aired to mark the 40th anniversary.
Alice Jefferson developed the asbestos related disease of mesothelioma after working at Cape Insulation's Acre Mill asbestos plant in Hebden Bridge.
The event will commence at 12 noon. There will be a screening of the documentary, followed by refreshments and a specialist panel Q&A to conclude.
This is a fundraising event which is free to attend, however we would appreciate a donation of either £10 or £20 per person to be distributed to the asbestos support groups RWK Goodman support.
See HebWeb feature on the Acre Mill asbestos tragedy
14 October 2022
Dark Matter Promotions presents...
Chanters N Ranters
Golden Lion, Todmorden
14th October
Doors 8pm
Tickets £7 + bf via Skiddle

Featuring 4 contrasting solo performers mixing up poetry, spoken word and music: Nick Toczek, Luke Tatty-Hoggarth, Captain Hotknives & Gerrard Bell-Fyfe
Friday 21 October 2022
Dark Matter Promotions presents...
The Distractions + FADS + DJ glenn evans
Golden Lion, Todmorden
20:00
Tickets (advance) £7 + bf via Skiddle

"One of Manchester's legendary bands"
The Distractions were well known on the post-punk music scene 1978-1982.

Support from local energy-charged Indie group FADS
21-23 October 2022

Sylvia Plath Literary Festival will take place this October. The weekend festival will feature talks, readings, workshops and events at venues across Hebden Bridge and Heptonstall.
23 October 2022
Dark Matter Promotions presents...
Tau & The Drones Of Praise + Trixxi Corish + special guests
Golden Lion, Todmorden
From 19:00
Tickets (advance) £8 + bf via Skiddle

Ecstatic folk-psych that full embraces the natural world and living ancestry, through joyful experimentation and deeply rooted sonics. 

With support from Trixxi - Irish A Capella