About Hebden Bridge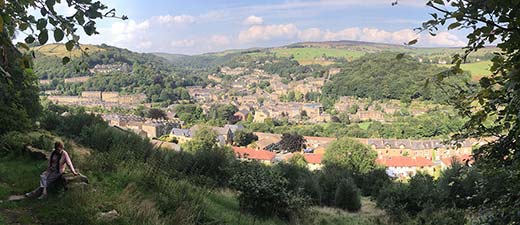 Hebden Bridge is on the Yorkshire side of the Pennine Hills. Not long ago, it was a small mill town producing wool and woollen goods. By the end of the sixties, the town was in bad shape. Shops were empty and blocks of terraced houses were being pulled down.
During the seventies and eighties the town was repopulated by a motley mixture of hippies, artists, writers, photographers, musicians, alternative practitioners, teachers, green and New Age activists and more recently, wealthier yuppy types.
The area has a rich literary history. The Bronte sisters wrote their famous novels just a few miles away in Haworth, the American poet, Sylvia Plath is buried at Heptonstall on the hill overlooking Hebden Bridge and the former poet laureate, Ted Hughes was born in Mytholmroyd, less than two miles away.
Hebden Bridge was an obvious destination for those wanting to escape the cities because life here can be a fine mixture of the urban and rural. The water from the hills powered the first mills of the Industrial Revolution. Yet, ten minutes from the town centre and you can be walking alone by the river in one of the many wooded valleys. A half an hour's walk uphill and you can be rambling across heather moorland.
Gibson Mill - renovated with sustainable energy from the Hebden Water, sun and wood - and now with a cafe. See HebWeb feature
2010 marked 500 years of the Hebden Bridge.
See Hebden 500 website
500 faces of Hebden Bridge
Five hundred words about Hebden Bridge

Hebden Bridge in the Media
Inside Hebden Bridge - "from hippies to BBC's Happy Valley to one of UK's prettiest towns, . . . with its rolling green hills, historial architecture and the River Calder flowing through its veins." Read Daily Mirror feature 12 Nov 2023
'Community-spirited walkers' town' with independent shops and literary connections. "This proudly independent 'Happy Valley' town marches to its own beat and has dramatic Pennine walks on the doorstep." Read article in the "i" newspaper 3 Nov 2023
'Greatest Town in Europe' - as well as being the 4th funkiest town in the world, Culture Trip gives 12 Reasons why Hebden Bridge 'is known as the greatest town in Europe'. Read article (17 May 2018)
Have I Got News for You This prime time BBC 1 programme featured the Cornholme library notice story, and its reference to 'the cesspit that is Hebden Bridge'.
Click here for the 35 second clip. (May 2021)
The case for making Hebden Bridge the UK's second city, BBC article by Evan Davis. "Hebden Bridge is an inverted city with a greenbelt centre and suburbs called Manchester, Leeds and Liverpool." Read the article March 2014
When BBC Any Questions came to Hebden Bridge - August 2012 live from our newly re-opened Town Hall, with the first question on squatting from the HebWeb editor.
Crystal Wilde: Finding peace in hippie Hebden Bridge: "Hippies, hikers, kooky cafes, drugs and lesbians: my home town of Hebden Bridge is notorious for many reasons, some more surprising than others." See feature in The Independent (April 2021)
Huffington Post on Hebden Bridge: "You will find a town that was almost abandoned, but brought back to life by hippies, artists and lesbians looking for a place to make a life." Written by Sean Pert, who continues: "The town doesn't just tolerate its LGBT+ community, it values and embraces us." Read more Feb 2019
Hebden Bridge features in The Times list of trendiest cities, villages and market towns in which to live. (March 2015)
Australian View of Hebden Bridge: from The West Australian - "This once-dying mill town reinvented itself as a beacon of alternative living; a quirky commuter hub where artists, writers, hippies and new-age gurus rub shoulders with teachers, estate agents and earthy Yorkshire folk". Read the article. Jan 2015
Yorkshire Life: 10 reasons to love Hebden Bridge (June 2013)
Hebden Bridge: the coolest place to live in Britain, according to The Times on 19 March 2013. Read more
Radio 4 comes to Heptonstall - iPlayer link to Ramblings

Hebden Bridge a "GREAT TOWN" - Ian McMillan writes poem about Hebden Bridge which has won the 'Great Town Award' given by The Academy of Urbanism. Hebden Bridge has previously been voted the 4th funkiest town in the world and the UK town with most local identity. Read More
Hebden Bridge's "delightfully relaxed vibe"
There's nothing not to like about Hebden Bridge. Once a hippy retreat, this little West Yorkshire town might have shed its dreadlocks and wholemeal image, but it's maintained a delightfully relaxed vibe. Given all the rain we've had of late, it's looking more lush than ever; verdant greenery forms the perfect backdrop to terraces of stone houses that look straight out of a Brontë novel. It's oh-so-bucolic and oh-so-pretty, but, as the locals would no doubt remind you, capable of contemporary cool, with wine bars and traditional boozers mingling on the high street. From the Metro
"Developers and speculators have a quiet mill town in their sights. Now, its radical community is up in arms", reported Paul Wilkinson in the Daily Telegraph. Read Where there's brown rice, there's brass
Happy Valley writer loves Calderdale. "Hebden Bridge is vibrant; there's a lot going on artistically and it's also got great galleries, pubs and restaurants." Sally Wainwright talks of our "dramatic and awe-inspiring" landscape and the influence of local historian Jill Liddington's Anne Lister book. Read her Guardian article July 2015
"In the upper reaches of the Calder Valley lies Jumble Hole Clough, a steep wooded valley embracing a fast-flowing stream which tumbles off the high moorland. Near the head of the clough stands a mute reminder of the early days of the Industrial Revolution, in the shape of ruins of a small water-powered mill which is slowly being engulfed by the surrounding foliage." from the Guardian's Country Diary
"With its apparent seclusion from the rest of the world, Hebden has a tendency to breed introverts and other colourful personalities. It bucks the trend of other higher populated and trend- setting Yorkshire towns with effortless ease and style". From Deep in the Heart of Yorkshire by Alex Clark in Hackwriters.com
Hebden Bridge is the 4th funkiest town in the world and is also the UK town with most local identity From HebWeb news
"Tantamount to Soddom and Gomorrah (Sir Bernard Ingham), The Hampstead of the North', or just another tourist trap? Hazel Davis investigates". Hazel Davis investigates in Take it to the Bridge from The Leeds Guide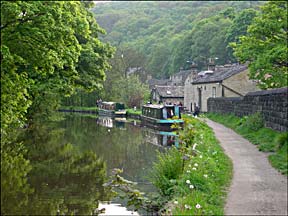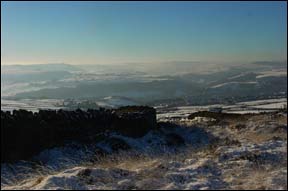 The Hebden Bridge Web is published and maintained by
Pennine Pens.

info@hebdenbridge.co.uk