HebWeb Green Pages
GREEN NEWS
Green Pages 2000 - 2005 now on the HebWeb server and once again available - see below
COP26 - local actions Can't make it to Glasgow for COP 26? – you can still join in and take part! There are several local family friendly events and actions to get involved in during the Glasgow Climate Summit. More info
Small Ads "We were overwhelmed with responses!" See Small Ads page

Calls for climate promise from local election candidates - An alliance of local community groups and businesses is calling on all candidates to pledge to take strong action on the climate and ecological emergencies should they get elected in May. Read more (19 April 2021)
Blackshaw Head Wind Turbine Project - public meeting and share offer. Renewable energy enterprise has launched shares and hopes to generate over £100K for local community. Read more.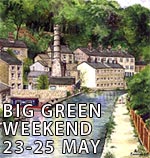 See photos from the Big Green Weekend
Street Science comes to Hebden Bridge - listen to the discussion at Hebden Bridge's Alternative Technology Centre between a leading nuclear scientist and local people who are strongly opposed to nuclear energy. Broadcast on Radio 4 at 3.45 pm Tuesday 2nd December 2008. Still available to listen again now on the Radio 4 website. Listen here
Climate Chaos Kitchen - moving Hebden Bridge towards being a transition town
HB Climate Camp activist on Channel 4 news: Paul Morozzo appeared on Channel 4 News (13 Aug), pictured talking from the Climate Camp at Heathrow. He said that the proposed doubling of Heathrow capacity was complete madness. The ecology of the planet should be the priority. Holidays should be sustainable and we should invest in railways. The slower you travel the bigger the planet, said Paul. Paul Morozzo is also quoted in the Guardian.
Why nuclear power is not a sustainable source of low carbon energy Article from the The Busby Report
The Utsira Project is moving windpower one step further. A wind turbine which powers an Utsira, an island off Norway. When supply exceeds demand, power is stored by creating hydrogen which then provides power when there is no wind.
Utsira Project
In 50 years' time no one will be using oil any more - Guardian article
GREEN PAGES
Fluoridation of our water See Hebweb forum thread 24 Oct

Redacre provides food for thought ahead of COP26 Since early this year, local photographer Gerard Liston has been recording plants and people through the seasons on the Redacre Growing Project in Mytholmroyd. Read more and see photos and video
Big Green Weekend Question Time debate report. Parliamentary candidates answer questions - see also Forum discussion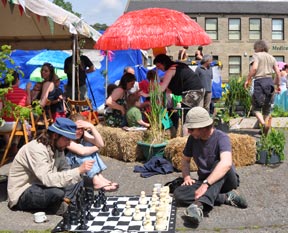 Chess in The "Secret Garden Party" which was revealed to be in The Old Fire Station. Guerilla gardening organised by the Transition Town group
Friends of the Earth's campaign for effective Climate Change legislation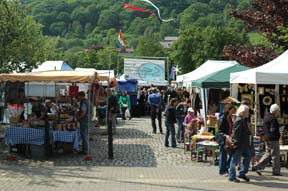 Big Green Weekend 2008
Above: Big Green Market on the Marina. More photos and a selection of the highlights. Suggestions sought for next year - see forum
BEYOND THESE VALLEYS
Green Page Archive
For five years (2000-2005), the Hebden Bridge Web worked with the Alternative Technology Centre and Frogs Graphic Design to produce the Green Page for the Hebden Bridge Times. These are available below in pdf format.