Continuing the second series of the offbeat HebWeb column from local writer and story-teller, George Murphy.
In Episode 36, there's Readers' book recommendations for the beach and the bedside; a thought experiment for sporting defeat; a football hero and his singing neice; a Smart poet's guide to cats; Victoria Wood and Julie Walters; Freedom Day tribulations; a Triangle princess; memory tips; Boris's great gamble and variations on a theme by Cole Porter.
---
"Outside of a dog, a book is a man's best friend. Inside of a dog it's too dark to read." Groucho Marx.
In this episode, I've used the cunning ploy of asking readers for their tips for books to read on the beach or at the poolside. Here's one of mine: 1,2,3,4: The Beatles in time, by Craig Brown. Awarded best non fiction book 2020, it's now out in paperback so you won't worry about getting sand between the pages (btw, for a taster, see Episode 9 of Lockdown Diaries).
Monday, July 12th
It rained all day, and PW deemed it a good day to catch up with the spring cleaning we avoided doing in spring. First item: cleaning the dresser and its never used crockery - stuff we keep in case the Queen pops round for a brew. Once we got underway, I wondered what proportion of dust in our house is dead bits of us (I sneaked off a moment for a sly Yahoo: boffins reckon it's about half).
I tried out Alexa's 'free music trial' to lighten the drudgery, and we found ourselves jigging to and fro with sets of crockery, singing along to Motown hits, "My guy, I'm talking 'bout myyyy guy e ay." It was like the scene from The Royle Family, when Jim and Chubby danced to Mambo No 5 to help them get through stripping the wallpaper - although PW wouldn't like that comparison, what with her logging 6000 steps per day.
Trivial pursuit
Amanda and Alfie from down our way avoided the crowd trouble last night. Amanda drove out of the Wembley car park straight after the match.
The football defeat could have hung over me, 55 YEARS OF HURT! as the papers would have it, but I did a thought experiment:
1.) Imagine Europe in devastation at the end of WW2, ruined buildings, refugees, shattered lives …
2.) Think of a football final in 2021, England versus Italy, compelling, dramatic, a cause of celebration, and no one died, not even the fan who shot a firework from his bum.
Tuesday, July 13th
Italy brought to book
I bumped into Jim, who has a second home in Italy. While he sipped his espresso topped with hot water ('that's how Italians like it'), I told him a mafia boss had been assassinated by a rival under cover of last night's celebrations.
I once pushed a copy of Gomorrah by Roberto Saviano through Jim's letter box, which seems a pretty grim present now I think about it. The book unmasked the Camorra, a mafia-like organisation. The gang bosses threatened the young author in open court, after which he needed a police escort.
So my book choice for lovers of Italy is something lighter. Italian Folktales, selected and retold by Italo Calvino. Folk tale collections are full of short stories you can retell in your own way. Here's my take on a tale told in 1902 by 'Orsolo Minon, housewife'.
The happy man's shirt
A king had a son who was ill at ease with the world. He arranged entertainments for the prince, but theatres, concerts and balls failed to raise his spirits. The king's wise men, mystics and philosophers were summoned. Eventually, they agreed on a course of action. "Your majesty, you should find a man who is happy through and through and he must change his shirt for your son's."
So the king sent his ambassadors all round the world to find a happy man.  A jovial priest was brought to the palace.
"Are you happy? the king asked.
"Yes, your majesty!"
"Then would you like to become a bishop?"
"Oh yes, your majesty. That would be a very wise choice."
"Then away with you," cried the king. "You are obviously not happy just as you are. Get out of my sight."
The ambassadors approached the king of a neighbouring country who had great riches, a beautiful and charming wife, a slew of happy children and had conquered all his enemies and now lived in peace. Alas, when they asked him if he was truly happy, the neighboring king admitted he could not be entirely happy, for one day he would die and lose his family and his riches. So the ambassadors didn't ask for the shirt from his back.
One day the king went hunting and out in the open field he heard a voice singing a refrain. 'Whoever sings such a jaunty air must be contented and happy with his lot,' he thought. The song led him into a vineyard, where a young man sang as he pruned the vines. The king asked him if would like to leave his job and come to the castle in the town and live with him.
"Much obliged, your majesty, but I wouldn't swap my position for any other place in the world. I wouldn't even change places with the Pope!"
"Splendid!" replied the king. "Then I will give you anything you request, but my son is dying, and only you can save him. You must give me … give me …" The king ran forward and unbuttoned the young man's jacket.
Suddenly he stopped and his arms fell to his sides. The young man wore no shirt.
Gesture politics?
Despite originally telling supporters they had a perfect right to boo players who took the knee in a gesture against racism, our Home Secretary has criticised racist comments on social media against three black players who missed penalties in Sunday's final.
The squad member Tyrone Mings responded to Pritti Patel, "You don't get to stoke the fire at the beginning of the tournament by labelling our anti-racism message as 'Gesture Politics' & then pretend to be disgusted when the very thing we're campaigning against happens."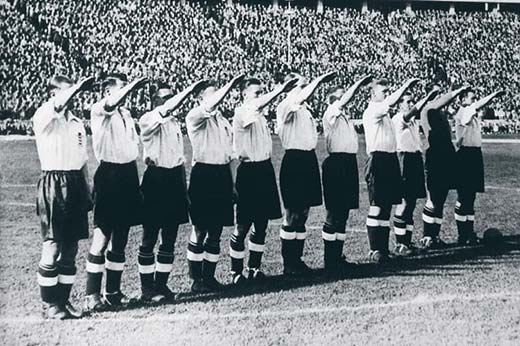 Stephanie Bowgett posted this image of England players giving the Nazi salute in a football international in 1938. Stan Cullis from Ellesmere Port, my home town, was the only player who refused to make the gesture during the German National Anthem and was dropped from the team.
Stan's niece, Rita Cullis, sang in our Secondary Modern school choir and I've recently discovered that when she left school she joined the English National Opera. Today I discovered that she was more than a chorus member, she's been an internationally renowned soprano for the past half century.
A reader recommends
Stephanie Bowgett poet: Little by Edward Carey. This is the story of Madame Tussaud with wonderful, sometimes grisly line drawings. The book I want to read next is Jeoffry, the poet's cat. A biography by Oliver Soden, which is a beautifully produced volume adorned with a Gainsbrough study of a sleeping cat.
Jubilate Agno*
As it happens, Christopher Smart's For I will consider my cat Jeoffry is my favourite cat poem. It was part of a religious poem, written between 1759 and 1763, whilst he was in confinement for insanity at St Luke's Hospital, Bethnal Green, but it's full of jubilation. Here's an excerpt:
For having done duty and received blessing he begins to consider himself.

For this he performs in ten degrees.

For first he looks upon his forepaws to see if they are clean.

For secondly he kicks up behind to clear away there.

For thirdly he works it upon stretch with the forepaws extended.

For fourthly he sharpens his paws by wood.

For fifthly he washes himself.

For sixthly he rolls upon wash.

For seventhly he fleas himself, that he may not be interrupted upon the beat.

For eighthly he rubs himself against a post.

For ninthly he looks up for his instructions.

For tenthly he goes in quest of food.

For having consider'd God and himself he will consider his neighbour.

For if he meets another cat he will kiss her in kindness.

For when he takes his prey he plays with it to give it a chance.

For one mouse in seven escapes by his dallying.

For when his day's work is done his business more properly begins.

For he keeps the Lord's watch in the night against the adversary.

For he counteracts the powers of darkness by his electrical skin and glaring eyes.

For he counteracts the Devil, who is death, by brisking about the life.

For in his morning orisons he loves the sun and the sun loves him.

For he is of the tribe of Tiger …

For every house is incomplete without him and a blessing is lacking in the spirit.
*Rejoice in the Lamb
On the other hand …
My friend Rob doesn't have a cat, and yet today he stepped in cat shit in his garden and walked right through the house not realising he was leaving a trail of cat shit behind him. Also, cats kill birds and, as my friend Christine McMahon has told me, they wipe out the local rodent population, thus starving baby owls. And today I woke up itching from what might be flea bites and had to vacuum the spare bed where I sneaked off to read last night. I've told Fred and Midge we won't be having any more cats after them. To which they placidly explained in cat language that they might outlive me anyway, so tough tits. They're getting quite crude in their old age.
Wednesday, July 14th
Went to Manchester by train. Opposite the Arndale, a small group of teenage girls were protesting, waving banners and shouting 'Free Britney Spears!'.
We had a good lunch at El Gato Negro, which we visited when it first opened in Ripponden a decade or so back. I bought Let's do it, the authorised biography of Victoria Wood, by Jasper Rees, now half price in Waterstone's. For years Victoria Wood was shy and overwhelmed by embarrassment about being overweight.
My dad says I'm a shy girl
I don't know what life is all about
He says, 'Gail come out of yourself more'
But it seems safer in than out.
Her big break happened after meeting Julie Walters. She wrote a sketch inspired by her in which Julie plays the part of a librarian who thinks she might be pregnant and worries about the cost of an abortion.
JULIE: I'm only on £23.50 and I'm still paying my fine for shop lifting.
VIC: What happened?
JULIE: A duvet fell into my shopping bag.
A reader recommends
Here's a tip from a local historian …
Alan Fowler: The book to read this summer is Anita Sethi, I belong here: a journey along the backbone of Britain, recently published. A description of her walk along the Pennines after a racist incident on a train. Written by a young woman who grew up in Manchester, bought in our local bookshop. A powerful description of both walking and the impact of racism.
Friday, July 16th
On Celebrity Gogglebox a black celeb commented on the racist tweets sent to black footballers, "That's what always happens. When we do well we're English. When we fail, we're black."
Saturday, July 17th
Alongside the Wood bio, I'm reading A curious history of sex, by Kate Lister. In her introduction she writes …
"Humans are the only creatures that stigmatise, punish and create shame for their sexual desires. While all creatures have courtship rituals, no wildebeest has ever gone into therapy because it's struggling to express a latex fetish. The queen honeybee will shag up to forty partners in one session, return to her hive dripping in semen and clutching the severed cocks of her conquests, and not one drone will call her a slut."
As it happens, Victoria Wood wasn't a fan of male genitalia. "It looks like a pudding without the custard."
Spotted dick?
Monday, July 19th
FREEDOM DAY!
Ping pong
Health Secretary Javid caught Covid, so Johnson and Sunak got pinged, but were carrying on as before because they'd got a special FREEDOM PASS - 'for research purposes'.
It took them three hours to realise this idea stank to high heaven. At the moment, half a million people have been pinged and are isolating in accordance with the government's advice.
Puzzle prose
I was invited to read stories from Murphy's Lore at The Puzzle in Sowerby Bridge. There was a funky jazz band playing outside, so our select ensemble retreated to the bar and tried to chat over the booming bass speakers. 40 years ago, I fronted The Holroyd Brothers outside The Puzzle, on a cold autumn evening. The police raided us because of complaints from people in Norland about the noise. All the best bands got raided back then.
This was a select company, so the signing didn't take long. Joy Edwards read a precisely detailed account of a child's death by drowning, landing the dying child fully formed at my feet in my imagination. I asked if the story was real, or a fiction. Through the din, I think she said, "It was real alright."
After the stories we talked about old times and characters we knew when we lived in the area. Jack Noble of Cottonstones once told PW, "I've got three instruments on my body; but I've got no fundamental orifice."
Tuesday, July 20th
The Triangle princess
Because of the heat, we sat inside most of the day and tried to create a through draft by opening windows fore and aft. I reminded PW about the old man in a brown wig we used to see pushing his mother in her wheelchair from Triangle to Sowerby Bridge every day.
There was a rumour that she was a Hungarian princess who'd fled from the Soviets. After his mother died, the man in the wig became a recluse. There were rumours that his home was full of heirlooms and treasures. One night, burglars broke in through a skylight and attacked him, no doubt hoping he'd lead them to a vault full of treasures. They found no heirlooms, jewels or valuable paintings.
A few days later, their victim died in hospital from his injuries.
Wednesday, July 21st
Ayia Sophia
This place has been a real honeypot over the summer. We sat outside and got the 2 course deal for £13.99.
20 years ago, PW ordered a dish there but asked the proprietress not to include bulgar wheat because she didn't like it.
"That's how we serve it."
"Yes, but I won't eat it. I'll still pay the same amount."
"That's how we serve it. Look at the menu!"
It was like that Jack Nicholson scene from 5 Easy Pieces, except PW didn't argue, we just avoided the place for years. There's been several proprietors since then and the present regime are providing cheap and decent food - and they didn't mind giving PW skinny chips instead of bulgar wheat (which was delicious btw).
Thursday, July 22nd
We've got workmen in and I overhear snatches of their conversation, "1.3 million have isolated in the last week because the government came out of lockdown too early. They won't admit it though."
Did my perambulation and was joined by Zaffar Kunial in the park, who recently prompted me to read Heavy light, a journey through madness, mania and healing, by Horatio Clare, which I've subsequently been championing. Today Zaff mentioned a novel by Steve Tilston, our renowned folksinger, entitled, All for poor Jack. I checked out the reviews and discovered someone called Bob Dylan has given it a plug.
This evening, we were about to water the gardens when the heavens opened. Fortunately, our new windows had been sealed into place 20 minutes earlier. It was a very local downpour, Todmorden was untouched. So we stayed in and watched Can I improve my memory, on Channel 4. I want to learn how to memorise lines (of songs and light verses in my case).
Friday, July 23rd
It was cool and cloudy this morning, which was a relief. I met John Stow outside Cafe Cali. I asked him for a book recommendation and he suggested Terry Pratchett. I'm often resistant to fantasies; love Jonathan Swift, but can't take Tolkien. John persuaded me that the Discworld novels are worth trying, and spun it by explaining that they are actually a satire on fantasies.
I told John about Richard Carter's book, On the Moor. I said I like reading Natural Science books, and other science books for that matter, although I can't always understand the physics, and the hard maths goes straight over my head.
John agreed, "Quantum physics!" 
"Tell me about it!"
John's a subscriber and I'm an occasional reader of New Scientist. I told him I can't buy the idea propagated by one of its lead writers that we probably live in a computer generated universe. I shared my idea for a fantasy story about Dr Brian Cox.
Imagine our telescopes improved. So far they can look back through space time to a half second after the Big Bang - but imagine if they went back 1 second further (yes, that's probably impossible, but this my fantasy, thank you). Dr Brian Cox is invited to look through the telescope to see the dawn of time. He shuts one eye and looks along the lens to 13.7 billion years ago.
He sees a guy waving to him.
I mean, "What would Brian say?"
"Don't do it!" said John.
Word slippage
Quick crossword clue: 'Bay in Norway, 5 letters'.
We had the second letter, but couldn't remember the damn word. When PW finally came up with the answer, I used the memory technique from a Channel 4 programme to retain it: imagine I get asked to go on a cruise by a glamorous woman called Audrey. I say, "I'll go, but it will cost you a fee, Aud."
A little cartoon of the scene popped into my head. There's a cruise liner waiting for us, Audrey's handing me some dosh, and I've got a red lipstick kiss on my cheek: that's called using the power of visualisation.
I didn't share this with PW, who probably would have leant Audrey the money.
Saturday, July 24th
Readers recommend:
Jackie Jones: Reverend Richard Coles's book From Riches to Rags, 'his life from childhood through stardom to religion and his life as a priest.'
Christina Longden Huddersfield writer responded: Richard Coles asked for my book on Robert Reschid Stanley: 1828 - 1911 on Saturday Live. I realise now I should have just asked for a swapsie. Kicking myself.
Kate Murphy recommends The King's Painter, a beautifully illustrated hard back  biography of Holbein, by Franny Moyle, but you wouldn't want to read it on the beach.
PW also loved Hamnet. Thanks to Maura Wilson and Pat Monday, who memory tells me sent messages recommending Maggie O'Farrell's book, which I'm told is a study of motherhood, as much as giving an insight into the life of our greatest writer.
Sunday, July 25th
Boris's gamble
In yesterday's Times, Matthew Parris argued that Boris Johnson's decision to unlock lockdown is his boldest decision yet. If it goes wrong, his leadership may be challenged in coming months. Having gone against scientific advice and caused the unnecessary deaths of tens of thousands in the past, there's a chance that this gamble to leave decisions about safety to individuals might go badly wrong.
Most people are worried. The Conservative lead in opinion polls has dropped from 13% a week ago to 4% now. A scientist from SAGE has suggested the government are secretly hoping to achieve herd immunity by allowing unvaccinated young people to go to clubs where the Delta variant is bound to spread. Parris isn't always a fan of Johnson, but he backs him on his decision to throw caution to the wind. As case numbers start to fall, he reckons his gamble may pay off.
Let's do it
Victoria Wood stayed up overnight and, inspired by Cole Porter's song, wrote a variation on the same theme. When her husband came down in the morning, she told him she thought she had a show stopper. They'd both thought for some time that she could write a lyric to bring a crowd to its feet at the end of a show. We saw her perform the song at Halifax Civic Theatre at the end of her next tour, when she reckoned she'd finally nailed it. As she didn't want it to be confused with the Cole Porter original, she changed the title at the last minute to The ballad of Barry and Freda.
---
Murphy's Lore, the book is available to order here
If you would like to send a message about this piece or suggest ideas, email George Murphy
More Murphy's Lore
See the Murphy's Lore home page for all 86 episodes.
---