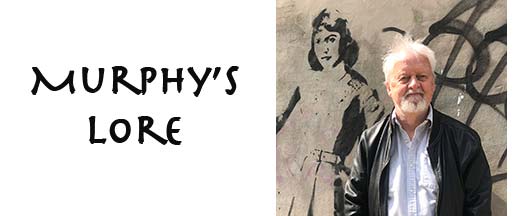 Continuing the second Lockdown Diary series of the offbeat HebWeb column from local writer and story-teller, George Murphy.
In episode 40, this final episode of Lockdown Diary, there's a botanical investigation, a Fosbury Flop, refrigerator mothers, beasts and blondes, mind matters and a spiritual laxative, Emma and Aubrey, Old Sodbury and his brother, a Hebden Bridge centurion, JS Bach and Horatio Clare, a man and two women, a cat in a carriage and a fancy man to avoid.
---
Monday, September 6th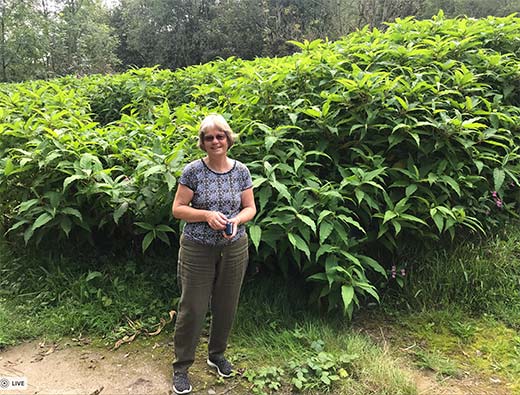 I discovered a dense mass of plants with trowel shaped leaves in wildest Mayroyd, and determined to find out whether they were helpful or harmful.
Using a friend of average height as a measure, partly because Jenny owns a Plant I.D. App, I then asked friends on social media for their opinions. The consensus was for ground elder, introduced by the Romans for medicinal and gastronomical reasons. It was traditionally known as goutweed because it repairs decrepit feet. Jenny's app described it as a type of knotweed (there are 247 members of the knotweed family, including the dreaded Japanese cousin). Gardeners find ground elder impossible to eradicate, so the usual advice is to eat it. Apparently, it has a nutty flavour. My former colleague Kirsten reassuringly wrote, 'You can put it in your salad, George.'
Jenny was also useful as we had our granddaughter Rosie over for the day. I've lost count of how many grandchildren Jenny has, but she managed to get Rosie to forget about her iPhone and admire some public art in the park.
While the females were touring the shops, I was sent ahead to look for a place to have lunch. I bumped into one time spin bowler Zaffar Kunial at Cafe Cali, and asked how the cricket was going. He said England were two wickets down. I asked which team he was supporting, then apologised for sounding like Norman Tebbit.
Tuesday, September 7th
The news is full of the new formula for funding social care. I notice that funding Adult Social Care is going to be sidelined for the next few years to channel extra money into dealing with the NHS waiting list.
Last night, PW said fondly, "Remember when you used to jump into bed at night?" So today, I did a Fosbury Flop onto the spare bed and promptly broke a spring in the mattress.
Met Jude in town, fresh from winning a doubles snooker match in Halifax. He told me a new support worker was shown around his accommodation by a colleague.
'Saleena', a fellow resident, piped up, "I bet you don't like being shown round by Andrew, Christine. He's so ugly." I told Jude that Saleena has poor social skills because of her condition, but his social skills are very good.
"Not when I'm in large groups," he said. "I don't know what to say, because of my autism."
Wednesday, September 8th
Refrigerator mothers
Jude's comment on autism, and a new project I have in mind, got me to reread my notes on Bruno Bettelheim, who survived time in a concentration camp in the late 30s. He bought his way out just before war was declared and became an accredited psychiatrist. Before hostilities started, he escaped to Australia and then to the States.
Bettelheim thought autism was caused by mothers who failed to establish an emotional connection with their children. This theory of the cold mother caught on for a while, especially in America and the UK. In the 70s, a friend of ours at Yorkshire TV tried to get funding for a documentary about the impact of the refrigerator mother theory on families over here.
After his suicide in 1990, detractors claimed Bettelheim had a dark side. For one thing, he spanked children in his care. Subsequent studies revealed that most of his young patients weren't actually autistic. Then critics discovered plagiarised passages in Bettelheim's books, including his psychoanalytical treatise on fairy tales, The Uses of Enchantment.
From the Beast to the Blonde
In her (1994) analysis of the history of folk tales, Marina Warner argues that Bettelheim's Freudian interpretations and the influence of Disney film versions, 'leeches the history out of fairy tales' and gives them a 'falsely archetypal character, reinforcing prejudices such as the evil stepmother.' She explains that the absence of mothers in fairy tales arises from a historical reality in which women often died in childbirth. Widowers remarried frequently, widows rarely.
Many situations in fairy tales can be traced to cultures in which patrilineage, competition for dowries, arranged marriages and so on were a fact of life. Young women often outlived their husbands, and lived on in the home of their stepmothers. One can understand why they cast stepmothers in a negative role when telling stories to their children. On the other hand, in a society in which ageing and unattached women were particularly vulnerable, they might find practical use in telling tales in their dotage in which 'a useless old woman reappears in the form of a beggar…and turns out to be a powerful fairy (godmother) in disguise.'
Thursday, September 9th
I'm not surprised by coincidences these days. I was walking along the towpath and thought of a story my friend Alan once told me. When I got home I discovered it was his birthday. So I sent greetings up to Old Town. If I remember the story correctly, Alan's wife noticed that their teenage son had invited a girl home late at night, and she didn't leave till the following morning. She told Alan it was time to have a 'man to man talk' with their son. Alan was waiting in the kitchen when his lad eventually sauntered downstairs for a brew.
Alan said, "Son, we need to talk about sex."
"Okay dad. What d'you want to know?"
Friday, September 10th
Mind matters
Background reading for my next project, this morning I trawled for items on R.D. Laing, 'the psychiatrist who wanted to make madness normal.' Back in 1970, when I did my gap year in a psychiatric hospital in Greenock, it wasn't just the counter culture who championed his approach. He provided LSD to Sean Connery and the psychiatrists at Ravenscraig hospital were 'interested sceptics' about his theories. The junior psychiatrist, a Yorkshireman called Dr Kershaw, had taken LSD as part of his training. He told me, "I lost all sense of time, and took a keen interest in the gas heater."
In the 50s, Laing set up a Rumpus Room at Gartnavel Hospital in Glasgow. The idea was to let patients use a large comfortably-furnished room, remove their drugs and give them greater access to nursing support. After 18 months in the new environment all 12 patients were discharged but a year later they were all back in hospital. Laing blamed the world his patients were released into outside the hospital. His experiment at Gartnavel formed the basis of his first book, The Divided Self,  which sold 700,000 copies in the UK alone. A later book Sanity, Madness and the Family was criticised for suggesting schizophrenia was caused by the parents of patients.
In 1965, Laing founded Kingsley Hall, a safe house where people with schizophrenia could act out their traumas unhindered by conventional morality. It was underpinned by Laing's philosophy that madness was a self-healing voyage. He thought that if sufferers were provided with a supportive environment they would recover. Laing kept LSD in the fridge as a "sort of spiritual laxative" for patients. Kingsley Hall continued for five years but was brought to an abrupt end after two patients jumped off the roof.
In the summer of 1970, I left Scotland and went to a Socialist Labour League conference in Essex. One of the films we were shown was Morgan, a suitable case for treatment, Karl Reisz's film based on David Mercer's screenplay, was heavily influenced by Laing's view of psychiatry, in which madness was seen as a rebellious act of sanity in a mad world.
Saturday, September 11th
Emma and Aubrey
It's Happy Valley Pride Weekend, but we're going away tomorrow and sorting out family stuff today, so I was too busy to catch the acts. I did take a few snaps from the park bridge. A woman next to me asked if I knew any lesbians who don't own a dog. I do actually, but I noticed there was a special marquee for pampering pooches.
Tonight we watched the thrilling tennis final from the States. I was struck by Raducanu's mastery at such a young age. Which for some reason made me think of Aubrey Beardsley. Then I thought, Emma Radacanu and Aubrey Beardsley, two names that will rarely feature in the same sentence in future.
Sunday, September 12th
In Telford to see friends Dave, Lin and Pete Jackson. Dave told the story of going to The Dracula Experience in Whitby years ago with his daughter Beth. The electricity blew as they went into the third room and there were screams from all directions in the pitch black. Young YTS workers in blood-sucking apparel were especially terrified and had to be helped out of the building holding hands with Dave and Beth.
Monday, September 12th
Two to the standard Jenny
Walking beside the magnificent River Severn with my mate Dave, behind us PW said to Lin, "Look at those two, once they could run over hills, now their knees are knackered and they stumble along on the flat."
Lin and Dave (and the RHS, btw) reckon ground elder is two or three foot shorter than a standard Jenny. As Lin pointed to a spreadeagled bush she remarked, "Ground elder: the clue is in the name."
So I've decided not to consume the Mayroyd triffid for the time being, based on the sound Tyke adage: 'When in doubt, do nowt.'
Old Sodbury
In the afternoon, Charlotte SatNav sent us through through miles of high hedged B roads.
"Turn left towards Old Sodbury."
"Ah, Old Sodbury, charming old bounder, lost his money on the gee gees."
"Turn right past Little Sodbury"
"Little Sodbury fagged for Great Barrington, the rugger bugger, as I recall."
"Turn right."
"He ended up in the law courts, you know"
"Was he called to the silk?"
"No, he was a jewel thief."
After a short stop in honey and ginger coloured Chipping Camden we drove on towards trendy Stroud to stay with former Hebden Bridge friends and neighbours Sylvia and Peter. Sylvia was preparing for an Open Studio event this weekend. I bought an ominous, flame coloured painting she did in the summer in Spain just before Storm Gloria hit.
Sylvia and Peter had visited Joan Pearce in a recent trip oop north to her Hebden Bridge care home. Joan's still full of fun and put on a wavering voice to say her age, "A hundred and two!" Eighteen months ago she was on the TV news and also in Episode 3 of this diary. She was clapped by front line workers in Halifax Royal as she was  wheeled out of the hospital after surviving Covid. On their visit Joan told them about the time she fell into the canal during a WW2 blackout. Her landlord wasn't too pleased when she asked him to boil up some water for a bath.
Tuesday, September 13th
We drove to Wells. I posted a photo of the 'scissor arches' in the cathedral. We didn't have the same good fortunes as Campbell and Judith Malone of Tod, who 'by sheer luck, ended up at a candlelit dinner featuring Dame Felicity Lott plus orchestra and choir.' Roger Munday wrote to say the quadruple 'strainer arches' are only found in a couple of cathedrals and churches, including St Mary's Rushden, his home town.
Our luck was to arrive just as the astronomical clock - the oldest working clock mechanism in the world, chimed into life. 
Bach and Clare
I'm reading Something of his art: walking to Lubeck with JS Bach by Horatio Clare of Midgehole.  It's delightful to keep company with our local writer's commentary as he retraced a 1705, month long trek, by the young musician:
'Perhaps every long distance walk is a pilgrimage, whether the walker is a believer or not. The reconnection with ourselves through the communion with the world is inevitably therapeutic, and the reconnection comes from a counterpoint: the similarity of each day in their greater rhythms and the diversity of every moment.'
Similarities and differences between then and now are described, the latter including the decimation of bird and insect numbers and the thinning out of the chorus of birds which would have accompanied Bach on his walk, so that Clare felt somehow culpable for a terrible crime.
Wednesday, September 14th
A man and two women
We drove to much photographed Broadway. The fog burned off after lunch, as we manoeuvred through sun burnished villages and Charlotte Satnav sent her guidance from above.
Charlotte: Turn left in 150 yards onto Lower Peover road, then turn right.
PW: Left then right?
GM: Yes. 100 yards.
Charlotte: Turn left.
PW: Left?
GM: Yes … 20 yards … then right.
PW: Right?
Charlotte: Turn right onto Shooters Hill.
GM: Right!
PW: That can't be it. You couldn't get a wheel barrow down …
Charlotte: Turn right.
GM: You've missed it!
Charlotte: Proceed to the route.
PW: You should have said!
Charlotte: Proceed to the route.
GM: She said!
Charlotte: Proceed to the route.
PW: You should have said.
Charlotte: Proceed to the route.
GM: Then I said!
Charlotte: Proceed to the route.
PW: Muttered more like.
Charlotte: Proceed to the route.
PW: Shut up, Charlotte.
Charlotte: Proceed to the route.
PW: There's a lorry up my backside.
Charlotte: Proceed to the route.
We had a lovely time. That evening we went to the pub and a Scouse guy next to us asked where we came from. His sociability reminded me of my dad and any number of scousers of that generation. He eventually asked us if he could buy us a round, but knowing we'd had quite enough already, I said, "Thanks, but we're going for a romantic evening."
PW looked across at Mrs Scouse and said, "He should be so lucky."
Friday, September 17th
Home again. This morning the woman in front of me in the queue in One Stop had a cat in a pushchair with a little plastic dome over it and a plastic window it could look through. She told the assistant that she daren't leave her cat home alone because if she escaped she might perch on a high ledge and fall off. She did let her cat go outside into the garden in fine weather, mind you - but she had to stay in a special 'cat tent' she'd bought for her.
PW said when she was in town a woman was shouting dementedly in George's Square.
"Just look at her. What a way to carry on!" said a woman behind PW in the queue for the cash machine.
PW said, "Yes. I feel sorry for her."
"She looks as if she could be aggressive."
"Not necessarily, but that's what people usually think."
Saturday, September 18th
We watched Help, starring Stephen Graham and Jodie Comer. It's set in a care home in the first months of Covid. The offloading of vulnerable patients from hospitals into the care of poorly trained, poorly paid, care home staff, protected only by binbag PPE, was the greatest domestic political crime in recent history, costing tens of thousands of lives, but will the government ever be brought to account?
Sunday, September 19th
ENCORE!
Looking back through the last 40 x fortnightly episodes, here's the song that got the most hits on social media, possibly because it's humour with a dark side - widows beware!
Yes, we did want to run PW's bootleg version from the arts festival gig at the town hall, but she wobbled too much
Last episode
Dear reader, Covid continues, but this is the last episode of Murphy's Lore Series 2, The lockdown diaries. Thank you for the kind messages of support, and thanks to those who have taken the trouble to stop me on my rounds to tell me I've kept their spirits up during these troubled times - which was my original intention.
---
Murphy's Lore, the book is available to order here
If you would like to send a message about this piece or suggest ideas, email George Murphy
More Murphy's Lore
See the Murphy's Lore home page for all 86 episodes.
---