Handmade Parade dazzles the crowds
Monday, 9 June 2014
Another superb Handmade Parade! Hundreds took part with their wonderful costumes and creations. Thousands watched with smiles and amazement in the June sunshine.
Around 700 intrepid explorers brought Hebden Bridge to a standstill on Sunday as the Handmade Parade's Endangerous Expedition roared through the streets in a riot of colour, creativity and noise.
The parade was voted a huge success by those taking part and the thousands lining the streets, including Blue Peter presenter Barney Harwood, who was being filmed by a crew from the popular CBBC show.
The theme for this year's Handmade Parade was endangered and extinct animals in four environments: Jungle, Polar, Desert /Savannah and Oceans. Each section of the Endangerous Expedition had a giant creature representing it and the sections drew on designs and decorative motifs of cultures from those areas.
Stars of the parade were an Indian elephant by lead artist Fran Sierevogel, a Musk Ox by parade Artistic Director Andrew Kim, a camel by lead artist Lisa Gort and a sea turtle by lead artist Kerith Ogden.
They were joined by a pair of dodos, a brightly coloured flock of toucans, stilt-walking tigers and scorpions, arctic foxes, polar bears, camel families, sharks and manta-rays.
Handmade Samba Band, Ski Band, Northern Lights Street Orchestra, Drum Machine, Dhamak and Beatlife, provided the toe-tapping rhythms along the route to Calder Holmes Park, where they provided entertainment for the crowds at the parade finale, along with belly-dancing troupe Kuz-e-kuzza from Halifax and Todmorden Belly Dance.
Crowds made the most of the good weather and the fantastic food on offer from local vendors in the park, to stay on and make a day of it.
Organisers would like to thank everyone who volunteered, took part and lined the streets to watch for making it such a special day.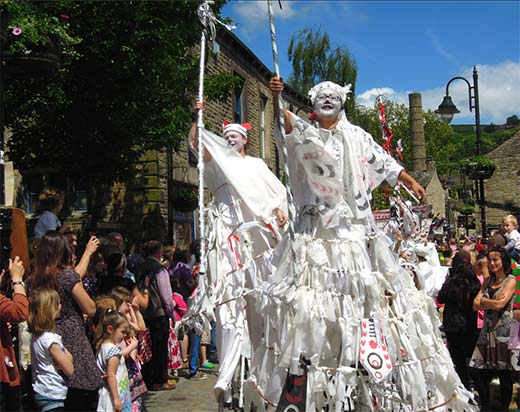 Handmade Parade Chair Linda Green said: "This community just keeps giving and as a result the parade just keeps getting better. To see so many beautiful creations on the streets today and so many people visibly moved by the experience is what it is all about. Thank you to all who made it possible and roll-on next year!"
Organiser Hannah Merriman told the HebWeb, "The sun shone, the musk ox boomed and people came from far and wide. We were exceptionally lucky this year with the weather, we have the best group of volunteers we've ever had and huge community spirit powering the parade on. Thank you to everyone who has given so generously of their time, to Hebden Royd Town Council, The Arts Council England and Community Foundation for Calderdale for supporting us financially and the amazing crowd of people who joined us in the park afterwards for our bestpost-parade-party yet!".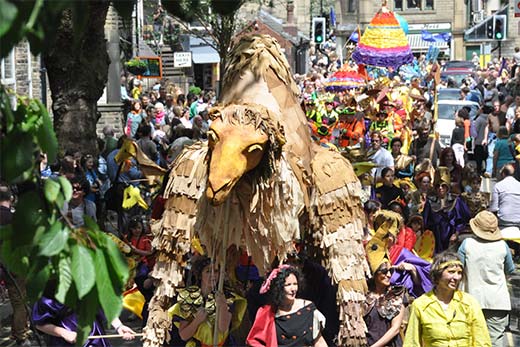 Emily Jones from Hebden Bridge, who took part in the parade with her family, said: "I thought last year's parade was fantastic but this has to be the best one ever. The stilt-walking tigers were amazing, the giant creatures were jaw-dropping and there was a fantastic atmosphere throughout the day."
The Blue Peter team filmed the parade and will be showing it, along with footage from the workshops and a special Handmade Parade make, in an episode due to be aired on Thursday July 3.