Piano Festival will entertain children and families
Tuesday, 7 April 2015
The 2015 Hebden Bridge Piano Festival kicks off in ten days and, as well as the stellar array of classical and jazz recitals, there are also lots of events which will entertain children and families.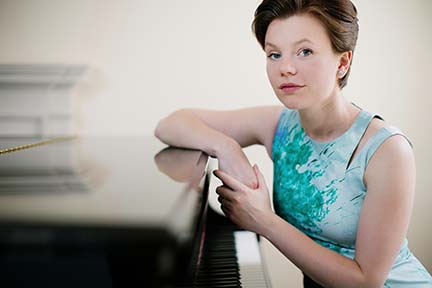 In fact on Friday April 17th the Festival actually opens with a children's concert given by one of the Festival's headlining artists Clare Hammond (see photo above) who will introduce and perform a selection of captivating short pieces by composers such as Beethoven Ravel and Rachmaninov, which tell stories or evoke fascinating imagery.
The programme which starts at 5pm and lasts for just under an hour, spans several centuries, four continents, and numerous musical styles, opening children's ears to unfamiliar sounds in the most entertaining and stimulating way.
All the Piano Festival events take place in Hebden Bridge Town Hall and for this event the venue's café is offering a special selection of food for children so that parents/carers can bring their children directly from school and feed them before or immediately after the concert.
Of course this concert may appeal to adults without children too, and there are other events that the Festival thinks will be attractive to people of all ages. For example Dave Nelson's entertaining and informative A Pianist's History of Music which is a light-hearted trawl through the piano repertoire with over 50 short examples performed by members of the Piano Club, will definitely delight anyone aged between 8 and 88. The journey starts with Bach and ends with the Beatles, but what happens in between is anyone's guess!
There are also two student concerts entitled Brilliance in Our Own Backyard, when pianists ranging from the very to the not-so-very young will be performing an amazingly wide range of pieces and styles, free café-concerts featuring jazz, blues and boogie woogie piano and, as in previous years, there will be music performed on the riverside terrace; piano by anyone who chooses to play it! Concerts that are suitable for all ages are clearly marked in the Festival's programme.
Tickets for the festival are available online, by post and in person at the Town Hall reception desk weekdays between 10am and 4.30pm right up to the Festival weekend. There is a quick link for on-line booking, a downloadable programme and booking form, and much more information about the recitals and performers at www.hebdenbridgepianofestival.com