Monday, 27 June 2016
The Hebden Bridge Handmade Parade 2016 Flooded With Joy
Flood sirens sounded in Hebden Bridge on Sunday but this time heralding not the dread of floodwater but the deluge of music, fun and creativity that is The Handmade Parade. The streets were flooded with joy when six months to the day, the Handmade Parade celebrated the community spirit which has seen the town get back on its feet after the floods.
More than 800 people took part in the 9th annual parade and more than 5,000 revellers lined the streets to watch an array of colourful community art made at open workshops and giant puppets, made by professional artists, parade through town to a party in Calder Holmes Park.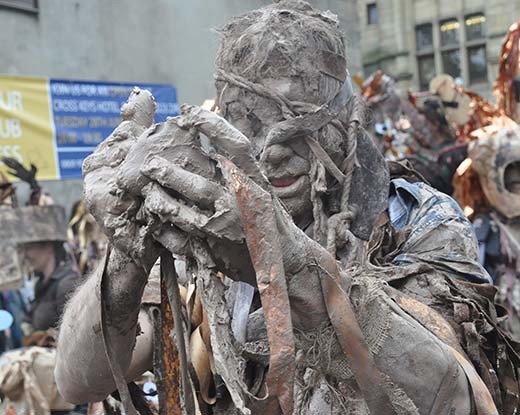 This year's theme was Muck In!, a mythical retelling of the story of how Hebden Bridge was flooded on Boxing Day and all those who mucked in to help the town emerge from the mess it left behind.

Spectators were treated to mud zombies, dung beetles, busy bees, an army of worker ants, sunshine warriors, one-eyed trees and a polluting machine.


Stars of the parade were an Earth Spirit made by Thingamajig Theatre, a dung beetle made by lead artist Kerith Ogden, a queen bee by lead artist Fran Sierevogel and a giant sun with helping hands made by lead artist Sue Walpole.

The parade also involved the first ever UK appearance of Russian and internationsl artists representing Cardboardia who create and experiment with cardboard sculpture and performance at festivals across the world.

Calder Valley Voices entertained the waiting crowds with their moving song, 'Calder Valley Rising' and Cardboardia bureaucrats made space for the parade.
Who took part?

The parade, complete with a women's dance ensemble and participants from Ravenscliffe High School and St Augustines Centre in Halifax, bands Drum Machine, Handmade Samba Band, Skiband, Les Panards de Dansant, Juba de Leon, Peace Artistes and Hope Street works band, set off at 12noon from the Handmade Parade workshops in Victoria Road and headed down Valley Road, through a packed St George's Square and Bridge Gate to Holme Street and finished in Calder Holmes Park, where there was a mini-festival with live bands, dancing and food stalls from local vendors.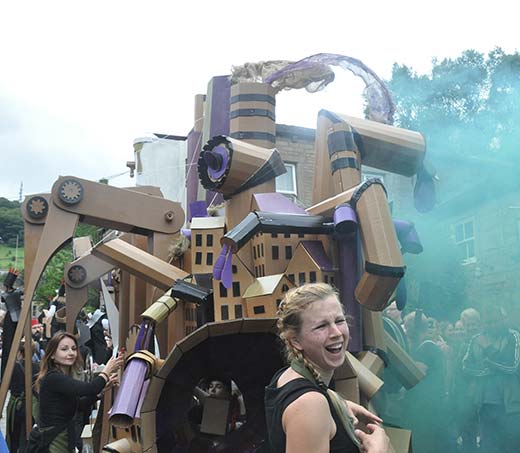 Crowds made the most of the good weather and the fantastic food on offer from local vendors in the park, to stay on and make a day of it. They were entertained by sets from the parade bands, culminating in an energetic collaboration with all the bands, led by Ade of Drum Machine. The Mobile Embassy of Cardboardia opened for the first time in Britain and participants became citizens of Cardboardia by invitation from the Cardboardia bureaucrats.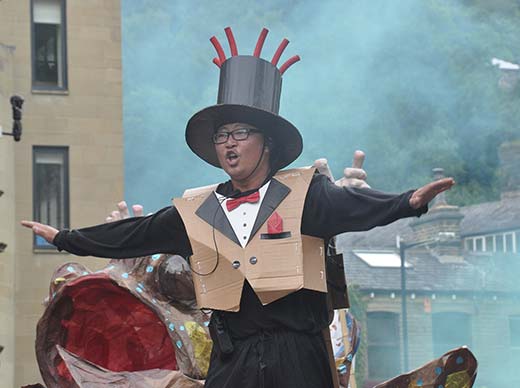 Handmade Parade Artistic Director Andrew Kim, said, "We danced down the very streets which were flooded just 6 months ago and filled it with creativity, energy and joy. I'm proud of our team of organisers and artists and all our fearless participants who took the brave step to turn this difficult chapter into a celebration of the generosity and spirit of our community.
"We loved having so many artists working with us, sharing their skills and spirit, and no doubt taking a little bit of Hebden energy back to their communities. Thanks to this co-commission from the Yorkshire Festival, our local parade has gone global!"
Organisers thanked everyone who volunteered, took part and lined the streets to watch and the organisations who help fund the parade.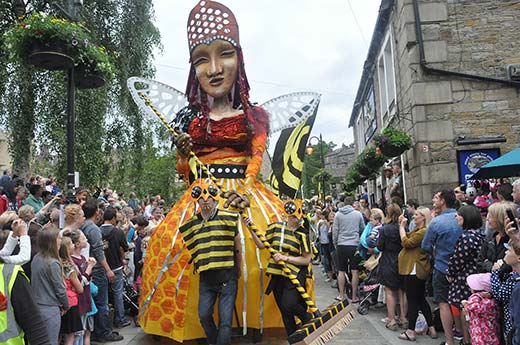 Executive Director of Handmade Parade, Kathleen McGrath said, "Huge thanks to our amazing professional artists, guest artists Cardboardia and the ever-growing band of volunteers and visiting artists who make it happen. We have had visiting artists and volunteers from Russia, Bulgaria, Spain, Italy, Ireland and the UK. Thanks to the local people who have hosted our guests in their homes.
"A special thanks to Yorkshire Festival for commissioning Cardboardia, Arts Council England, Hebden Royd Town Council, Calderdale Council and Community Foundation for Calderdale for supporting the parade."
For more information about Handmade Parade visit:
www.handmadeparade.co.uk

This year's Hebden Bridge Handmade Parade is supported by Arts Council England, Hebden Royd Town Council and Yorkshire Festival and is working in partnership with the Hebden Bridge Arts Festival and Calderdale Council.
HebWeb photo galleries all previous years of the Parade
See also:
HebWeb News: Handmade Parade: Last week of workshops 15 June 2016
HebWeb News: Theme announced for Handmade Parade 2016 21 April 2016
HebWeb News: Handmade Parade Spark Day: ideas needed for Summer Spectacular 24 Feb 2016
HebWeb News: Announcing the 9th Annual Hebden Bridge Handmade Parade! 3 Feb 2016
Previous coverage of the Handmade Parade on the HebWeb