Sunday, 19 May 2019
Gentleman Jack
BBC1 9pm, Sunday 19 May, (BBC HBO)
The first episodes of Gentleman Jack, the new drama from Happy Valley writer Sally Wainwright, are based upon a book written by historian Jill Liddington and published by Hebden Bridge publishers Pennine Pens.
Anne Lister, or Gentleman Jack, was a scholar, heiress and diarist. Her diaries were partly written in a secret code as controversially, for the time, she was not only a single woman managing her own estate, but also a lesbian having successive affairs with other women.
Jill Liddington, an author who lives near Hebden Bridge, is an expert on Anne Lister, the woman at the centre of this new drama series from BBC and HBO. Jill transcribed and decoded the part of Anne's diaries which covered most of the year of 1832 to write Nature's Domain: Anne Lister and Landscape of Desire, a book which which places Ann Lister in her historical and political context.
The BBC drama opens in 1832 -  the period covered in depth within the pages of Nature's Domain. The series goes on to use another of Jill's books on Anne Lister, Female Fortune - the same book Sally Wainwright chose to take with her While marooned on Radio 4's Desert Island Discs.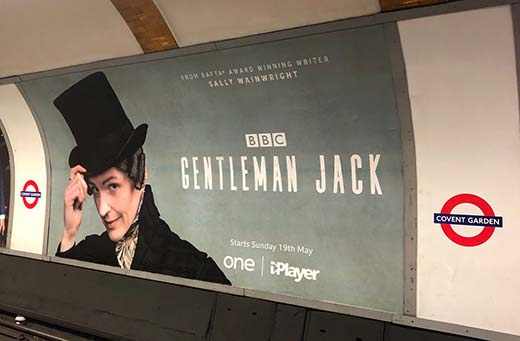 Gentleman Jack vividly brings to life the rich beauty of Calderdale countryside, soon to be appreciated by people nationwide.
The series' attention to detail means that the clothing, tools, living rooms, kitchens, paths and bridle ways all seem vividly real. Although Sally Wainwright has introduced some fictional characters, the drama generally follows the original coded and uncoded diaries of Anne Lister.
The series opened in the US on Monday 22 April, and the first episode will be shown in the UK on the prime Sunday evening spot left vacant by Line of Duty on 19 May.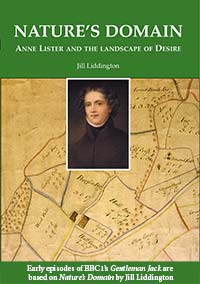 Nature's Domain by Jill Liddington tells the dramatic story, previously unknown, of Anne Lister in 1832 - it covers eight intense months of her life, from April to New Year's Eve.
In May 1832 aged 41, Anne arrived back home to ancient Shibden Hall, betrayed once again by yet another woman's marriage plans.
Despondent, she knew her romantic youth was over. Almost all her female friends had married and settled. She held melancholy spirits at bay by immersing herself for solitary hours in Shibden's well-stocked library and planning changes to the estate. She must remodel herself too. Certainly she must find a companion for life.
Then a chance re-acquaintance with neighbouring heiress Ann Walker changed her life - forever. Anne Lister focussed all her charismatic charm on a deft courtship of this lonely young woman. And Shibden was re-moulded into her 'landscape of desire'. Here in the 'moss hut' she had built, her flattering seduction could unfold - all away from prying eyes.
1832 was also a year of tremendous political tumult. The great Reform Act, which extended the right to vote to over 50% more men than previously, might have excluded Anne Lister as a woman from the parliamentary franchise. But her tenants could vote. With no secret ballot yet, she became a powerful player, door-stepping voting tenants with ruthless skill.
Anne Lister, a staunch Anglican, entertained absolutely no doubts that her 'nature' was God-given. Isolated Ann Walker had no such confident certainties. Their relationship was never going to be straightforward. On New Year's Eve 1832, Anne Lister ends her diary by wondering to herself, and writing in code: 'Who will be the next tenant of my heart?'
Nature's Domain gives a compelling overview of a key time in Anne Lister's remarkable life. Jill Liddington guides us knowledgeably through the diaries of 1832, offering crucial insight into Anne's private world and candid observations on love, sex, money and politics. Laura Johansen, Cultural Destinations Manager, Halifax.
In 2019, Anne Lister has indeed finally come into her own. Not only is she now honoured with the unveiling of a blue plaque at Shibden Hall. But also the magnificence of all she managed to achieve, whether by dazzling skill or cunning manipulation, will at last be presented in its full and vivid detail to television audiences around the world.
So it is this story of a Halifax land-owning lesbian with a secret diary that is captured by Sally Wainwright in Gentleman Jack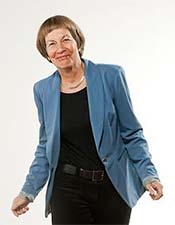 Jill Liddington is co-author of the suffrage classic, One Hand Tied Behind Us (1978).
As well as Nature's Domain and Female Fortune: the Anne Lister diaries 1833-36, she is also author of Presenting the Past (1994); this tells the melodramatic story of how Anne Lister's diaries survived after her death in 1840, and how her secret code was eventually cracked.
Dr Jill Liddington is an Honorary Research Fellow at the University of Leeds.
This eBook edition of Nature's Domain is available online now from Pennine Pens. Here is the Kindle version. And here is the iPad/iPhone version.
The paperback edition is available at the Book Case, may be ordered from any good bookshop, or online from Amazon.
---

More about Gentleman Jack and Anne Lister
Pennine Pens website - Pennine Pens also publish the HebWeb
Jill Liddington's website - with much more info on Anne Lister.
Presenting the Past: Anne Lister of Halifax 1791-1840 - also written by Jill Liddington and published by Pennine Pens. Here Jill Liddington recounts for the very first time how the code was deciphered in the 1890s - by John Lister who inherited Shibden. Once cracked, these coded passages revealed Anne Lister's daring lesbian affairs. Since then, successive generations of editors and historians have discovered their own version of the extraordinary Anne Lister story.
Female Fortune (1998), presents the 1833-36 diaries and digs deep into Anne's world - revealing exactly how she operated to get what she wanted.
Gentleman Jack song (3 mins) - taken from the critically acclaimed album 'The Fragile' by O'Hooley & Tidow, and closes each episode of the drama
Radio Times: article about the series and Suranne Jones.
Guardian article: From The Archers to HBO: how Sally Wainwright conquered TV (18 May 2019)
Guardian article: writer-director Sally Wainwright on her love of Calderdale and her appreciation of Jill Liddinton's writings on Anne Lister (July 2015)