Calder Valley Election Hustings
Wednesday, 20 November 2019
Two election hustings have been organised.
The first is on Monday - Climate Crisis Election Hustings at the Hope Baptist Church on Monday, 25 November at 7pm. Organised by Extinction Rebellion, Tree Responsbility and Friends of the Earth.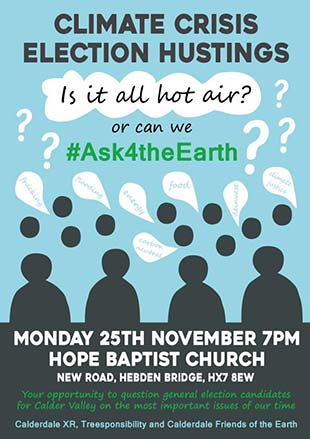 The second hustings is on Wednesday 27 November at Brooksbank School in Elland at 7.15pm - Calder Valley Education Hustings.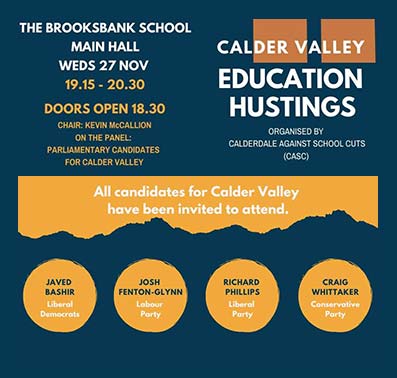 The only education hustings in the north of England is organised by Calderdale Against School Cuts (CASC) and hosted by The Brooksbank School.
Sue McMahon from Calderdale Against School Cuts told the HebWeb, "With Education playing such an important part in every community, it's time to put Education at the centre of this general election."
All four declared prospective parliamentary candidates for the marginal Calder Valley constituency have been invited to attend the Education Hustings. The event will be admission by ticket only, available from the school from Wednesday 20 November.