Four thousand trees at Hardcastle Crags
Tuesday, 10 November 2020
Work begins again to plant thousands of trees at Hardcastle Crags
Thousands of new trees will be planted at Hardcastle Crags to benefit wildlife and reduce flood risk. The work, which is part of the woodland management plan, will also see the beech canopy thinned, allowing more light to reach the forest floor. In total, four thousand new trees will be planted in the woodland, including rowan, oak, birch, hawthorn and blackthorn.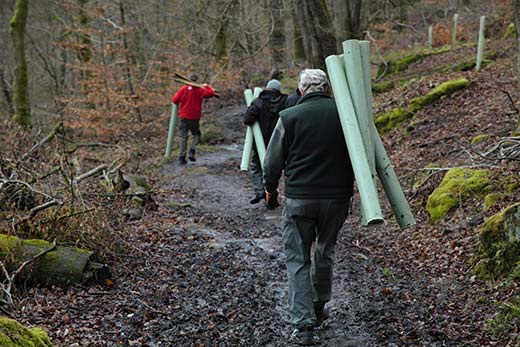 Work is now starting again in earnest after it was paused during lockdown and over the busy summer season.
By thinning branches and removing some trees, this will encourage more plants like ferns to grow on the woodland floor. This will slow the flow of water in the valley, which will reduce flood risk. Many branches will be left in place below the trees. Not only does this 'brash' help slow water run-off, it is also an ideal nesting and feeding spot for woodland birds.
National Trust ranger, Natalie Pownall, said, "We've noticed a big benefit to wildlife in areas where thinning has already taken place. Butterflies and insects have done really well in places where we've left brash piles behind. Where there's more light getting to younger trees, we've seen an increase in wildlife and birds have nested in monolith tree trunks."

Craig Best, countryside manager for the National Trust, said, "We're excited that our woodland management project can get underway again this month. The work will see some trees felled or thinned, but thousands will be planted in their place. These native trees will help diversify the woodland and allow more light to the woodland floor."
Work gets underway in November, with contractors working through the woodlands.
For more details about their work, visit the Crags website page or their Facebook page