Mind Your Head – LGTQ+ Mental Health Event
Tuesday, 24 November 2020
Happy Valley Pride presents a special LGBTQ+ focussed online mental health panel as part of their winter season of events.
The event is on Wednesday 2 December, from 7 to 8pm on Zoom (joining details are on the Happy Valley Ride website and Facebook page). It will be a lively and informative look at how 2020 has impacted mental health for those in the LGBTQ+ community in Hebden Bridge and surrounding areas.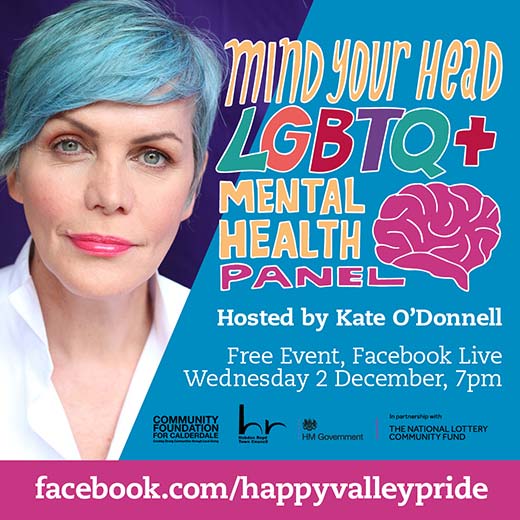 The panel will be moderated by Kate O' Donnell - Theatre performer, writer, Artistic Director TransCreative and Happy Valley Pride patron and includes:
Lydia Pignataro - Barnardo's Positive Identities

Malcolm Struthers - Clinical Hypnotherapist al Malcolm Struthers Hypnotherapy

Sally Macabe - South West Yorkshire Partnership Foundation Trust (SWYPHT) Occupational Health Therapist

Carl Harrison - performer, choreographer, yoga teacher, cabaret host, Camp Fit! host

Sarah Long - Sarah Long Mental Health and Wellbeing
Stonewalls LGBT in Britain Health 2018 report found that half of LGBT people (52 per cent) said they've experienced depression in the last year. One in eight LGBT people aged 18-24 (13 per cent) said they've attempted to take their own life in the last year. One in eight LGBT people (13 per cent) have experienced some form of unequal treatment from healthcare staff because they're LGBT.
A study of LGBTQ people's experience during the pandemic, by University College London (UCL) and Sussex University, found 69% of respondents suffered depressive symptoms, rising to about 90% of those who had experienced homophobia or transphobia.
The panel will explore some of these statisics, provide real life examples and ways to deal with anxiety, stress and depression as well as how to maintain goof mental health wellbeing. 
Tim Whitehead, Artistic Director of Happy Valley Pride said:
"2020 has been a trying and turbulent year for everyone. The LGBTQ+ community were already more susceptible to mental health due to a range of factors, including discrimination and inequalities. This has been exacerbated by the effects of lockdowns and isolation. The statistics are shocking, but we want to look beyond the numbers. We hope this event will provide an informative and entertaining look at some of these issues and provide an opportunity to bring people together during this tricky time"
Other forthcoming events as part of the Happy Valley Pride winter season includes
Kirsty's Poptastic Christmas Singalong Party - Saturday 19 December at 8pm

HORSE – Live performance - Sunday 24 January at 7pm
All the events are free and will be broadcast on Facebook and/or Zoom with more details on the Happy Valley Ride website and Facebook page.