Michael Ryan
Local writer and storyteller, George Murphy interviews local characters and personalities
---
Introduction
You may have seen Mick Ryan out and about around Hebden Bridge with his camera; or, perhaps not, as he is usually out when the sun rises and at sunset, 'chasing spectacular light'.
Mick has lived in the upper Calder valley since 2015, prior to that it was the Peak District, the Lake District, upstate New York and before that a Paiute-Shoshone reservation in California. He spent 12 years in the USA and his two grown-up children, Xavier and Felicity, live there. Originally from Blackburn, Mick is a rock climber. He has climbed at Heptonstall's Hell Hole Rocks, Widdop and the boulders at Kebs since the 1980s. His mother Rita sang in clubs all around the North West, including the Trades. She lived for a while at Midgehole, and is still a regular visitor to the area.
Mick's photography has been published in magazines, websites and books around the world. For several years he was The Guardian Travel Photography Competition judge. As well as his photography, Mick has been involved in publishing since the early 90s. First he started the climbing guidebook company, Rockfax, then in 2014 he founded fotoVUE, working with photographers and writers to produce beautiful guidebooks that guide people to the best spots for photography in places all over the world. 18 volumes have been published so far. 
In between his publishing, photography, climbing and his new passion, wild swimming, I caught up with Mick for a coffee recently. 
To enlarge any image on this page, just click the photo
---
Q&A with Michael Ryan
Mick, it must take a lot of planning, preparation and team work to produce your books?
Yes, it's quite intense, but I work with a great team of freelancers: editors, cartographers, graphic designers. Local accountants Fittons are a great help too and, of course the most important of all, all the wonderful author-photographers I work with. I work long hours but keep sane by climbing and swimming outdoors regularly, growing vegetables, learning the Gaelic whistle and getting out taking photographs when I can.
Who are the target audience for your fotoVUE publications?
Anyone who enjoys taking great photographs in beautiful places, whether they use a camera phone or a fancy camera.
Has the pandemic affected your work?
The majority of the fotoVUE books cover areas in the UK. There was a dip in sales but it is picking up again, especially as 'staycations' have increased in popularity.
Have you any publications pending for 2022?
The last two books were published in the latter half of 2021, a two volume set to Photographing Iceland with a separate map, and the second edition of Photographing The Lake District, which was fotoVUE's first publication in 2014. In 2022, the next book is Photographing The Night Sky - a technical book, then books on the Cotswolds, Surrey and Sussex, Kent and Dublin.
Going back to your early days in Blackburn, your mum was a professional singer and performed in working men's and other club venues. What types of songs did she sing?
My strongest memory is hearing her sing Trains and Boats and Planes by Dionne Warwick. She did a lot of Lulu covers, Cilla Black, that kind of stuff, popular pop tunes of the day.
When and where did you take up climbing?
When I was a teen I was obsessed with farming and used to milk cows at weekends, that and choir and playing trombone.
But when I discovered climbing on walking trips to the Lake District with the scouts, that became my main passion and has been since I was 17. At 60, I'm as keen a climber as ever.
There's a long tradition in the North West of climbers, from all walks of life: plumbers, doctors, teachers, electricians. Don Whillans and Joe Brown, two plumbers from Manchester, were our heroes and they have left their mark all around Calderdale with hard ascents.
What was your first camera?
An Olympus OM1n and a 50mm lens that my parents bought me for my 18th birthday. I've been snapping ever since.
When I see photographs of mountaineers hanging from cliffs, I can't help wondering about the person who has captured that image. How do you keep yourself safe? Is it mainly through using zoom shots?
Usually by abseiling on a rope close to the climber; wide angle shots with a climber in the foreground have high impact. You have to have good rope work skills. Once you get into it, it is relatively safe, if a little hairy! I used to climb a lot at Malham Cove and Gordale Scar, I used to enjoy abseiling down those Yorkshire icons.
Why do you put yourself into frightening situations?
I don't feel that I do. It may look scary, and there is fear involved, but staying alive is important! Safety systems are so important - and looking out for each other. It makes you feel very much alive.
You studied applied biology at Liverpool. Has that remained an interest of yours?
Yes, wherever I live I always have an interest in the natural world, plants, animals, fungi etc., and we do include an element of natural history in our books. We are lucky around Hebden Bridge with the woods and the moorlands, such beautiful landscape straight out the door.
How should we best preserve our local moorlands? What are your views on rewilding?
That's a tricky one, and quite controversial. I have both a science and a farming background. It's clear that the moorlands are as important as rain forests in trapping carbon from the atmosphere, that should be a priority, and organisations like Moors For The Future are doing great work in reestablishing the Great Northern Bog, which is good for climate warning, biodiversity and flood prevention. I'm not against shooting and have done it myself, but I don't think the intense management of grouse needed for driven grouse shooting should be a priority. If you want to shoot grouse, just go for a walk, rather than sitting in a hide having the grouse driven to you, walk up grouse shooting is far more challenging and doesn't require moorland burning. We have to find a balance between making sure that rural economies are protected, that we can grow are own food, and that we look after that natural world which is so important for our survival.
What's your taste in food? I expect you're a good cook?
Ooooh. I love cooking. I cook from scratch from raw organic food and have a mediterranean diet, lots of vegetables, miso daily, fermented veg, oily fish and grass fed meat once a week. I also do 16:8 fasting. I grow my own micro greens and sprout pulses, and also make my own kefir and yoghurt, very Hebden Bridge!
What first attracted you to Upper Calder?
The post industrial landscape and the strong sense of community. Prior to moving here from the Peak, I used to visit at weekends and fell in love with the area; the steep sided valleys, the cloughs, the moorlands, the outdoor recreation, the mills, the up and over houses, the culture, the like minded souls. It really is a unique area, not to be taken for granted.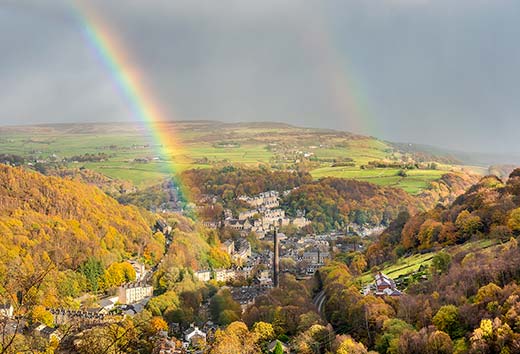 You're keen to celebrate and remind people of photographers who were also drawn to this area; Dennis Thorpe for one?
Hebden Bridge has a rich photographic heritage: Alice Longstaff, Fay Godwin, Michael Kenna, Denis Thorpe and Martin Parr, and even Bill Brandt. It is important to study these giants of photography, learn from them and stand on their shoulders. Similarly its literary tradition, there are so many published writers around here Ben Myers and Amy Liptrot, to name just two. I've just read Millstone Grit by the late Glyn Hughes, I am glad that is getting republished.
Do you like researching into the history and the literature of the places where you live?
Yes, for a short while I was in SHED, the Blackshaw Head Local History Group. It was fascinating researching local history, myths and legends. It makes life richer to learn about where you stay and live. I love reading local history books, and also I'm a map enthusiast, ancient ones and also Chris Goddard's local series - I love his annotated maps, you learn so much going for a walk with one of Chris's maps.
You are a wild swimmer. Where do you swim, and how important is it to you?
Gaddings, mainly with the swim feral lot, a group of women from Tod and Hebden Bridge, who are out there all year round, plus a few men, like Clive Green, the guardian of Gaddings. It's very important, although a tad challenging. It's not just the swimming but the companionship and doing things together with friends out doors. I've made lots of new friends through swimming.
You've just launched your photography website,  do you have any tips for a humble phone photographer like me?
That's easy, watch the weather, and get out early. Sunrises and sunsets and the golden light around them make the landscape look spectacular. Grey days around here can be very atmospheric, as can rainbow weather when we have sun and showers. Fill your frame if you can, meaning get close to your subject and if possible have a strong focal point or subject.
Michael Ryan's photography website
To enlarge any image on this page, just click the photo