Local writer and storyteller, George Murphy interviews local characters and personalities
---
---
For his latest interview, George Murphy met up with mother and son artists, Moira and Louis Benoit. Their work can currently be enjoyed at The Artworks in Halifax. George learned about their Mytholmroyd backgrounds, and what has inspired them along the way.
Read George Murphy's interview with Moira and Louis Benoit
---
The latest interview features photographer and B&B owner, Andrew Smith.
Andy's Q&A reveals a genuine, whole hearted man, whose responses are amusing, moving and life affirming.
Discover how his early fascination with photography, and friendship with fellow law student, Keir Starmer, made headline news in recent times - and why he happened to be in the right place at the right time!
Many of you will know and enjoy Andrew's photographs of people and scenery in Upper Calder, but here he also reveals his adventures on the ocean waves. I have been fascinated by his tales of family and friends in good times and bad. Andrew Smith: human dynamo!
Read George Murphy's interview with Andrew Smith
---
In this latest interview, George Murphy discusses with award winning poet Sammy Weaver her early life and how poetry helped her to cope with a family tragedy. Having been a prison educator and writing tutor, she shares her strong convictions on the need for prison reform. Discover her unconventional career path, leading, via life in a circus, to work as Deputy Director of Lumb Bank.
Read George Murphy's interview with Sammy Weaver.
---
Discover the key role played by Hebden Bridge solicitor John Pickering in supporting workers and families seeking compensation and justice after what he described as the greatest disaster in Britain's industrial history, at Acre Mill in Old Town. And how John and his colleagues worked to reveal the tragic consequences of all those exposed to asbestos, along with his fears for the future.
Read George Murphy's interview with John Pickering.
---
---
---
---
---
---
---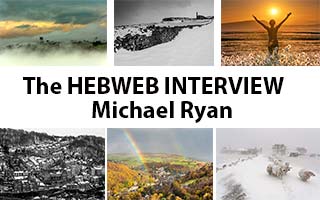 Michael Ryan, publisher, photographer, climber and wild swimmer, is the subject of the latest interview by author and storyteller George Murphy. Child of a professional entertainer, author of beautifully produced guide books, Guardian photography guru, read about Mick's passion for climbing, alongside his photographs of the moors, cloughs and crags of upper Calder. Read the Interview
---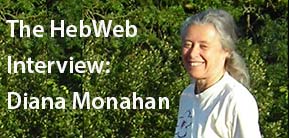 Discover the fascinating life and times - and past times - of teacher and musician Diana Monahan - the signal box, meeting Michael Portillo, being a flood warden, litter picking, her limerick writing husband and more in the latest instalment of The HebWeb Interview from storyteller and author George Murphy. Read the Interview
---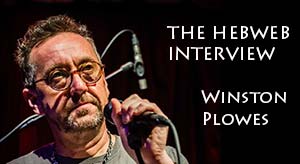 Discover the wonderful world of Winston Plowes: writer, runner, plate spinner, poem finder, land artist, Dadaist, teacher, collaborator, musician and mind expander in the latest posting of The HebWeb Interview, as told to George Murphy. Read George Murphy's interview with Winston Plowes
---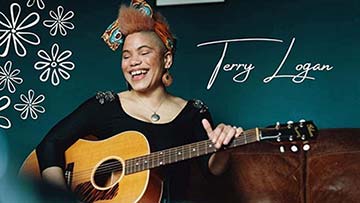 This HebWeb interview focuses on Mytholmroyd musician and Black Pride counsellor and activist Terry Logan, including performances, photos, her reflections on lockdown and her hopes for the future.
After performing at Hebden Bridge's Happy Valley Pride Weekend, Mytholmroyd's dynamic soul, reggae, folk musician Terry Logan explains how she developed her music during lockdown. Looking back, Terry describes how her mixed heritage has influenced her song writing.
Read George Murphy's interview with Terry Logan, and questions and answers.
---
---
---
---
---
---
---
---
---
---
---
---
---
---
---
---
---
---
---
---
---
---