Benjamin Myers
Local writer and storyteller, George Murphy interviews local characters and personalities
---
Introduction
Award winning novelist Benjamin Myers, lives in Mytholmroyd with his wife, novelist Adelle Stripe.
His novels include The Offing and The Gallows Pole, which won the Walter Scott Prize. He has received the Tom Gallon Prize for his short fiction. His nonfiction book, Under the Rock, about life in the Calder Valley, was praised in the Times Literary Supplement as "Extraordinary, elemental ... never less than compelling: this is a wild, dark grimoire of a book."
Ben describes his early start as a writer, playing in a band, music journalism, the influence of Ted Hughes and Sylvia Plath, his reaction to Lockdown, the scope and theme of his new short story collection, and much more.
Benjamin Myers, Q&A
Ben, please tell us about your short story collection, Male Tears, which is coming out soon.
It's a collection of stories, largely – though not entirely – about men. Stupid men, adventurous men, misguided men, dutiful men, weak men. There are stories set in different eras and situations, from fertility rituals in Neolithic times to pilgrims walking Hadrian's Wall after the fall of the Roman Empire to contemporary farmers, labourers and various other occupations and social groups that I consider under -represented in literature.
Did you set out to write a series of stories linked by a common theme?
No. They were part of a broader selection that I have been writing and continually rewriting over fifteen years. My editor then helped me shape them into a more coherent collection, at which point I realized the unifying theme was masculinity – and the pitfalls of it. Plenty of women feature too, though the unifying theme is the folly of man.
When did you first want to become a writer?
In 1980, when I was four years old and learned to write.
How did you get into music journalism?
As teenager I played in a band and was heavily involved in music. I was playing gigs from the age of fifteen, and though I was musically inept I was quite driven, an organiser, which gave me glimpses into an after-hours hinterland that existed out there, a subterranean adult world where people could do exactly as they pleased. After that the idea of a conventional career path seemed an anathema. It just wasn't really an option; I'm terrible with authority.
So at eighteen I moved south, to Luton, to study English, and at the same time started freelancing for the late great weekly music paper Melody Maker, which required a lot of skipping trains to London (I never had any money), sleeping on floors and burrowing deep into the capital city's night life. A week after I graduated I was offered the position of staff writer, moved into a squat next to the Oval cricket ground, and very nearly missed my graduation because I had just been to Spain, Denmark, Italy and the US on various journalistic missions. This was the late 1990s and I was still only 21. My next ten years were spent this way.
Is that how you met Adelle?
We met through writing. I sent some dirty poems to her, for a publication she was running called Straight From The Fridge. It was love at third sight.
You've written in praise of Bluemoose Books. How did they support you?
They published three of my novels. That's all the support a writer needs: publication! Together we strived for glory, and I think achieved a bit of it together. They're great. Bluemoose founder Kevin Duffy is a northern powerhouse.
A reviewer of Under the Rock wrote of your 'effortless style which must demand hours of headachey commitment.' Was she onto something?
That's a nice review, though it's never effortless and I do literally suffer a lot of headaches because of writing. Too much staring at a screen, my own naval or the black abyss of the human condition. Writing is beyond a hobby or an occupation – it's obsession.
You live in Mytholmroyd. Has Ted Hughes influenced your writing?
Yes, I'd say so. I think if you're into poetry, myth, history and landscape, as I am, he's impossible to ignore. He was, and still is, a giant, though I'd say I was more inspired by Sylvia Plath in my earlier years. She was just as good a poet, if not better. I do sometimes think Mytholmroyd could make more of its Hughes connection, though perhaps not to the point of Haworth and its Brontë association.
How has Lockdown been for you?
Wonderful. I've never felt as devoid of anxiety or responsibility – other than a broader responsibility to society, of course. I've listened to a lot of podcasts, lifted weights, and taken great pleasure in going to the tip. I don't need big thrills to enjoy life. The tip is where the cycle of life happens: birth, death, renewal. It's cathartic. Friday is a big day for me too, as that's when I get to put the bins out.
I was listening to the radio serialisation of The Offing and particularly enjoyed the power of your words to transport me to a particular place to inhabit that moment. Were you satisfied with the radio version?
It was read by Kevin Whately, who I thought did a fantastic job. As a big fan of Auf Wiedersehen, Pet as a child - if only because up until then I'd never heard north-east accents on television - I was really pleased to have him narrate it. I listened to some of it in my car, while driving around the back roads of Derbyshire. A surreal experience. The actor Ralph Ineson actually read the audio book, and did an equally fantastic job. He has a voice that sounds like… gravel being poured into a leather satchel. And now the Craig Parkinson has read Male Tears. I've been very lucky to have three great actors read my words. I'm making it my mission to redirect work or money from the south of England up here to the north, whenever I can. I think it's important
With other scenes, a particular car drive and a swarm of bees, I thought this would work well as a film. There's a film option on The Offing. Did that enter your mind as you were writing?
Maybe a little bit, but you can't get too distracted by those thoughts. I didn't even have a publisher for the novel at that point. A novel exists in perfect isolation while it is being written – I never show anything to anyone and rarely have a deadline. I write it, then find a home for it. A very well known actor seems to have taken to it though, so we're having a few conversations at the moment.
What makes you laugh?
I like it when a car drives past and you see a dog sticking its head out of the window, tongue and lips lapping in the breeze. That always makes me laugh, as do long, pointy shoes, Larry David,  Sarah Silverman and Alan Partridge, and a specific scene in the adaptation of Billy Liar.
When's the last time you danced?
I hardly ever dance; I'm quite repressed like that. It was probably at The Trades Club, down the front. Or maybe in the living room on a Friday night when Adelle is revisiting her days as a dancehall DJ.
Who is the most fascinating person you've interviewed?
People who have lived a little are usually interesting. Amy Winehouse. Ozzy Osbourne. Richard Hell. Danny Boyle. Perry Farrell.
Where and when did you start wild swimming?
It probably goes back to swimming various lakes and ponds in France when I was kid. And then as an adult in the Lake District and rivers in the Dales from around 2003 onwards. It's strange, I get asked about swimming more than I do about writing.
The Gallows Pole has been an award-winning hit. Apart from its local setting, what drew you to that period in our history?
I moved to Mytholmroyd in 2009, having only previously driven through it once, and was hugely inspired by the landscape, history and people of the valley, and also the occult in the true definition of the word: that which is secret or hidden from view. I also like the sardonic humour of people round here, and the individualistic streak. You'd never be allowed to be pretentious. I'm from County Durham, so it's not a huge cultural leap for me to make.
Though the story of the Cragg Vale Coiners has been well documented, the accounts lacked drama and it had never fully been explored in contemporary fiction so I wrote The Gallows Pole. It was the story rather than the era that grabbed me, then I learned that it all took place in those days just before the birth of the industrial revolution, which then suggested that were lots of socio-political connotations for me to explore. The parallels between then and now emerged, and then I had a way in to the story.
I always think Bell Hole and Bell House have a powerful atmosphere, probably saying, 'Write my story!' Now you've done it and inspired a walking trail. How does that feel?

It feels good, I think? As long as people behave themselves, of course. Don't be dropping your litter or scaring the sheep otherwise King David Hartley will have your head to the heath stone. We need to respect people who live in our more remote corners, and respect the fact they moved there precisely for the remoteness. I try to tread lightly, and usually alone.
If you were ever on Desert Island Discs, what luxury would you choose?
My contact lenses. And a tuba.
Which record and book would you salvage from the shipwreck?
Five Leaves Left by Nick Drake. I'd grab a thick book that I've never read. Maybe the collected short stories of Chekhov. Something weighty.
Would you be a good survivor?
Writing feels like being shipwrecked sometimes, and when I've stayed in remote places I've gone a few weeks with barely seeing anyone, so, yes, I think so. Also, I heard that if you bang coconut shells together it sounds like horses, so that would be something to occupy my time.
I haven't mentioned Durham, punk or poetry. What question do you wish I'd asked, and how would you answer?
I'd like you to ask 'Could you make your answers exactly 1630 words in length?' to which I would reply 'No problem.'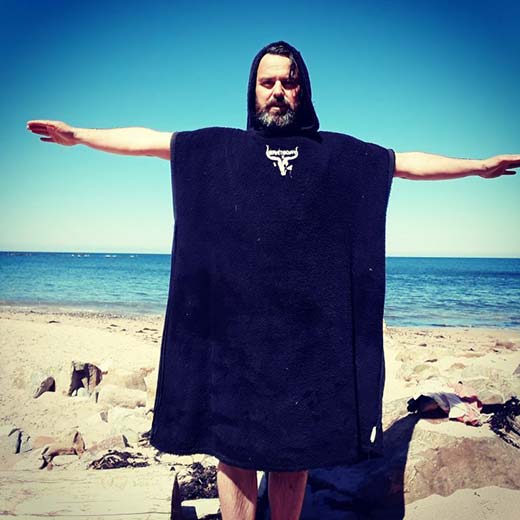 Benjamin Myers' books are available from The Bookcase in Hebden Bridge
---
More HebWeb interviews from George Murphy
If you would like to send a message about this interview or suggest ideas for further interviews, please email George Murphy