Jill Liddington
Local writer and storyteller, George Murphy interviews local characters and personalities
---
Introduction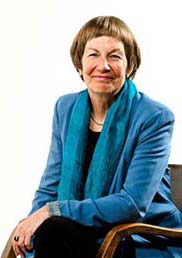 Discover the life and times of historian, Jill Liddington. Jill describes her feeling of liberation at Keele in the 60s, her subsequent involvement in the women's movement; her research into the lives of young suffragettes in Lancashire and Yorkshire, including her rediscovery of a brilliant writer and trail blazing suffragette from Hebden Bridge.
She details how the hidden history of Anne Lister came to light and her subsequent close involvement with Sally Wainwright, in the run up to the Gentleman Jack TV series.
Jill describes how she met her life's partner, gives an evaluation of life in these parts, reveals her hobbies and choice of music, and reflects on the impact of Gentleman Jack on her own life and those of countless others.
---
Jill Liddington Q&A
Jill, can you tell us about your formative years?
Growing up as a girl in the 1950s was rather stultifying. There were few career options. Secretarial jobs loomed large. Going to university was just not on the horizon at all.
So, when did all that change?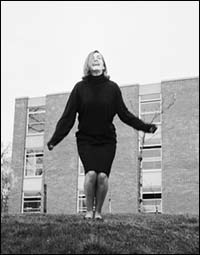 Around 1963 with the revolutionary Robbins Report. (Of course, I didn't know about Robbins till decades later.) It stated any pupil with the right qualifications could go on to higher education. Including girls! The teacher rather grudgingly let me have an application form. It was also a time when new universities were opening up. I just managed to scrape into Keele.
This was a moment that changed my life. I chose to study not history but new subjects. Suddenly, we were reading about street-corner sociologists in Chicago and compelling German political theorists. Wow! And I made friends – and we remain good friends today. In fact, five of us enjoyed a zoom call yesterday.
How did your involvement with the Women's Liberation Movement happen?
By the 1970s, everything was changing for women. I have a hazy memory of going to a Liberation conference in west London and being met by a hectic buzz of revolutionary activity, where everything was possible. At a conference in Manchester, the Free Trade Hall was packed, the atmosphere electric. Sleeping bags were laid out on our floor for visitors.
Was there a key event that changed your life back then?
Yes. In spring 1974, living in London, I watched the BBC suffragette drama, Shoulder to Shoulder. It told the Pankhursts' story, and one episode was about Annie Kenney. That autumn, I moved up to Manchester – but couldn't afford the city house prices, so bought a house just outside Oldham. It was 1 Woodend Street. I knew Annie Kenney grew up in Oldham and her autobiography said she had worked in Atherton's Mill. I spent fruitless hours peering at maps for this mill. Despair! So I went to the Local History Library in Oldham and appealed to the librarian there. 'Oh, no', he said. 'It's not Atherton's Mill any more. It's called Woodend Mill now'. Suddenly I found that I was living right next door to the mill Annie Kenney had worked in!
I now realised that these suffragettes came from somewhere: they lived in communities. I did some more research; and wrote an article, 'Who was Annie Kenney?' for the new feminist magazine Spare Rib.
Then what happened?
History was changing. Edward Thompson's The Making of the English Working Class was published in paperback in 1968 – which meant students could afford to buy it. Then Sheila Rowbotham's pioneer feminist book Hidden from History came out in 1973. We were onto it!
We set up a Manchester Women's History Group, myself, a woman called Jill Norris & just two others. Jill and I became hooked by the Votes for Women story overshadowed by the Pankhurst version of history.
We got busy – finding out about the radical suffragists of Manchester and Lancashire (suffragists being those women who chose not to go to prison, unlike the suffragettes). We even managed to trace the daughters of two of the radical suffragists, themselves now elderly, and to record oral history interviews with them.
Virago Press had just got going. And we were lucky enough to be swept up in their enthusiasm.
In 1978, they published One Hand Tied Behind Us: the rise of the women's suffrage movement. It had greater impact than we'd ever dreamt. It got onto students' reading lists – and stayed there.
Recently, a French edition has been published too. Wow!
So Jill, you were a single, successful historian. How did you link up with your partner Julian Harber?
In the late 1970s, Julian was living in Halifax and I was living the other side of the Pennines in Rossendale. We didn't know each other, but had various friends in common. One was Sheila Rowbotham; another was Paul Thompson, father of oral history in the UK. They all knew we were living on our own, and they tried to do matchmaking. But both Julian and I are wilfully obstinate and just said, 'No thanks'.
Then in 1979, we were both invited to speak at the History Workshop conference at Ruskin College, Oxford. And a few of us went out for supper afterwards, and Julian and I now proved our matchmakers right. His job with the Workers' Educational Association (WEA) meant he had to live in Calderdale. I remained part of the precariat (though we didn't know that term back then) as a part-time adult education tutor. So it was I who moved house - over the Pennines and into Yorkshire.
You moved to Calderdale in 1980. Can you describe for us your other Votes for Women work after that?
I wanted to tell the story of suffrage campaigners across Yorkshire, as I had for Lancashire. But it proved difficult. Apart from biographies of Isabella Ford of Leeds and Florence Lockwood from the Colne Valley, there seemed precious little surviving evidence. Sadly, I had to shelve this research project.
Eventually, around 2002, that changed. The minute book of the Huddersfield branch of the Pankhursts' Women's Social and Political Union [WSPU] turned up, telling the story of how the arrest of Dora Thewlis, a 16-year-old weaver, catapulted her to the tabloid front pages as 'Baby Suffragette'. And the 1901 household census, now digitally searchable, was released. Alongside, other research delights emerged – including photographs of suffragist Isabella Ford on a Votes for Women (1909) caravan tour through the remote Yorkshire dales. At long last, the story of Yorkshire's suffragists and suffragettes could be pieced together. Virago published Rebel Girls: their fight for the vote in 2006.
I was fascinated in Rebel Girls by local suffragette Lavena Saltonstall. Can you give us a flavour of her life here?
Yes! She grew up in Hebden Bridge, and it seems on her tenth birthday she began working as a half-timer tailoress in a local clothing factory. By the age 19, she was living at 28 Unity Street, recorded in the 1901 census as a machinist fustian clothing tailoress. Then she got caught up in trade union politics in Halifax and moved to live there.
In 1907, she and other local women went down to Westminster to demand the vote; Lavena, recorded as a Halifax weaver, was imprisoned for 14 days. The next year, at the WSPU's Women's Parliament, she was sentenced to 6 weeks. That was particularly traumatic for a working-class woman – and understandably Lavena began to distance herself from the WSPU. She turned instead to the Workers' Educational Association and the education which for her had been cut so brutally short. Lavena was an inspired writer, as her 'Letters of a Tailoress' in the Workers' Educational Association magazine show. 'I only pass through this world once, and I don't intend to pass through, as a bird flies through the air, leaving no track behind', she wrote. But tragically, after women won the vote, Lavena Saltonstall became one of 'the disappeared'. Luckily, she left us her vivid accounts of her bravery and daring.
What first aroused your interest in Anne Lister?
In the 1980s, we were living in Halifax, just a mile from Shibden Hall. Back then, I was heavily involved in the Greenham Women's Peace Camp – plus earning a living working in adult education, based at Leeds University Extra-Mural Department. Then in 1984, the Guardian published an article on Anne Lister, 'The two million word enigma'. I read it, but had no time to follow it up and filed it. In 1988, Helena Whitbread's book on early Anne Lister came out. I was then teaching a New Opportunities for Women course in Halifax. So I took pages into the classroom. The students all exclaimed to a woman: 'Well! We had no idea about this. No one told us'.
Was there a key event that triggered your fascination with Anne Lister?
Yes! In 1989, the Halifax Antiquarian Society held a day school in the Library on Anne Lister. Helena Whitbread talked, as did the Shibden curator, Pauline Millward, speaking on 'Diaries are a dangerous thing'. Helena had focused on the coded sections. Pauline took her to task. Debate was vigorous. I made a note afterwards: 'Blood on the Library carpet!'
However, I got hooked. I decided to go into Halifax Archives to check whether the Guardian had it right: 2 million words. Checking word-length on microfilm reels was laborious. Yet however I did the sums, it always came out as 4 million words! I staggered out of the Archives, ashen-faced. What should I do? I needed a research strategy! I decided to focus first on the dramatic transmission story of the diaries themselves.

In Presenting the Past, (1994), you explained how Anne's diaries survived. What was the key moment in deciphering their secrets?
Anne Lister died in 1840. No one looked at her voluminous diaries for nearly half-a-century. Then scholarly John Lister, her indirect descendant who had inherited Shibden, set to work. His edited selections, 'Social and Political Life in Halifax Fifty Years Ago', was published in the Halifax Guardian 1887-92.
But even John Lister had not been able to crack Anne's impenetrable code. About 1892, he was puzzling over this with a Bradford antiquarian, Arthur Burrell. They managed to decipher four letters: 'hope'.
Years later, Burrell recalled; 'With these four letters almost certain, we began very late at night to find the remaining clues. We finished at 2 am… The part written in cipher turned out after examination to be entirely unpublishable'.
Burrell advised Lister to burn all the diaries. But Lister, a scholar, felt this would be sacrilege. Burrell wrote: the coded passages presented 'an intimate account of homosexual practices among Miss Lister and her many "friends"', noting this 'very unsavoury document' contained evidence 'that these friendships were criminal'.
This was just a few years after the 1885 Act had made all male homosexual acts completely illegal – as Oscar Wilde soon discovered. Lesbians themselves were not directly affected, but a culture of silence pervaded. Fear of family scandal was real, and it seems the diaries went back behind the secret panels at Shibden. Another half-century of silence followed.
Indeed as late as 1964, another Halifax scholar, Phyllis Ramsden, working on the diaries and having access to the key to the secret code, planned to publish. But she was informed by the Town Clerk that Halifax Council wished 'to retain their right of ensuring that unsuitable material should not be publicised'. So instead, Ramsden shifted her focus to Anne Lister's impressive travels. We can only glimpse her deep sense of frustration.
Female Fortune (1998) detailed Anne's affair with a neighbouring heiress. What other aspects of her life appear in the book?
Female Fortune presents the Anne Lister diaries 1833-36. Anne had inherited Shibden Hall on the death of her uncle. In 1832, she returned home from her travels, betrayed by yet another woman's conventional marriage plans. She wanted a life partner, and her eyes alighted on Ann Walker, who had inherited the large Crow Nest estate nearby. Anne set about wooing and seducing Ann, and in 1834, after a private religious ceremony sanctifying their union, Ann Walker moved into Shibden to share her life with Anne and the Lister family.
Other aspects? Anne was always purposeful and energetic. She developed coal mines on her Shibden estate, ensuring their profitability. Although she couldn't vote herself, she was active at the 1835 election, 'persuading' her tenants to vote for the 'Blue' candidate. And she planned aggrandisement of Shibden Hall itself, with baronial towers and elegant terraces. And she read extraordinarily widely – even including cutting-edge pre-Darwinian geology.
So Female Fortune presents a rather different picture from Whitbread's earlier Anne Lister: no longer just European traveller and high-society flirt, Anne was determined to remodel herself as the inheritor of Shibden's ancient acres. Though voteless, she would be a woman with power and influence around Halifax.

When did you first become aware of Sally Wainwright's interest in Anne Lister?
It was about 2001. Sally had grown up locally, and an old schoolfriend had given her a copy of Female Fortune. She was immediately absolutely hooked. Through a Greenham connection, we met up. And before long we started working together, energetically and enthusiastically. Sally drafted script proposals to pitch to television companies. I answered her questions and fed her my research.
Sally was then a jobbing scriptwriter, working on the soaps. So the time was not yet ripe. We had to leave it. I focused on Anne Lister in 1832, the year before Female Fortune opens. It tells the story of Anne's wooing and seducing Ann Walker; and Pennine Pens published Nature's Domain in 2003. Then back to Votes for Women and writing Rebel Girls.
Sally, with considerably more chutzpah, went on to write highly successful drama series, including Last Tango in Halifax and Happy Valley. So now, when Sally pitched her Anne Lister proposal to BBC TV, they just replied: when can you start? Then HBO got on board - that is, the US and global market. Gentleman Jack series 1 went out in 2019 to huge acclaim.
The Gentleman Jack TV series aroused great interest around the world and many women have described it as liberating and life changing. Did the programme have an impact on your book sales?
Yes! My book sales had bumped along for years. Then from 2019 it suddenly all changed. My Anne Lister talks and walks which had been modestly supported, almost overnight began to sell out. And book sales rocketed, both for Pennine Pens (Presenting the Past and Nature's Domain) plus Manchester University Press (Female Fortune). Readers were both in the UK and also in the US – due to HBO. In the middle of series 1, I was persuaded to go on Twitter. Which I did. Now, the great majority of my twitter followers are Anne Lister fans: about 45% UK, 45% US and Canada, plus about 10% western Europe – with a sprinkling in Australia and beyond.
Were you deluged with invitations to give talks?
Again, yes! And what's been brilliant about it is that fans come to Halifax, rather than my having to go on long train journeys southwards. Every April, there is an Anne Lister Birthday Week event in Halifax, attracting both UK & overseas visitors. And, yes, it was the initiative of a dynamic American, Pat Esgate, who lives in upstate New York.
I've now spoken on Anne Lister in the magnificent Halifax Minster three times. And a Hebden Bridge friend, Rachel Lappin, is now employed by Calderdale Council as Senior Visitor Engagement Officer and Anne Lister Brand coordinator. Naturally, Pat, Rachel and their teams are now busy planning Anne Lister Birthday Week 2023.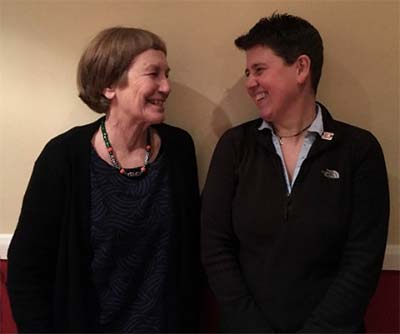 What's the good and bad of living in upper Calder valley?
We moved from Halifax to the Mytholmroyd hillsides in 1991, and I haven't found anything bad about living up here. Well, apart from being occasionally snowed in. The landscape is brilliant, the people great and memories accumulating. I'd find it difficult to think of living anywhere else! There's so much I'd miss!
How do you relax?
I walk! We've walked most of the canal paths and hillsides round here. Also we set up Mytholmroyd Walkers' Action, to encourage people to come and walk up to Churn Milk Joan and up wonderful Cragg Vale. And thanks to Hebden Royd Town Council, we also planted bulbs for walkers to enjoy along the footpaths.
Then I got hypothyroidism. Once I began to recover, I organised a fund-raising walk for the British Thyroid Foundation from Hebden Bridge down to London along the canal paths. We had a wonderful send-off from here, with actor Alex Mathie and Mayor Karl Boggis cheering us on our way south. Friends and family joined en route – and we raised a tidy sum for the British Thyroid Foundation.
What else? Yoga definitely. And dancing. Some of my best memories are dancing at the Trades Club. And listening to musicians like Steve Tilston at Wadsworth Community Centre.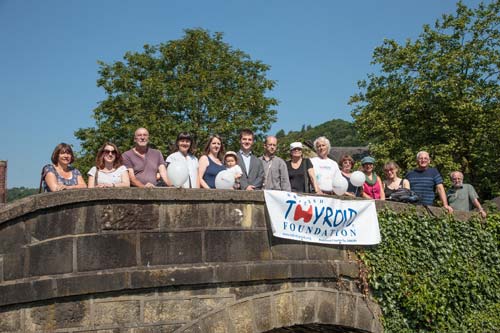 Sally Wainwright chose Female Fortune to read on her desert island. What would you rescue from the waves?
I'm going to take my current favourite music: 'I Just Want to Dance the Night Away' by the Mavericks. I'd choose the recording of their performance in London at the great Albert Hall. I just love seeing everyone swaying away on the floor and up on all the balconies.
What advice would you give to young historians?
Follow your dream and don't give up. Be patient. Research in the archives can't be hurried, nor can oral history and reading round the historical context.
Luck helps too. Back in the 1970s, when uncovering the history of the radical suffragists, Virago Press was still new and small – and they snapped up the book proposal. It isn't always quite so easy. And, if you have a book you want to write, I'd definitely suggest writing an article first or offering to give a talk locally.

So, this claim that Gentleman Jack was life-changing. Was it?
I think for many, many LGBT women it certainly was. In fact, there was even a BBC1 documentary recently called Gentleman Jack Changed My Life. It followed the stories of half-a-dozen women, telling how they came out - to their children, their parents and grandparents. The LGBT community is certainly the most enthusiastic; it is behind the campaign, initiated by the Anne Lister Birthday Week, to get series 3 commissioned.
However, there are other communities too. More broadly, women who admire Anne Lister's courage and determination (even if they don't like her politics or social snobbery). And Calderdale as well. Anne's diaries were recognised by UNESCO in 2011, and this helped put Halifax on the map, encouraging visitors to come to Shibden.
In fact, at Wadsworth Community Centre on Saturday 4 February, Rachel Lappin and I are talking on: 'Anne Lister: What did she ever do for Calderdale?' So, if you like Hebweb and George Murphy's interviews, I think you'll like this. See you there!