PACE EGG PLAYS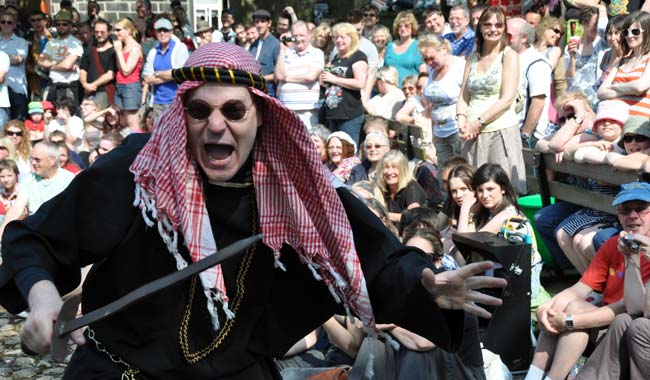 Background to the Pace Egg Plays
David Burnop from Hebden Bridge is both a graphic designer and lecturer at Bradford College but every Good Friday he takes on a very different identity as the Doctor in Heptonstall's annual Pace Egg play. It was David, who in 1979 revived the Pace Egg after it hadn't been performed for over a decade, so we thought he'd have a thing or two to say about a tradition which is so old, no one can quite say when it started.
The Pace Egg play is not unique to Heptonstall but it is one of only a few still performed today. David explains: "It was a thing that at one time any boy would have done, often to get a little money to go to the local fair which is reflected at the end of our play which refers to 'taking our bonnie lass to Todmorden Fair.' It was a bit like doing a Penny for the Guy." He thinks it's not unlike May Pole dancing traditionally done by village girls.
Read more on this BBC West Yorkshire website
---
Local Historian Julian Harber: It had a number of versions (the Midgley Play now being the most well-known) and a number of stock characters – St George, Slasher, a Doctor and one or more Fools (Tosspot in the Midgley and Heptonstall versions). These might be augmented by various others including the Prince of Morocco, the King of Egypt, Hector and Beelzebub. A central episode in the play was a single combat sword fight followed by a resuscitation of the defeated party by the Doctor. It was performed at Easter usually on Good Friday. ('pace' being a northern dialect word derived probably via Norman French or church Latin from 'Pasch' the Hebrew word for Passover) Read the whole article
---
From Milltown Memories
Issue 3: Setting the Pace
It's said to be the oldest drama in the world, dating back to ancient Egypt and performed by many civilisations across the centuries. Read more
---
From Northern Earth: Easter! Once again, hundreds of people from miles around – and further – will come into Hebden Bridge and Heptonstall to see the various performances of the pace-egg play, but just what is it that they are seeing? And, perhaps of more importance, what do they think that they are seeing? Read more
---
All set to celebrate Easter, 1936, with a performance of the Pace Egg Play. Most of the Eastwood Sunday School players appear to be adult although the lad with the sword could well be a remarkably young St George! Eastwood Church opened in 1840, closing in 1958, bringing to an end a Congregational movement in the area lasting close on 300 years.
HebWeb photos and reports from previous Good Fridays
---
Above: Photo of Heptonstall School boys around 1965-66. It was taken at the top off Hepton Drive at the junction of with Longfield and Southfield. Players are from left to right. Jeramy Dodd Toss Pot, David Burnop The Black Prince, Chris Dodd or Steven Stansfield, St George, Steven Smith, The Doctor and Paul McMahon, Bold Slasher
---
---