Lives Remembered - Harry Sculthorpe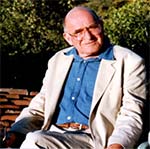 "The late Harry Sculthorpe was born 100 years ago today, 22 September 1923. Had he lived he would most certainly have rejected the birthday card from the king. For Harry was an anarchist, in the true sense of the word, namely a man who believed that human beings do better without government than with. 
"I knew Harry as a trenchant defender of paths, access, and green spaces."
Read Kate Ashbrook's memories of Harry Sculthorpe on her blog, posted Friday, 22 September 2023.