Lives Remembered - Isabel Woznicki
15 June 1931 to 12 April 2023

Our dear Mum passed away recently – we remember her love for the special place she made home, and the community she served.
Isabel Cameron McDougall Woznicki (nee Anderson) was born in Dumbarton, Scotland.
An only child, her birth family originated from the Isle of Islay and Govan.
At the age of 2 she was advertised in a Glasgow newspaper by her birth mother for adoption! – unbelievable but true - and subsequently adopted by Jeannie Cullen.
Isabel married Stanley Woznicki in 1950 in Scotland where they met. They lived in Edinburgh for a time working for Sir John McEwen (MP) and then for the Forestry Commission in the Pollock Highlands.
In 1952, Isabel and Stanley decided to emigrate to Ontario in Canada travelling on the M.V. Georgic. During their time in Canada, they had three children (Stanley, Irene & Robin) and were joined by Isabel's Mum Jeannie who helped look after the kids. Due to Jeannie's ill health and the bitterly cold Canadian winters they decided to return to the UK in 1961. Residential caretaking jobs in Scotland followed along with another child Barbara, born in Berwick-upon-Tweed.
March 1964 brought a move to Hebden Bridge as caretakers at Walshaw Lodge, Hardcastle Crags on the estate working for Lord George Savile - Isabel said for her, the next 16 years were some of the happiest of family life, the family home was in an idyllic setting, with breath-taking views and plenty of adventures and outdoor activities to occupy the kids. Lord Savile was a genuine gentleman and good employer and the Glorious 12th grouse shooting events provided an interesting buzz.
During this time another 4 children were added to the family (Linda, Catherine & Elizabeth). All seven children attended local schools either Stubbings Infants or Central Street Infants, then Calder High School or Sowerby Bridge Grammar.
The whole family attended Hope Baptist Church, Hebden Bridge for years – vivid recollections of the long row (nine pairs of shoes) our dad polished ready for each Sunday, and the times we travelled to Hebden in the car but had to walk back because of the Snow, the car having only made it to Gibson Mill!
In 1979, our family moved to Nest Lane, Mytholmroyd where the kids finished their schooling and then each made their own way in the world. Isabel & Stanley made further moves to Eyemouth (Scotland), Holland Park and Shepherds Bush in London; Halifax and Luddenden Foot – moves connected with jobs at The Halifax Infirmary Hospital, The Birchcliffe Centre, Hebden Bridge, and Harrison Homes, London - before they retired and made a final return to Mytholmroyd. Stanley passed away in June 2005.

Since their move to Walshaw in 1964 Isabel and Stanley both remained good and faithful servants to Hope Baptist Church. Isabel's faith was an extremely important part of her life – her support for Hope Baptist Church for over 50 years never wavered – as a member, treasurer, and deacon – and always giving of time & practical support to raise funds: including baking plentiful supplies of cakes & scones, serving teas and making craft items.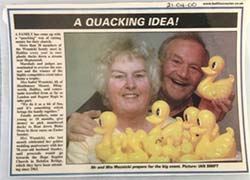 Plus, a couple of firsts for Hebden Bridge – from 1997 organised the family charity Duck Races on the river at Blakedean on the Widdop Road and from 2010 was a leading member of the team that delivered Hebden's first Christmas Tree Festival.
A week before her passing (aged 91) Isabel was still meeting up with her Church family of dear friends.
Isabel absolutely loved family life which took up a large amount of her time. She was the much-loved mum of Stanley, Irene, Robin, Mark Alexander (d.1962), Barbara, Linda, Catherine and Elizabeth. Proud granny of Drew, Penny, Alistair, Simon, Alana, Lauren, Danielle, Elizabeth, Rosie, Jenny, Charlotte, Jonathan, Thomas, and Holly and great granny of Luci Fleur, Jude and Myles, A dear mother-in-law to Lea, Peter, Bev, William and Adrian.
But she also made time to support the Church and friends whenever she could – we cannot ever remember her saying "No; I can't help; I can't attend;" or "I'm too tired" - she was hard-working, with the resilience and strength demanded of the times, honest, kind, genuine and warm.
A life well lived! She made the Hebden Bridge area her home, one which provided a great place to bring up her family and many good times, in particular The Walshaw Estate and Hardcastle Crags are such beautiful places and hold many fond memories for all the family.
We give thanks for her long life, full of many happy days.
Linda Woznick
Tuesday, 26 September 2023
---
From Adrian Field
Sunday, 1 October 2023
Sadly missed by all the family, thank you for all the sage advice, teas and homemade cakes over the years!