The Fabulous Hebden Bridge WI Rag Market!
Wednesday, 4 July 2012
The fabulous Hebden Bridge WI Rag Market was the place to grab a bargain on all your favourite haberdashery and craft goods this weekend. Over 1200 crafters, sewers, knitters, flocked to the market at the Town Hall on Saturday and Sunday. The new Waterfront Hall was the perfect space for the Rag Market, airy and light, it was full of chatter, colour and lots of smiles all weekend.
The Rag Market was held over two days, with the stalls varying each day offering an eclectic mix of fabric, buttons, ribbons and yarn. One of the vendors was selling an amazing selection of sari fabrics and yet another wonderful marbled papers and bookbinding kits. With so many tactile textiles on offer it wasn't unusual to see people standing stroking a piece of fabric as they pictured just what they could make with it!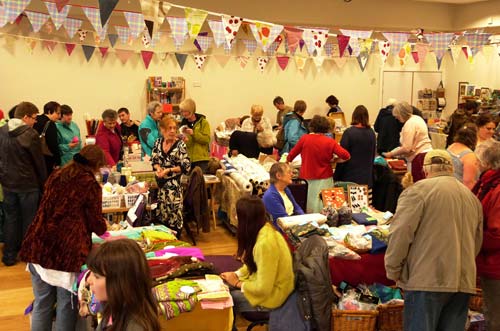 One little girl has already been inspired to design the dress she wants Mum to make from the 'ice cream and sweetie' fabric she found. It was lovely to see so many young people and children inspired by the materials on sale – just outside the entrance one excited little boy was overheard asking 'Where are all the craft things for sale?'
As part of the Rag Market and in conjunction with the Hebden Bridge Arts Festival Fringe, the WI also held a Pedlars Day. The Pedlar's Day was open to all students and was aimed at inspiring and encouraging the younger generation to become creative and to bring crafting into a new era. It gave young people the opportunity to showcase and sell their handmade products.
The Pedlars, who varied in age from 13 to 18, 'peddled' their wares in and around the Town hall and St George's Square. The entrants were selling a variety of handcrafted goods including soft toys, hand knit animals, lip balms and jewellery.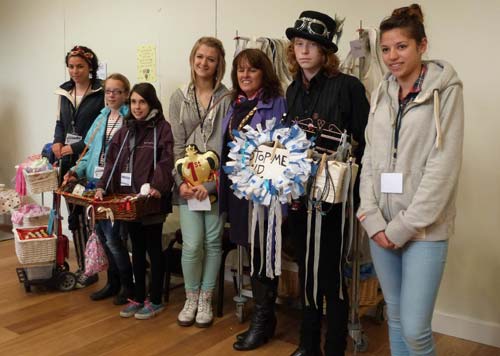 The competition was Judged by the Mayor of Hebden Royd, Christine Davenport, who was really impressed with the effort all competitors had put in and found it very difficult to chose an overall winner. The winning Pedlar was 18 year old Rose Emily Moorman, a textile student at Crossley Heath who already promotes her textile products on her website. Runner up was 14 year old James Kay, a pupil at Calder High School, who said that he thought being part of the Fringe Festival was really cool and was now looking at 'Peddling' his Steam Punk jewellery at other events. Young pedlar, Emily Dare, a pupil at North Halifax Grammar School said "I sold all my knitting by 2pm! I am really pleased I did so well and am looking forward to next year already!"
A Women's Institute event is never complete without the infamous cake stall . . . and this was no exception! With proceeds going to the Calderdale Community Flood Relief Fund, WIers had been busy baking a delicious selection of cakes for the WI refreshment stall. The cakes were extremely popular with customers attending the Rag Market, Arts Festival events and people just wanting a look at the new Town Hall! Amy Leader, chair of the WI said "We have raised £1575.35 for people affected by the Calder Valley flood at our refreshment stall at the Rag Market this weekend. Thank you to everyone who donated cake and time, this astonishing total would not have been achieved without the fantastic teamwork that everyone demonstrated throughout the weekend. I think we should be incredibly proud."
Heidi Waddington, of the Hebden Bridge Arts Festival Fringe added "Hebden WI - the personification of awesomeness!"