Silver postbox to celebrate the achievements of Karen Darke
Monday, 3 December 2012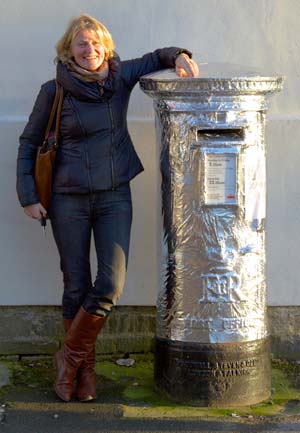 In the photo above is Suzy Hesselden who phoned the Royal Mail to get permission to get the only silver post box in the country for an exceptional person Karen Darke who was coming to do a coffee morning and book signing of her new book "Boundless" for her mum.
Suzy told the HebWeb, "I thought it only right that we should invite Karen as our true local hero to turn on the Christmas lights as she is a true source of inspiration."

"Karen had agreed to promote my Charity Christmas cards for over 25Charities and from emailing I was able to get her involved and officially invited to come and turn on the Christmas lights. It felt only right that such an incredible lady who only set about training for the Paralympics two years ago should have a silver Post Box as she has done so so much more with her life, which is revealed in Boundless. Signed copies are on sale at the Hebden Bridge Visitors' Centre."
See www.karendareke.com if you want to see and learn more.

Thursday, 29 November 2012
Karen Darke to turn on Mytholmroyd Christmas lights!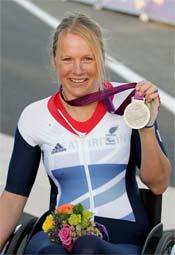 Karen Darke silver medalist at the Paralympics this summer and gold medallist at the Para Tri-athlon World Championships in New zealand in the Autumn is turning on Mytholmroyds Christmas lights at 17.00 in Mytholmroyd on Saturday 1st Dec.

Karen Darke will start her day by signing her new book "Boundless" at St Michael's Church Mytholmroyd between 10am -12.00 on Saturday morning.

Karen Darke now lives in Scotland but grew up here in Mytholmroyd and went to Calder High School.
"It's probably a challenge for any of us to consistently believe in our abilities, or in the possibility that we may even have ability! My journey to the London Paralympics has involved a roller-coaster from self-doubt to absolute belief that I can become a better athlete, and produce a performance worthy of a good medal." Karen Darke
She was 21 when she fell in a climbing accident which has left her paralysed from the chest down.Karen's magnificent achievements after this tragedy continue to inspire people to use life to its full potential.
Karen's next adventurous project is heading off to the South Pole.
It would is expected that there will be a large turnout to meet Karen and see her turn on the Mytholmroyd Christmas Lights at 5pm on Saturday.