Saturday, 19 January 2013
Tour de France 2014 in Hebden Bridge
On Thursday morning the details of the Grand Départ of the Tour de France 2014 were revealed in the imposing setting of the residence of the British ambassador to France, just off the Champs-Elysées where the UK had its first winner of the race in 2012: Bradley Wiggins.

The 101st edition of Le Tour will start from the county of Yorkshire with two attractive and spectacular stages before finally arriving in London, seven years after the success of the Grand Départ of Le Tour in 2007 and two years after the London Olympics.

The eyes of the world will be on Calderdale when the Tour de France cycles its way through Hebden Bridge and other towns on Sunday 6 July 2014 when the 200 competitors roll through our town.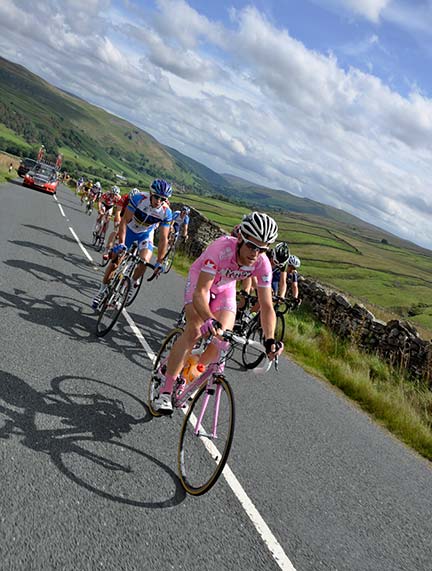 Calderdale's iconic cycling routes will be showcased to an estimated 3 billion television viewers worldwide and around 160,000 spectators in the borough. Situated in the South Pennines, Calderdale has steep valleys that provide challenging climbs and descents. The hilly terrain is home to Cragg Vale, a famous climb out of Mytholmroyd. This stretch has the longest steady incline of any road in England – over five-and-a-half miles. Cragg Vale was highlighted by Sir Chris Hoy as one of his 'top ten perfect hills'.
The Tour de France is one of the oldest, most important and iconic sporting events in the world. One of the many benefits of the Tour will be the economic boost to the area. Visitors to the event could bring around £30 million to Yorkshire and an estimated £3 million to Calderdale.
The legacy of the Tour will add to the current development of cycling in the region, promoting and encouraging the initiatives that are already in place in Calderdale.
Calderdale Council's Leader, Cllr Tim Swift, says: "We are thrilled that this fantastic sporting event is coming to Calderdale. It will put the borough's spectacular cycling routes and proud cycling heritage on the world stage, and will bring great benefits to the area."

Calderdale Council's Deputy Leader, Cllr Janet Battye, adds: "This is fantastic news for Calderdale! We look forward to welcoming people to the borough to watch this iconic event. It will build on the legacy of the London 2012 Olympics and the amazing community spirit that continues to shine through. It will be a great economic boost for the area, including the Upper Calder Valley towns that were affected by the flooding in 2012."

Christian Prudhomme, Tour de France Director, said: "Yorkshire is a region of outstanding beauty, with breathtaking landscapes whose terrains offer to all kind of riders the opportunity to express themselves. When we build the route of Le Tour, we look at both sporting aspects and the beauty of the route. I knew Yorkshire was a nice region but I didn't imagine it corresponded so well to what we need for a perfect Grand Départ. We wanted two different stages to begin with, two different challenges for the riders. The first stage, the one that will give the first Yellow Jersey, might be perfect for sprinters, the second however will probably be more suited to attackers and climbers, and the repetition of the hills in the last part, like in Liège-Bastogne-Liège, will definitely be worth seeing."

Gary Verity, Chief Executive of Welcome to Yorkshire said: "The routes of the Grand Départ will showcase some of Yorkshire's iconic cycling climbs and the county's stunning land and cityscapes. The peloton will be technically tested as they tackle some challenging terrain in what are sure to be two exhilarating days of racing in the county. The British public's response since the news broke that the 2014 Grand Départ would be hosted in Yorkshire has been overwhelming and I am sure the route announcements today will encourage even more people to come to the county to experience for themselves the phenomenon that is Le Tour."