Tuesday, 8 October 2019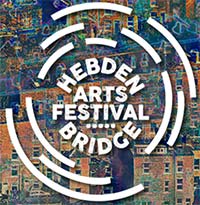 Arts Festival pops up in Heptonstall Museum
Sat 12 October and Sun 13 October
Come and join us on Saturday 12 and Sunday 13 October and tell us what you'd like to see in your local museum. We've assembled some of our favourite things like the talking chair and the knitted bike but we'd love to hear from you.
There's also the chance to watch our short film about Alice Longstaff again which we screened at the Picture House during the Festival.
There'll also be some photos from the wonderful Pennine Horizons Digital Archive.
The free pop up museum runs from 11pm to 4pm on Saturday 12 and Sunday 13 October at Heptonstall Museum.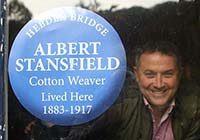 Do you remember our blue plaque project? You can still see some of the plaques around Heptonstall and Hebden Bridge. Come and listen to the stories Ursula Holden Gill recorded in 2016 and which were inspired by the lives of those were living in the area back in 1916.
Local artist Lizzie Lockhart collects starburst clocks and milk bottles – she's also fascinated by labels past and present. Come and check out her local label collection and feel free to bring some of your own!
Over the years the Arts Festival's talking map chair has had an annually changing soundtrack: tales from Trouser Town, flood stories, voices of protest and now in partnership with artist Debbie Sharp, we have West Yorkshire Queer Stories,  the memories and experiences of LGBTIQ+ people from  across the region. Come along and have a listen.
See also
HebWeb News: Songs and cakes as gardeners open gates (28 June 2019)
HebWeb News: Street Sunday spectacular is back (13 June 2019)
HebWeb News: Arts Festival explores the digital world (5 June 2019)
HebWeb News: John Hegley's Easter offer (13 April 2019)
HebWeb News: Calling all gardeners (9 April 2019)
HebWeb News: Arts Festival Open Meeting - a chance to shape the Festival (15 March 2019)