See below for info and support, links to media news stories and links to HebWeb reports of the previous five major floods since 2000.
The February 2020 flood
Monday, 10 February 2020
The flood siren went at 8am on the morning of Sunday, 9 February, the morning of Storm Ciara. Soon after, Hebden Bridge, Mytholmroyd and the Upper Calder Valley was cut off as a sea of water covered our area, yet again.
Questions are already being asked. An ITV report reflected, "Four years, millions of pounds, hundreds of men in orange jackets .... and look what's happened to the Calder Valley again."
The Daily Mail said, "Councils have spent millions on anti-flooding infrastructure after the 2015 deluge left thousands of homes and businesses ruined.  
"But flood defences throughout the Calder Valley lay in tatters after yesterday's storm, with residents and businesses hitting out at authorities for failing to protect them."
The car park next to the Grange Dean Health Centre after the water had receded a little. Photo: Julian Harber. Click photo to enlarge.
As of Monday morning, the roads are now passable with care, schools are closed and the big clean up has begun. Hubs for help and advice are at Hebden Bridge and Todmorden Town Halls, and Mytholmroyd Library.
Latest info can be found on the Facebook Group: Calder Valley Flood Support. Calderdale Council also have an information page here.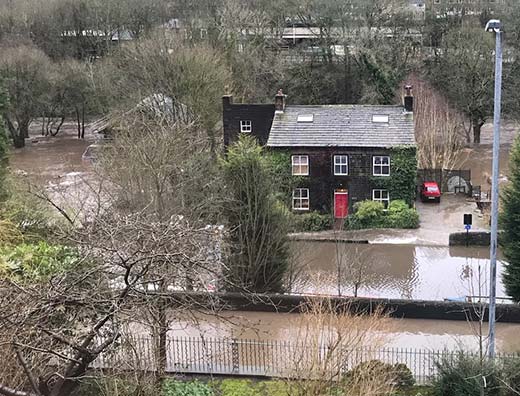 This page will be updated as more information becomes available.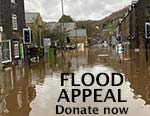 LINKS AND INFO
Facebook Group: Calder Valley Flood Support
Eye on Calderdale - information about flooding, weather and traffic disruptions in Calderdale
Hebden Bridge Flood Action Group
There are hubs for support and help at
Hebden Bridge – Town Hall
Mytholmroyd – Library
Todmorden – Town Hall
NEWS AND MEDIA REPORTS
Morning Star report Environment secretary snubs meeting with campaigners Tory MP Theresa Villiers ducks out of meeting with Ban the Burn campaigners during visit to Calder Valley. (13 Feb)
George Monbiot in The Guardian "If we want to cut flooding we should stop burning the moorland . . . reforesting between 20% and 40% of a catchment can reduce the height of floods by a fifth" (11 Feb)
Guardian Report "Mytholmroyd community members say slow progress left properties unprotected. . . . Sourena Jowkar was totting up the damage at his Persian cafe, Leila's Kitchen, which opened four months ago. He was full of praise for local people who were helping him with the clear-up." (11 Feb)
Daily Mirror report "Labour MP for Halifax, Holly Lynch, said there was a 'sense of absolute devastation' as the Environment Agency comes under fire for taking so long to complete flood defences." (11 Feb)
BBC news report - Hebden Bridge shop sign protects store from flooding
BBC report - Storm Ciara aftermath: Calder Valley assesses flood damage. Barry Greenwood said, "Something had to be done to stop repeat flooding." (10 Feb)
ITV report on Mytholmroyd: "Four years, millions of pounds, hundreds of men in orange jackets .... and look what's happened to the Calder Valley again."
Morning Star report: Calder Valley MP Craig Whittaker voted against extra funding for flood defences following 2015's Boxing Day deluge.
Manchester Evening News 'Groundhog Day again'... fear and frustration as Hebden Bridge faces yet another clean-up from yet another flood.
Daily Mail photos and video - "So much for the flood defences!"
Floods since 2000
HebWeb feature on the 2015 Boxing Day flood
HebWeb News: 9 July 2012 flood
HebWeb News: 22 June 2012 flood
HebWeb News: January 2008 flood
HebWeb News: June 2000 flood