Green Door
Ann Brown's true story of escaping a toxic relationship that almost killed her
Thursday, 12 March 2020
It was a freezing cold day in February 2012 when Ann Brown arrived in Hebden Bridge from her home in Spain. Though the weather was decidedly chilly, the Hebden Bridge welcome was warm, and she's remained happily here ever since.
Displaying an apparently confident personality, few people would have guessed the battles Ann had fought during the previous 15 years, battles that millions still fight every single day. Nearly a decade on and Ann has put her story into words. She believes that hearing about her experiences can help others avoid falling into the same trap that she did.
Funded by Arts Council England, her one woman play, Green Door, exposes the traits of those who inflict physical and mental torture on their partners by telling Ann's own story of a troubled and traumatic past. For years, she was so bereft of confidence that she could barely speak, was unable to work and was purposely isolated from any means of support.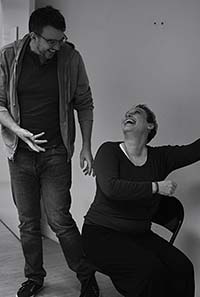 But before you write this off as a story of solemnity and misery let me tell you, there is a huge dollop of hope in a tale told with humour - partially because of some dubious dancing skills and an obsession with a certain Welsh rock 'n' roll legend.
So, what happened to change Ann Brown's life from fearful to fearless? It was one simple piece of advice, given in the nick of time. Through the words of this highly personal piece of work, she shares that piece of advice with her audiences in the certain knowledge that they too can benefit as she did.
Green Door premiered as a 20-minute piece, part of a Manchester fundraiser for the MIND charity in September 2018. A longer version was created for 53two, also in Manchester, for their ongoing programme of nurturing new writing talent.
Such was the reaction to the second run, that Ann has been asked to perform it at women's groups, colleges, universities and theatres around the country. In response, she and director, Daniel Brennan, have developed a new, hour-long version of the play which premiered, to great acclaim, at The King's Arms in Salford in February.
Square Chapel, 7.45pm, 2 April
Tickets available here
On April 2nd, for one night only, Green Door comes to Square Chapel in Halifax, where it will run in collaboration with the charity Verd de Gris, which works extensively with vulnerable women and girls.
This is just the beginning of one woman's commitment to using her own heart-breaking experiences to make this world a safer place for women and girls everywhere. With a novel and screenplay also in the offing, watch this space for more Green Door news soon.
Full details at www.madeittheatre.co.uk.