A rare film event at Hebden Bridge Picture House
Tuesday, 6 July 2021
Halifax and London based Guerilla Docs will complete production on their feature length Holocaust documentary Getting Away With Murder(s) on Friday 9 July and on Sunday 18 July the film will have a test screening at Hebden Bridge Picture House.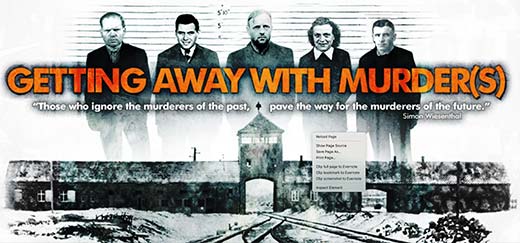 "Test screenings like this always take place in London," said director David Wilkinson "This one is to see if an interval will work in the 175-minute film. As the idea for this came from Rebekah Fozard, Manager of the Picture House, we thought what better place to try this out. Rebekah and her team have been extremely supportive of our films over the years and as I love Hebden Bridge (I nearly bought a house there in 1975) what better place to hold this event."
Despite the extensive cinema documentary coverage of the Holocaust to date, no one has explored in any depth the almost total lack of justice, statistically, towards the vast numbers of eagerly participating perpetrators who, at war's end, simply walked away - untouched by justice. This film addresses this glaring omission.
David Wilkinson's sole motivation for making Getting Away with Murder(s) was to find out precisely why so many were actively permitted to get away with their crimes – the crime of mass murder on an industrial scale.
Wilkinson's journey takes him all over the UK (London, Oldham, Bradford, Keighley, York, Nottinghamshire, Leeds, Lincoln), then to Ireland, the USA, the killing fields of Lithuania, Latvia and Czechia, to the infamous death camp Auschwitz - Birkenau in Poland, Austria, France and, of course, Germany.
The narrative leads with interviews, including 101-year-old Benjamin B Ferencz who is the last living prosecutor from the Nuremberg War Crimes Trials, Professor Mary Fulbrook, Dr Dan Plesch, Holocaust survivors Kitty Hart-Moxon, Malka Levine, Arek Hersh, Nazi hunter Dr Stephen Ankier, British broadcaster and writer Robin Lustig, German prosecutor Jens Rommel, Holocaust educator and campaigner Philip Rubenstein and UK Holocaust memorial co-founder and humanitarian campaigner Dr James Smith.
30 September - 1 October 2021 is the 75th Anniversary of the sentencing of the International Military Tribunal at Nuremberg, the only Trial to involve all The London Agreement's joint-signatories. It reached its confident conclusion and meted out the specific justice that mankind had anticipated. However, only a very few of the perpetrators were put on trial. Getting Away with Murder(s) looks at what followed.
Also attending this special screening with a Director Q&A is Arek Hersh who since escaping Auschwitz-Birkenau has lived in Yorkshire.
Tickets for test screening at Hebden Bridge Picture House on Sunday 18 July are available to book in advance via this link.