The Hebden Royd Valley Story - A Picture House Centenary Celebration 
Sunday, 18 July 2021
A hundred years of movies and several centuries of historic inspiration - Hebden Bridge Picture House at 8:00pm on 24 July 2021
Nick Wilding chronicles the Hebden Royd Valley and the hilltop villages through the fascinating tales from his own and other people's films.
The film will use trailers from locally-made movies and combine them with highlights from:
Hebden Bridge, A 700 Year Story (and how it was nearly lost)' (2014), which marked fifty years of the Calder Civic Trust and looked at the development of the town over the course of seven centuries and the fight to save it in the 1960s when it could have been completely destroyed.
Hebden Royd at the Movies (2010), which looked at the 90 years of film-making since the first movie Helen of Four Gates was made here in 1920, a film that had been considered lost by books on the history of cinema ever since its premiere. The Picture House Centenary year of events will feature Helen of Four Gates with a specially-composed orchestral piece to accompany it and a small orchestra performing it live at the Picture House in July 2022.
There are fascinating and funny stories from other films, Calder Valley Christmas, screened at the Picture House in December 2008, Race through Time (2003), Heptonstall, Village of Memories (2006), A Tale of Two Towns (2000) and Bridge across the Generations (1999), the Calderdale Millennium film.
There are also film extracts from Nick's talks Seven Centuries of Floods in the Calder Valley and Happy Birthday Stoodley Pike and he is delighted to have received permission to include extracts from the little-seen The Rochdale Canal (1987), Director Jenni Kerwood and the animation Dreamsparks (1987), Director Jonathan Richardson, both made as part of the Calderdale Film Project, that involved many local people in their production teams.
This is the story of the Hebden Royd valley and the hilltop villages, told through the films that have been inspired by local historical events. The Hebden Bridge Picture House Centenary has provided this fine opportunity to illustrate the way the area has changed through the years.
Length 90 minutes and there will be a Q&A at the end of the film.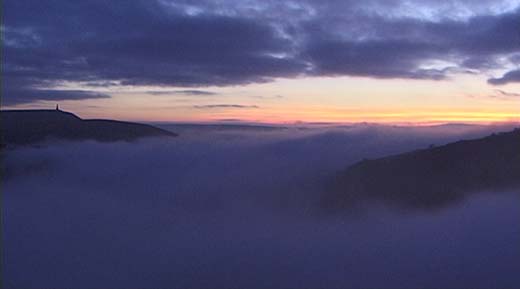 Nick Wilding on the HebWeb